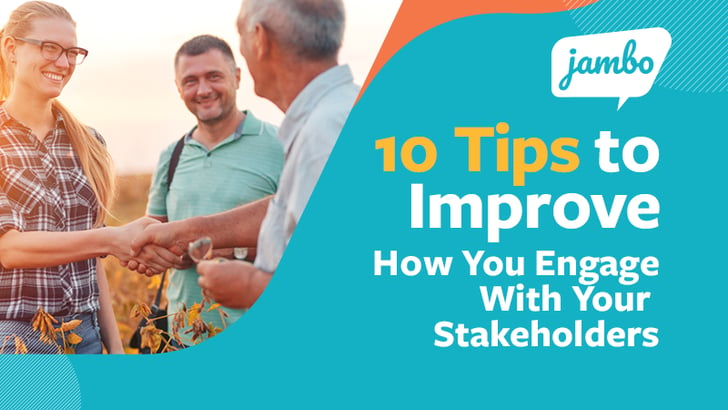 After reading this blog, we hope that you learn some easy ways to improve how you engage with your stakeholders. Good stakeholder engagement can build strong stakeholder relationships, improve organizational reputation, and help projects reach their full potential.
POV: Your project is underway, your decision-makers are on board, and your stakeholders have been identified. Now what? It is never too early to start engaging with your stakeholders and build strong relationships with them.
Positive stakeholder relationships are essential to your project. Negative stakeholder relationships can result in not only the delay or cancellation of your project but can also cause long-term damage to the reputation of your entire organization. By working to improve relationships with your stakeholders, you can help them understand your project better, feel included in the process, and ultimately be better equipped to deal with the outcomes.
Jambo customers are constantly seeking new ways to improve relationships with their stakeholders, so we have compiled this list of tips by speaking with them often and learning from their experiences.
1. Begin Conversations Early
Beginning conversations early with stakeholders is essential to building trust. The goal is for stakeholders to hear about your project from you, not online or from the dreaded rumour mill. If stakeholders feel left out of the process, they may have a bad taste in their mouth from the very beginning; leaving you with some unhappy and disengaged stakeholders.
You can help avoid this situation by making a list of stakeholders that need to be engaged in the very early stages of a project and reaching out to them as soon as possible. This shows them that you respect their opinions and makes them feel included in the process.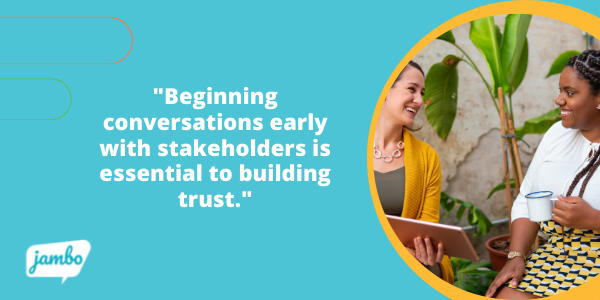 2. Set a Schedule for Communicating with Stakeholders
We've all heard the horror stories of stakeholder engagement open houses being held just before a feedback deadline, or a rescheduled stakeholder engagement session with minimal notice to those concerned. These instances aggravate stakeholders and can lead to less than desirable situations.
Consider creating a consultation schedule. By setting timelines upfront and clearly communicating the timelines to your stakeholders, you increase awareness with your stakeholders and better prepare them for the engagement you intend on having. This also helps mitigate stakeholder angst over the feeling of not having enough time to prepare or respond during the designated engagement period.
3. Be Honest
It is impossible to improve relationships with stakeholders without being honest. Develop trust by being transparent with project plans. Don't risk hiding things because you will likely be found out (and that's not going to be an easy thing to get out of.) Consider providing visual aids like maps of project plans or hardcopy project update reports. These are great opportunities to be transparent, open, and honest with your stakeholders.
4. Stay Consistent with Your Messaging
Develop key messages early on and use them consistently. If you need to change your message for any reason, be clear about what has changed and why. With archived information easily accessible online, it is no longer possible to change direction without the risk of being called out for inexplicable changes.
5. Communicate Often
Make sure that communication is scheduled often. Communication to stakeholders doesn't stop after your initial project stages are over; regular communication is key to gaining stakeholder support. Issue regular project updates to stakeholders. Determine if it is possible to show how stakeholder feedback or issues have been addressed. When stakeholders feel like they've been heard, they're typically much happier and more likely to support your project.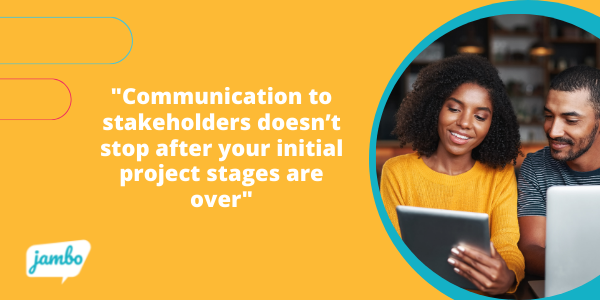 6. Show You're Listening
One complaint often heard from stakeholders is that they feel like they aren't being listened to. When meeting with stakeholders either virtually or in person, make eye contact, smile occasionally and ask questions throughout your conversation. A good idea is to bring a notebook to jot down key points and mention your intent to summarize the bullets after you leave. This helps stakeholders feel their engagement session is being taken seriously. You can also summarize back to the stakeholder what you've written. This gives them the opportunity to provide clarification if needed.
7. Provide Multiple Ways for Stakeholders to Share Their Input
Another way to improve your stakeholder engagement is to give them more than one way to provide feedback. Stakeholders want the opportunity to voice their opinions and this needs to be easy and accessible for them.
Online engagement, such as e-surveys, can help lower barriers to engagement by increasing accessibility, but some stakeholders might have unreliable internet access or may not be particularly tech-savvy. In-person meetings require more time, but also offer both you and the stakeholder the opportunity to learn more about each other's needs. Body language and tone of voice are two things that can't be expressed online through survey text boxes and multiple-choice questions. Try connecting with a resistant stakeholder in person rather than relying on their online feedback so that issues can be resolved with limited misunderstandings.
8. Involve Rather Than Inform – Or Better Yet, Collaborate and Create Together
Simply informing stakeholders of your plans is often no longer sufficient and can result in costly problems further down the line. If you aren't familiar with the IAP2 spectrum for public participation, you should check it out. It was designed to assist in the selection of the level of participation that defines the public's role in any public participation process but can be used as a guide for stakeholder engagement projects large and small. It is beneficial to keep the spectrum in mind when developing an engagement plan.
The Jambo Partner Community includes companies that have a solid track record in developing well-rounded stakeholder engagement plans that don't just communicate project information but truly engage stakeholders while working towards overall outcomes. Contact us for an approved list of Jambo Partners.
9. Maintain Stakeholder History
Having access to historical stakeholder data is important. If you aren't tracking all your data, you need to start now. Stakeholders often get frustrated when they're communicating with the same organization on multiple occasions and are asked the same questions over and over again. Having easy access to the full history of interactions with a stakeholder before meeting with them means you're prepared to start the meeting off on a good note.
Our tip is to keep a record of every interaction with your stakeholders in a secure information management system. Knowing what was discussed before and extra things like their preferred name or even their favourite drink can help build and gain trust with them. This information can be used by everyone in your organization that might communicate with the stakeholder (now or in the future), so it is important that the information is easily accessible. Using cloud-based SRM (Stakeholder Relationship Management) software like Jambo is a great way to help you and your team securely log, track and manage all your stakeholder data.
10. Be Flexible and Consider Your Plan as a Living Process
As plans are executed, unexpected things will inevitably pop up and require changes in order to keep everything moving forward. Be flexible enough with your plan timeline to allow for things to change like the feedback deadlines or even the tactics you're using to engage. By listening to your stakeholders and exercising a bit of give and take you can build better relationships with them which will benefit your project in the long run.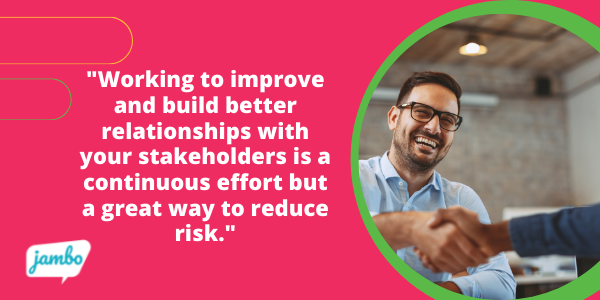 Moving Forward
Working to improve how you engage with your stakeholders is a continuous effort but a great way to reduce risk. You may face challenges down the line, but if you build strong relationships with your stakeholders from the early days, your outcomes can be more favourable. We hope that you can use these ten tips to improve how you engage with your stakeholders and build better stakeholder relationships.
Ready to say goodbye to spreadsheets? Check out our free eBook!