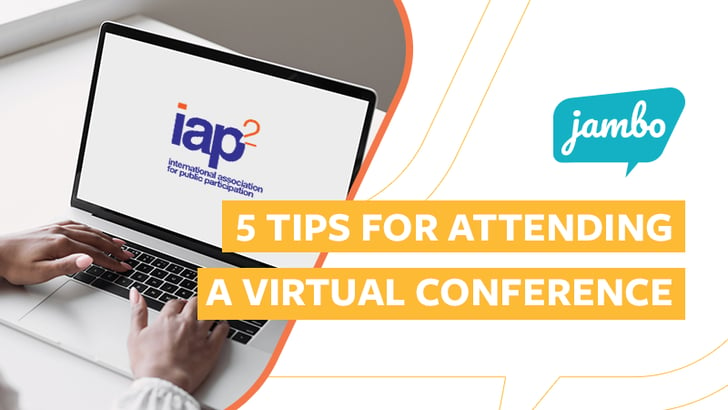 The Benefits of a Virtual Conference and How to Get Real Value from Your Time
COVID-19 and the restrictions associated with travel and mass gatherings have made it necessary to cancel most traditional in-person conferences and events. We've compiled a list of tips for attending a virtual conference to help ensure you and your team get the most value from your experience.
But before we jump into some tips, we've summarized the top benefits of a virtual conference to get you excited about these types of events:
Benefits of Virtual Conferences
We're used to meeting in person; to networking, shaking hands and exchanging business cards, so a virtual conference might seem less valuable than a traditional in-person event; however, a virtual conference brings many benefits!
Benefit # 1: Real Learning Opportunities
Conferences allow you to learn from industry experts and gain helpful tips and tricks that you can use in your job and share with your team, regardless of whether it's provided virtually or in-person. It's 100% possible to learn the same amount of information at a virtual conference!
Benefit # 2: Re-Watch Standout Sessions
We're seeing a trend with virtual conferences of recording and sharing sessions with registered attendees very shortly after they've aired live. Sometimes conferences will share access to all their scheduled sessions, while others will share access to the sessions you've pre-registered for, and both options provide great value!
This ability to re-watch sessions is also useful for notetaking as it'll allow you to pause vital sections, giving you time to capture the most important information from those standout sessions that you might have missed the first time!
Benefit # 3: Save Money
One of the most significant benefits of attending a virtual conference is the money you'll save.
With lower registration fees, no plane tickets, hotels or dining expenses, you'll be saving a lot of money by attending the conference virtually, which is great for your company's bottom line. It's also an opportunity to use the money saved to attend more virtual conferences and to put some of the great ideas you learn into action!
Benefit # 4: Flexibility
We know that things can change quickly. With a virtual conference, if there's an urgent situation at home or an important meeting arises, you can adjust your schedule —just make sure you plan a time to watch the sessions you missed later!
Now that we've covered the benefits of attending a virtual conference let's jump into our top five tips for making the most of your virtual conference experience.
Virtual Conference Tips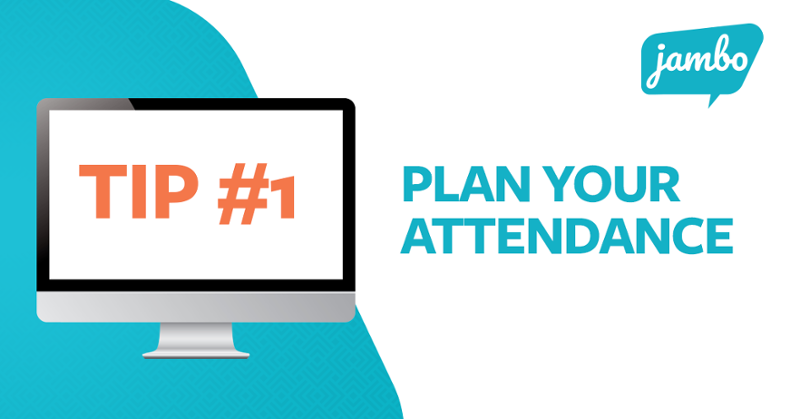 Tip #1: Plan Your Attendance
The first step to successful conference attendance is to plan out your day by selecting the sessions you'll attend in advance. Most conferences have concurrent session schedules, so there's always more than one event happening throughout the day. With in-person events, you usually need to plan your day based on where sessions are located and how quickly you can make it to each room. A virtual conference means you can choose the sessions that most interest you without having to consider those other factors.
After you pick all your sessions, make an event attendance timetable. Make sure to schedule time for lunch and one or two coffee breaks!
Pro tip: Check to see if you need to pre-register for any events and make individual calendar meetings for each session you want to attend. If each session has a unique link, add it to the meeting details so you can quickly join to make sure you don't miss anything.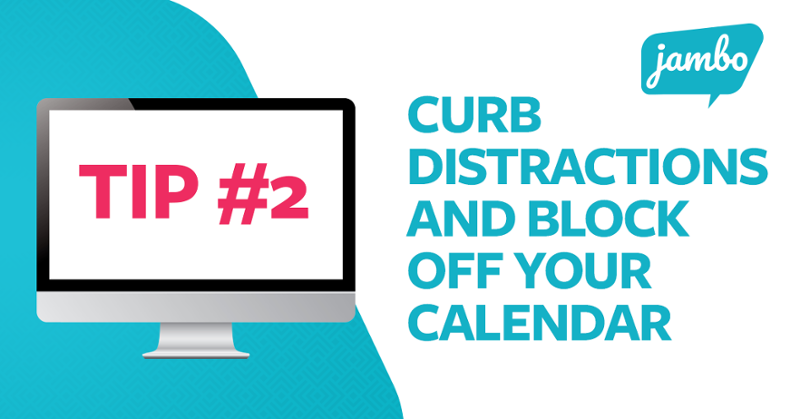 Tip #2 Curb Distractions and Block off Your Calendar
You need to treat your attendance at a virtual conference like you would if you were participating in person. Try to be engaged with the conference as much as possible!
It might be tempting to try and go about your day as usual, while multi-tasking and watching sessions on the side, however, to make the most of your experience, you need to limit distractions and block off your calendar, just as you would if you were attending the conference in person.
An article from the American Psychological Association shows us that multitasking takes a toll on productivity and shifting between tasks can affect someone's productivity by as much as 40%!
Curb distractions by doing the following:
Let your team and your family know you're attending a conference and you will not be available during designated times
Schedule yourself as "busy" in your work calendar to show others you're not available
Turn off your email, phone and computer notifications
Make sure you have everything you need beside you (charger, notepad, a bottle of water, etc.)
Remove distractions by staying off your phone and other websites – close those tabs!
Pro tip: The last thing you want to do is waste time trying to navigate the software or tool used to host the virtual conference. Explore the technology in advance and make sure you can access it easily on the day and pre-test to make sure your audio works.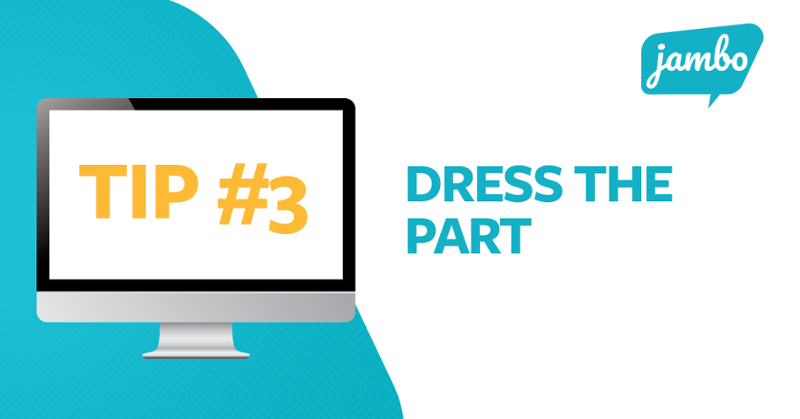 Tip #3: Dress the Part
Take the time to prepare for the virtual conference as you would for an in-person conference.
Dress appropriately, brew yourself a nice coffee and gather the items required to ensure you're taking notes the same way you would at an in-person conference. You could even buy some pastries to treat yourself like you would at an in-person conference!
This kind of preparation sets the tone for the conference and puts you in the mindset that this is a special event.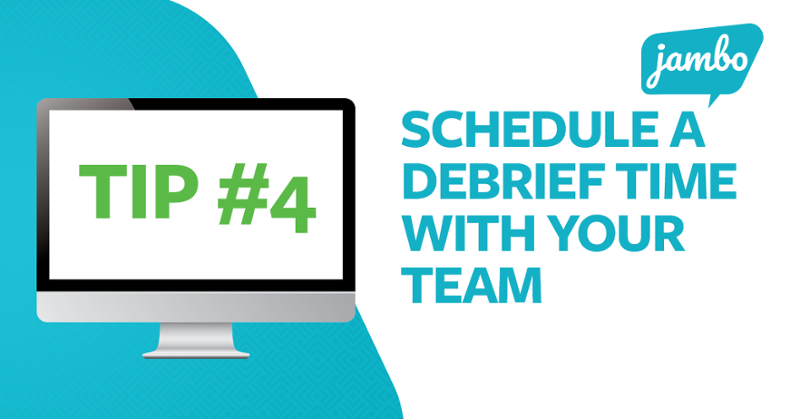 Tip #4: Schedule a Debrief Time with Your Team
Another bonus of the lower registration fees associated with virtual events is that there's an opportunity for more team members to attend the conference. If you attend with others, you can split up your time and participate in different sessions to cover more (virtual) ground.
Even if only one team member attends the conference, we recommend you schedule some time afterwards to debrief and share key learnings. Discuss the ideas that were generated during sessions while they're fresh in your mind. Having the ability to share your new knowledge quickly is an excellent benefit to a virtual event!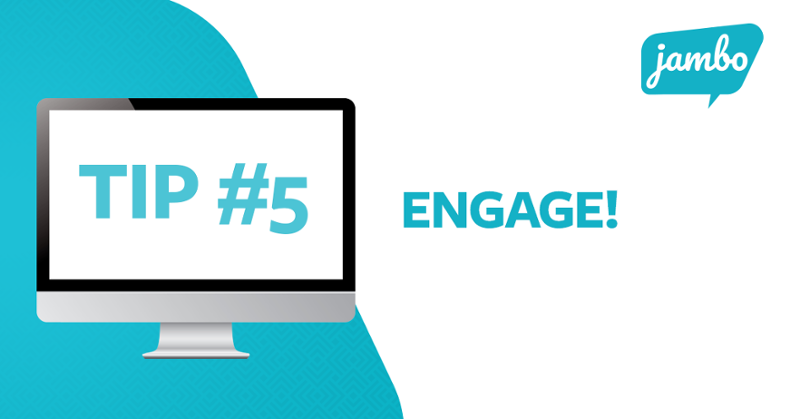 Tip #5: Engage!
Conferences bring together people from different locations who share a common interest or work in similar roles, and they're a great way to meet new people in your industry! It's important to try to connect and engage with virtual conference attendees too. While it might feel strange if you're new to the virtual conference world, rest assured there are some excellent networking opportunities online!
Every conference will be different, but so far, we've seen virtual conference organizers set up special slack channels, Facebook groups, and breakout Zoom rooms reserved solely for engaging, connecting and networking.
Social Media:
Connecting with attendees on social media is something you can start even before the event begins.
For example:
Does the event use a specific hashtag? (e.g. the IAP2 North American Conference is using the hashtag #IAP2NAC). Try following the conference-specific hashtag and follow people using it in their posts. Make sure any of your social media posts include the event hashtag, too, so that other attendees can find you!
We encourage you to use the conference-specific hashtag throughout the event, as well. For example, if you're attending a session, and you like something the presenter said, tweet the quote and tag the speaker or their company along with the conference hashtag—you might be surprised at the engagement that you can create this way (just make sure you're giving credit to the speaker for their quote!).
Pro tip: when you're pre-selecting your sessions, see if you can follow the keynote speakers, presenters or panelists in advance for easy tagging during the actual conference.
If you're unsure where to start, consider sharing a post confirming that you'll be attending the virtual conference and a short overview of what you're most looking forward to. Use the conference hashtag and tag the organization hosting the event—it's a great way to start a conversation!
Scheduled Networking:
Look for opportunities to network within the conference schedule or agenda.
For example, IAP2 has scheduled blocks of time for attendees to network, and this is the perfect time to gather with the other attendees, share information and make some great new contacts virtually.
Other opportunities to gather virtually might include planned meetups, virtual cocktail or happy hours, peer-to-peer matchmaking, and more. Check your virtual conference schedule and see what kind of opportunities are available!
Next Steps
Connecting with others to learn new knowledge, expand your network and share your expertise are vital components to a happy and successful career.
While the current state of our world has added unprecedented challenges and changes, there are still opportunities to connect and share in safe and fun ways—a virtual conference is an excellent way to continue growing and connecting, even during these challenging times.
We hope you found this information helpful! If you'd like to connect with Jambo, please follow us on our LinkedIn and Twitter pages!