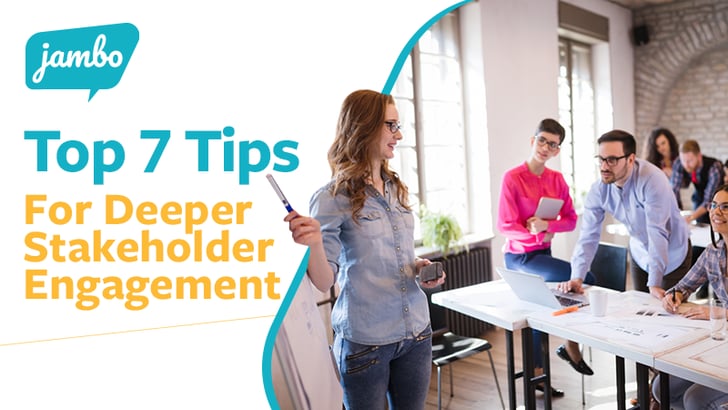 The Future of Stakeholder Engagement
Demand for stakeholder engagement and consultation is increasing both from governments and the public, in turn changing the strategy organizations must use to be effective. In the future, stakeholder relations will see stakeholder trust and engagement as critical, not just an optional tool to manage reputation or avoid crises.

To adapt, companies and governments are going to have to think not only about how they engage or consult, but how they must evolve to ensure that the right strategy is applied across their organization. This will undoubtedly include changing attitudes and including different tactics when engaging with both internal

and

external stakeholders. We predict that organizations will begin to include ways of working towards 'deeper stakeholder engagement' in their project planning. But why wait until others are doing it and you have to realign your projects to catch up? We started thinking of ways you can begin to engage with your stakeholders on a deeper level right now. We put our thoughts down on paper and have compiled an actionable list of seven ways to engage deeper with your stakeholders.
Our Top 7 Tips for Deeper Stakeholder Engagement
#1 Map your Internal Stakeholders
Build a wider team with them. Ensure that everyone who needs to be involved is informed and prepared. Think you need a subject matter expert or manager from another department? Talk to them early and keep them in the loop.
#2 Don't Just Listen to the Noisy 20%
Deeper engagement means empowering stakeholders – not excluding them. Establish a process to ensure the community's voice reflects the interest of all stakeholders. Use a combination of methods to reach people, while still incorporating traditional methods, like in-person conversations to provoke deeper engagement.
#3 Identify you Influencers & Build Relationships
Actively foster relationships with external change makers, even if the change maker doesn't have a direct link to your organization yet. These people are on the ground making a lasting impact as influencers. Do it in advance of when you think you might need them.
#4 People Support What They Help Create
This can apply to your team in addition to your stakeholders. Deeper engagement includes things like involvement, conversations, and collaborations. If a project will run long, consider forming advisory groups of stakeholders to help engage over the extended time period. Remember to show people they've been heard even if their input didn't make it into the final plan.
#5 Document and Track Your Engagement and Consultations
There's lots of reasons to document and track your engagements and consultations - some organizations need to due to government regulations or internal policies, but everyone should consider tracking as a way to demonstrate compliance and Illustrate adequate consultation with stakeholders. By implementing mechanisms to document stakeholder feedback, you can identify issues or concerns, understand their impact and priority, and ensure they get addressed.
#6 Include a Process for Reporting Back
This doesn't mean changing your plan, just showing your stakeholders that they've been heard. Asking what stakeholders think changes expectation. For instance, if a company issues an employee engagement survey and does nothing to respond to negative results, employees may get angry. The same can apply to external stakeholders, so after an engagement, demonstrate that the feedback has been heard and respected.
#7
Intentionally

Include Key Executives

For this last one, I want to point out that we underlined "intentionally". If things go sideways in your engagement program, you might find they show up uninvited... Creating executive-level awareness and comprehension of your program is very important and by helping them understand issues raised, they can better support strategic decision-making based on stakeholder input.
Putting the Tips to Work
Now that you have these 7 tips for deeper stakeholder engagement we hope you will be able to begin applying them to your stakeholder engagement and consultation programs. If you have any other tips or suggestions, leave them in the comments below. We would love to hear your thoughts.
The top 7 tips for deeper stakeholder engagement infographic