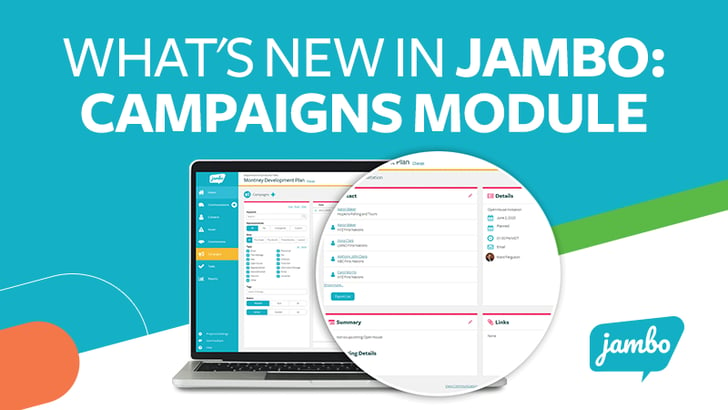 How Our Stakeholder Relationship Management (SRM) Software Will Streamline Your Mass Communication Efforts
We're continuously working on improvements to make Jambo the fastest and easiest Stakeholder Relationship Management (SRM) software, and our newest feature has been our number one requested update for the past six months.
Our team has been working non-stop to bring this requested feature to life, so we're excited to share some information about our new Campaigns module, now available to everyone!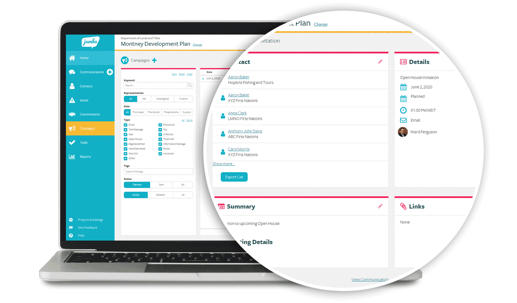 What is the Campaigns Module?
Jambo's new campaigns module helps you quickly build lists of stakeholder contacts, which radically simplifies how you create mass communication campaigns like email blasts and mailouts.
This new update makes communicating with your stakeholder groups much easier and more manageable.
How Do You Build Your Contact List?
You can build these lists by sorting or filtering with tags or locations of interest, depending on how you and your team have classified your unique stakeholder information within Jambo.
Our filtering system allows you to build your lists using more than one type of filter parameter, ensuring your list includes all the necessary stakeholders.
What are Some Filter Examples?
Location
It's useful to filter by location if you're running a campaign for a specific area of interest and want to ensure the campaign reaches stakeholders within that area.
With Jambo, you can select all the contacts you have a profile for from a town or region based on their saved address and add them to your contact list.
Tags
If you use Jambo's tagging system to tag your information with relevant data like keywords, trends or useful qualifiers, you can quickly and easily filter by your tags of choice and pull all related stakeholders into your campaign contact list.
For example, adding language as a tag and using it to filter your contacts means you can create a list of stakeholders that need to be contacted in a certain language.
What do You do With Your Contact List?
Once created, you can export your contact list to use in mass communication campaigns like newsletters, mailouts or memos, or you can export your list to use with third-party email software like Microsoft Outlook, Gmail, or services like MailChimp.
Your Information is all Connected
Once you've built your contact list, a communication record will be added to the stakeholder profile, which allows you to see which stakeholders were part of specific campaigns (e.g. which stakeholders were part of a certain mailout or who was emailed an invitation to a town hall).
You can also add a hyperlink from your third-party email program's campaign into your communication record. This simple link helps further connect the campaign to more details stored within the third-party software and allows you to click through to see related information quickly.
Why Is This Useful?
Your Information is Centralized and Easy to Understand
Jambo's Campaigns is a great time-saving feature that allows you to use attributes of a stakeholder's profile, such as project tags, locations, or other information to add them to a list for mass communications. It simplifies list creation and automatically shows up on a stakeholder's engagement history in one easy step, saving you time. This also helps ensures that your information is connected and easy to access, so you don't have to keep searching to find out if a stakeholder was part of a campaign.
You can Clone Campaign Lists
If you want to reuse a list for another mass communication, you can clone campaign lists and update the parts that have changed so you don't need to make the new list from scratch.
Anything Else?
Jambo's brand-new campaigns module makes your stakeholder information more consistent, allowing you to track your information better. With better data, you and your team are empowered to make better stakeholder engagement decisions (need a stakeholder engagement refresher? Check out our blog!).
Want to See the Campaigns Module in Action?
Ready to learn more? Book a 15-minute discovery call with a Jambo expert!