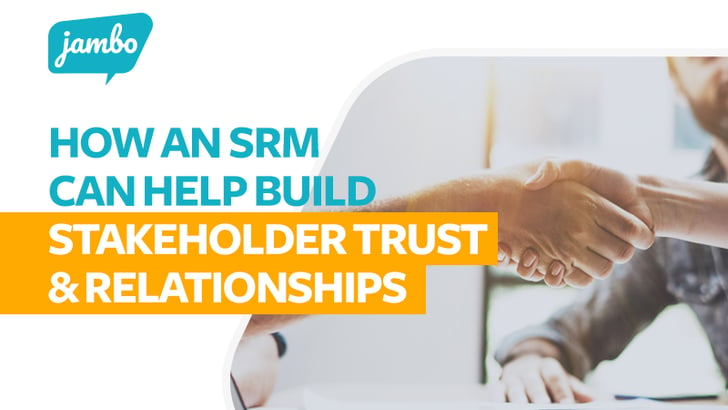 Why Stakeholder Relationship Management Software Should be Part of Your Stakeholder Engagement Plan
When it comes to stakeholder engagement, we know that this process is best accomplished by building positive stakeholder relationships where everyone involved feels like they've been heard, respected and considered throughout the process (even if they don't get the outcome desired). However, building "good stakeholder relationships" can sometimes be easier said than done.
One of the critical elements to building a good relationship is trust, but, today, we see that trust between the public and organizations is at an all-time low, which adds additional challenges to building positive stakeholder relationships. (see Endelman's trust barometer).
Want to learn how to engage with your stakeholders to help build stronger relationships? Check out our blog!
Stakeholder Trust?
To begin building stakeholder trust and positive stakeholder relationships, it's essential to create a stakeholder engagement plan where you identify your stakeholders and begin understanding their perspectives. Using this knowledge, you can begin preparing the necessary resources for your plan.
As your stakeholder engagement process continues, it often becomes more complicated with numerous stakeholders and growing volumes of data.
A software solution like a Stakeholder Relationship Management (SRM) software can be a critical tool to streamline your engagement process and help you achieve project goals.
To learn how an SRM can help you build and maintain stakeholder trust and build positive stakeholder relationships, we've identified three key elements to trust and described how an SRM can help with each.
3 Elements in Building Trust
Reliability
Sincerity
Communication
How Stakeholder Relationship Management software helps you build trust
Reliability
When it comes to stakeholder engagement, reliability can be shown by:
Following through on what you said you'd do, within the established time
Delivering on your promises or commitments to stakeholders
Showing you're willing to address stakeholder concerns
How an SRM can Help:
Tracking commitments
Commitments (or promises) to stakeholders are common and can range from general commitments to financial or financial equivalents.
What can make managing commitments tricky is that they might be something that can't be fulfilled until many years into the future. If members of the project team leave or new members join, it's easy for these long-term commitments to get lost in the mix.
With an SRM that has a commitments module, all your commitments are easily accessible, understandable and organized, ensuring you have a record of each commitment for the lifetime of the project, making it nearly impossible to miss another again.
Staying on top of Issues
When it comes to stakeholder issues, failing to address one can snowball a relatively small concern into a much bigger issue, potentially damaging stakeholder relationships.
Utilizing an SRM with an issues module ensures your stakeholder issues are front and centre and easy to track, meaning your team won't lose sight of issues before them and can work towards resolving each and every one.
Resolving issues tactfully and in a timely manner helps to ensure that your stakeholders know you take their concerns seriously and increases the likelihood that they'll be willing to work with you again in the future (whether it's on this project or the next one).
Tasks
Stakeholder engagement involves many moving parts and delegation is key to keeping things going.
An SRM with task assignment capabilities means you can delegate tasks to your team and stay on top of the progress of these tasks to ensure that the entire engagement plan is moving along on schedule.
SRMs that allow you to see when tasks have been completed ensure there's no more guesswork, saving the team countless hours spent sending project update emails!
Sincerity
When it comes to stakeholder engagement, sincerity can be shown by:
Acting in accordance with your promises
Being honest and transparent with your communication
Sharing authentic and clear records when asked or as needed
How an SRM can Help:
Shareable Reports
Many SRMs have reporting capabilities that allow you to create shareable project reports. These reports are very useful when you want to visually show the progress of projects to educate, inform or get buy-in from your stakeholders, teams, executives or decision-makers.
Shareable reports are a great way to be transparent about your project and reports focused on issues management can even be used to show regulatory bodies the work you've done to address stakeholder issues.
Shareable Maps
Some SRMs give you the ability to create shareable maps of project areas of concern or locations of interest. Visual maps are beneficial for context and to be transparent, allowing you to share information clearly and in an understandable way.
Engagement History
Understanding what's been said to stakeholders previously is vital for building positive relationships moving forward. Logging all records of communication with your stakeholders can help keep everyone accountable and moving forward.
With an SRM, you can easily log records and then access the full history of engagement with stakeholders or organizations. This helps you and your team to stay aligned with what's been previously discussed, such as the last conversation, or any issues or commitments associated with the stakeholder. This is also helpful so you don't get blindsided by previous engagements by your team with the stakeholder, and you're not asking them the same questions over and over again.
Communication
When it comes to stakeholder engagement, effective communication can be shown by:
Knowing who your stakeholders are and communicating with each of them accordingly
Communicating clearly and respectfully
Communicating consistently (as needed)
How an SRM can Help:
Stakeholder Profiles
Most SRMs allow you to manage stakeholder contact information, but some enable you to see more detailed profiles, so you and your team have all your stakeholder information in one organized space.
Stakeholder profiles allow you to understand essential information about communication with each of your stakeholders or organizations like:
What's been discussed and with whom?
Have any issues been raised? What is the status of the issues (have they been addressed)?
Were any commitments made? Have commitments been fulfilled?
SRMs generally allow you to add additional notes about your stakeholders to build out deeper profiles. Logging information such as the hours they're available, their preferred name, or other notes means you and your team can use this information going forward to show you listen and care about your stakeholders.
Having this information centralized and accessible for your whole team empowers you all to engage respectfully and effectively, allowing you to build trust.
Communication Tactics
Not everyone responds the same to all communication tactics. Some stakeholders prefer face-to-face, while others prefer email.
An SRM allows you to dig into your stakeholder information to make educated choices on your next logical step, empowering you to better maintain and build positive stakeholder relationships.
For example, with your stakeholder profiles, you might notice some stakeholders haven't been receptive to your engagement attempts. Glancing through their stakeholder profile, you might see that you and your team have never reached out by phone, and this different, two-way communication tactic could be an opportunity to engage with this stakeholder more effectively, allowing you to begin building trust.
Want some tips for deeper stakeholder engagement? Check out our blog!
Not All SRMs Are Created Equal
An SRM is the easiest way to organize your stakeholder information and keep your team on the same page while also working to build stakeholder trust; however, not all SRMs are created equal. Doing your research to find the right SRM for you and your team is crucial.
We always suggest that you sign up for a demo to see the SRM you're evaluating in action, as this is the easiest way to understand how it can work for your organization.
Next Steps
To learn more about Jambo and how it can benefit your organization, book a 15-minute discovery call with a Jambo expert.