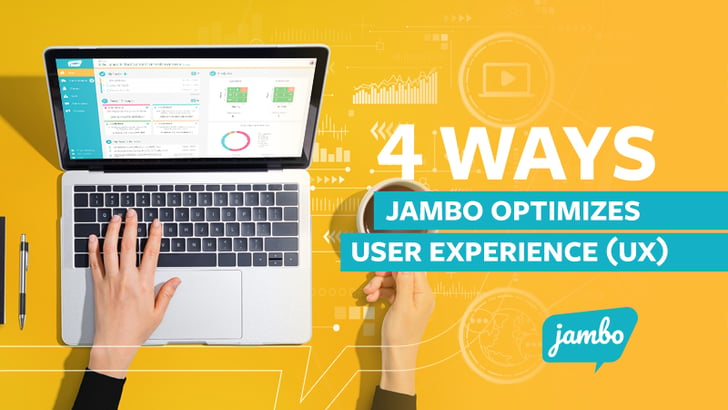 And Why UX is Key in Stakeholder Relationship Management Software
What Is User Experience in Software?
User experience (UX) is the process of designing products that are helpful, easy, and enjoyable to interact with or use. It can be applied to how we design buildings, office layouts, appliances, board games etc.— it's essentially how humans interact with x.
UX can also be applied to digital product design. For software, the goal of user experience is to ensure the software does what it's expected to do, while also making interactions as easy and enjoyable as possible.
UX in Stakeholder Relationship Management (SRM) software is like an exercise in mapping human communication, which we know can be complicated and a little messy at times. Not everyone thinks the same or interacts with software the same, so the goal of UX in an SRM is to understand users needs and goals and then ensure that the software can help the most people in the best way--to meet users where they're at and to give users what they need next.
What Makes for a Great User Experience?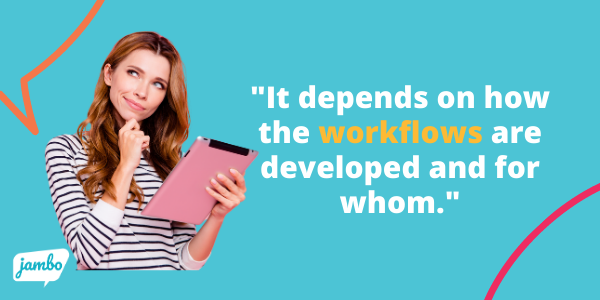 1. Workflows
While workflows can make some user's experience better in software, workflows don't guarantee a better user experience—it depends on how the workflows are developed and for whom.
Rigid Workflows
Rigid workflows are designed narrowly with very specific people in mind. The problem with rigidly designed workflows is they're not user friendly for people who don't think the same as the group the workflow was designed for (remember: human communication can be complicated and messy—it's not one size fits all).
Why Does This Matter?
How people use the software won't be the same across the board. So, if you're using an SRM that hasn't considered a variety of users, including your needs, it's not going to work the best for you.
Jambo's Workflows
Jambo has multiple workflows to match a variety of human processes, so you're able to do whatever you need to do when you need to do it.
Our multiple workflows allow users to solve problems in various ways because, in Jambo, everything connects. Our goal is always to ensure what you need is only a few clicks away, getting you from where you are to where you want to be as quickly and easily as possible.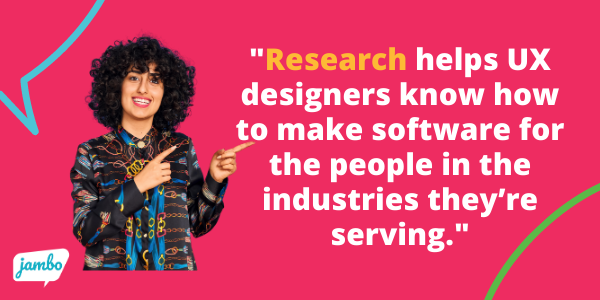 2. Understanding the User
UX is fundamentally research-based, and this research helps UX designers know how to make software for the people in the industries they're serving.
Software is Never Complete
"In UX, we refine. We test. We ask for feedback. What's working? What's not? Then we push the application towards the design that helps the most people in the best ways. The software is never finished, and that's a fundamental aspect of UX. We test things until we understand them as fully as possible, and then we test it some more."

– Kristen Badley, Jambo's UX/UI designer and Lead Customer Success Representative
Jambo's Users
Research has been a priority for us since day one. Before we wrote one line of code, we consulted with stakeholder engagement professionals from varying industries to find out exactly what they would like to see in an SRM and how they would like to use it to be more effective in their jobs. We used this feedback to build Jambo clearly and robustly to meet a variety of needs.
Developing an SRM that serves the most people in the best way possible is vital for us, and that's why we've got UX designers on our team who make research a priority. Our UX designers work with our developers on continual software updates to ensure Jambo is always improving in a way that works for our users. We know that your success in Jambo depends on your team's ability to use the platform so we never build something without our users in mind.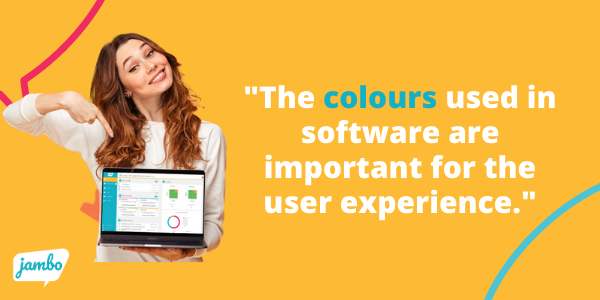 3. Colour Choices in SRM
Colour might not be the top of your list when shopping for an SRM, but it's important for the user experience (remember: colour can affect our mood).
Jambo's Colour Scheme
Data collection can be dull, and stakeholder management can be overwhelming, so we wanted to have fun and make things more exciting for our users. With this in mind, we chose our bright colours to make the application feel more encouraging and have also added additional design elements to make the user experience more enjoyable.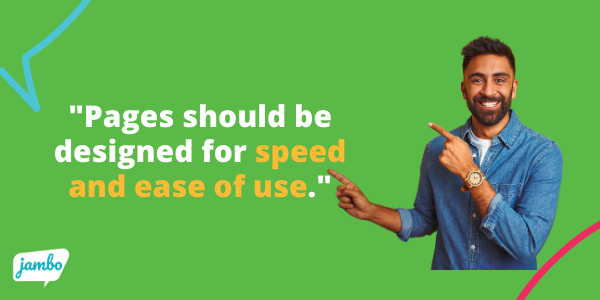 4. Page Design
When you're in an application, do you ever think about things like:
Where the buttons are placed, and why?
Why lists are vertical or horizontal?
How many columns are on a page?
Has the content been added to mimic how people read?
Would the design work in a different language?
When you encounter an SRM (or any software) that's confusing or hard to navigate, the designers likely haven't considered these elements or, like the workflow example, have only thought about them with a select number of users in mind.
Jambo's Page Design
We designed Jambo pages for speed and ease of use because we know that the more people who use the software, the better the stakeholder data is. We want users to log in and add their data and we want to make that faster and easier.
We've considered elements like simple column designs that read from left to right because that's how our users read. Our fields are stacked on top of each other, not side by side, because that's how users scan, and we know that fields stacked side by side slow readers down.
We know our job is to make the stakeholder management process as easy and painless as possible, and so how we design our pages is important.
How User Experience Affects Stakeholder Management
Stakeholder Relationship Management software should help make the stakeholder management process faster and easier.
An SRM designed with the user in mind will help keep your whole team organized, informed and ready to better manage engagement and consultation activities by allowing you to input your stakeholder data in the easiest way possible, manage key elements like stakeholder issues quickly and pull essential insights faster than ever before.
The Fastest and Easiest Stakeholder Relationship Management Software
Every benefit and feature we've mentioned in this blog is available in our powerful Stakeholder Relationship Management (SRM) software, Jambo, so it's an excellent place for you to start your SRM research.
To see how Jambo can help your organization streamline and simplify your stakeholder engagement efforts, book a 15-minute discovery call with a Jambo expert!