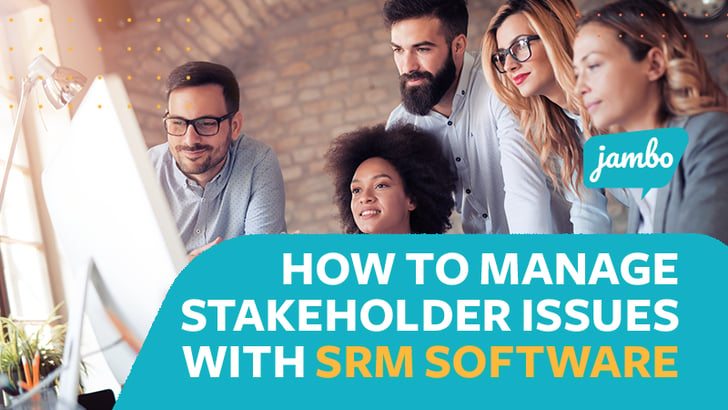 Using Stakeholder Relationship Management Software (SRM) to Manage Stakeholder Issues
Engaging with a variety of unique stakeholders (all with individual concerns and perspectives) means you'll likely encounter some issues along the way. It's important to address stakeholder issues as they arise because stakeholders that feel unheard or ignored can escalate issues and potentially negatively affect your project and your organization.
Being accountable to your stakeholders by addressing their issues is crucial during the planning, pre-development, and operational stages of a project. To ensure you're able to stay updated and manage all issues throughout your project's lifecycle, it's a good idea to use specialized software made for tracking and managing stakeholder issues like Stakeholder Relationship Management (SRM) software.
An SRM is designed to keep you and your team on the same page to help ensure you're engaging in the most effective way possible while utilizing stakeholder management best practices, so you never forget to address an issue!
In this blog, we'll cover:
What is Stakeholder Relationship Management Software (SRM)?
An SRM is a software for managing all your stakeholder relationships and communications with stakeholders.
With an SRM, you and your team have one place to log stakeholder engagement information, meaning everyone always knows exactly where to find everything they need. Organized data simplifies the stakeholder management process so that it won't become overwhelming or unmanageable.
To learn about the difference between SRM software and CRM software, visit our blog!
Why Data Organization is Key!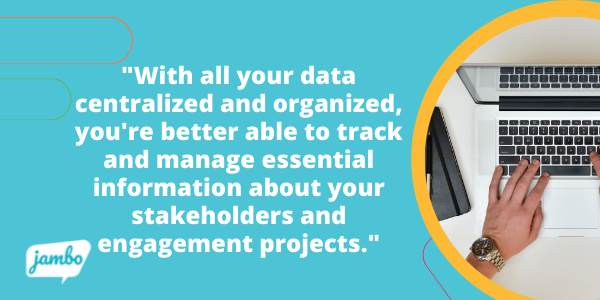 With all your data centralized and organized, you're better able to track and manage essential information about your stakeholders and engagement projects. These insights help you understand what your stakeholders care about, build relationships with them, and learn from them for better project outcomes, which is vital in issues management because missing even one issue can send your project and your relationships off the rails.
When you're juggling your various stakeholders and their issues, you'll find having a defined and collaborative space to hold this information will help you ensure all issues can easily be addressed.
Some issues are time-sensitive, while others may not need to be addressed until much later in the project. Having this information logged accordingly and having the ability to task manage the issue follow-up means your team doesn't have to worry about forgetting to address an issue.
Knowing the materiality of an issue – its level of impact vs its priority – allows you to better sort through what puts your project most at risk and communicate it to your team and management. Some systems allow you to visualize this as part of your tracking and reporting, which can be a big time-saver.
Typically, how well you manage issues will significantly impact relationships with stakeholders and their willingness to collaborate with your organization on current and future projects.
To learn about 3 tips for data management, visit our blog!
What are the Benefits of Stakeholder Relationship Management Software?
There are numerous benefits to using an SRM, and a few of those benefits include:
An engagement history so you always know where things left off with stakeholders
Centralized and accessible data, so all your information is easy to find and is searchable
Increased user collaboration
Commitment management
Issues management
Added security like two-factor authentication
A report builder for creating reports that illustrate engagement and consultation efforts
The ability to limit the risk of project data loss and the potential risk to projects by helping you to understand your current liabilities
Better stakeholder relationships
Click to read our comprehensive guide to Stakeholder Relationship Management software!
How Does an SRM Help Manage Stakeholder Issues?
Making Information Accessible and Understandable
An SRM allows you to manage stakeholder contact information and create a stakeholder profile, so you and your team have easy access to all your communications with a stakeholder. With ideal software, any issues associated with the stakeholder would be auto-linked to their stakeholder profile, so it's easy to build a full picture of the history of engagement with them (you should never have to dig through software to find stakeholder issue information!).
Building Stakeholder Relationships
One thing that's frustrating for people is when they meet with the stakeholder and the stakeholder says, "I told your people about this last week/month/year don't you talk?" Knowing of existing issues helps you prepare for any engagement with a stakeholder and helps builds trust because it shows that you're listening.
Addressing issues tactfully and promptly will also help ensure that your stakeholders know you take their concerns seriously and increases the likelihood that they'll be willing to work with you as well as helping to maintain or even build vital stakeholder trust.
Understanding any Risks to Help Lower Liability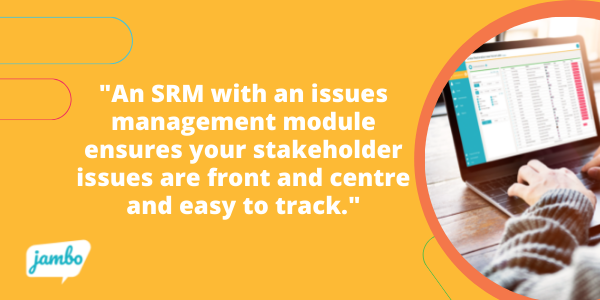 An SRM with an issues management module ensures your stakeholder issues are front and centre and easy to track, meaning your team won't lose sight of them and can collaboratively work towards addressing (and hopefully resolving) every single one.
Jambo SRM has an easy to understand issues timeline included as part of their issues management module, which allows teams to monitor any current or previous issues that have arisen during engagement with a stakeholder, and the steps taken to address them. The issues timeline feature is hugely beneficial for teams who need an easy and understandable way to stay up to speed with project updates.
As well, you can see the materiality for each issue, which identifies the issue's impact and priority with just a glance, allowing you to understand which ones pose the greatest risk to your project.
A History of All Issues to Tell the Whole Story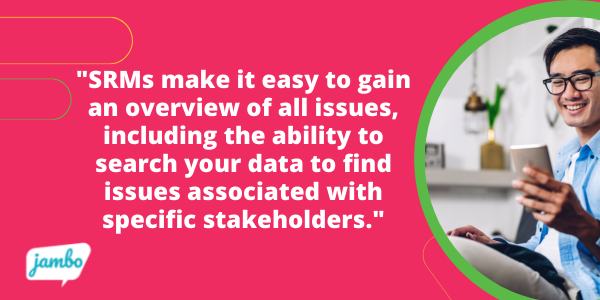 SRMs make it easy to gain an overview of all issues, including the ability to search your data to find issues associated with specific stakeholders or organizations in one project or across all of them.
Communication records associated with the issue are easy to view as part of the overall issues profile. This timeline of information is essential because, for example, if you run into a situation where there is a discrepancy over how an issue was handled, you can quickly pull all the necessary information to show the exact communication(s) that occurred, helping to keep everyone accountable and protected.
Tags to Keep Important Data Connected and Organized
Tags can help you keep track of stakeholders who have raised issues or who might be prone to raising issues, which can help you stay on top of past, present and future concerns.
An SRM with a tags feature can help you and your team organize your stakeholder information according to specific interests, concerns, importance and emerging themes. This ability to better manage and classify your stakeholder information will enable you to report on and analyze your data more effectively.
Tracking Emerging Themes and Trends
Tags are instrumental when you want to track specific stakeholders. With this capability, you can add tags to key stakeholders to identify them according to importance, concerns, interests, etc. You can also filter and search your tags to find all engagements with tagged stakeholders and run reports using tags as filters.
With a custom tagging system, it can allow you to attribute stakeholders and engagement records with tags that make sense for your engagement or project management process to better track and identify your data trends or vital qualifiers.
Traceability to Link Everything Together for Better Management and Understanding
The ability for all your information to connect is called traceability.
Traceability within an SRM is essential because it helps you understand how your information is linked (i.e. when an issue originally arose, what was discussed at a meeting, or what task is required before your next engagement).
Traceability is an important SRM feature because having every communication, issue, commitment, and task auto-link together not only makes your job easier but also helps you build a full understanding of your stakeholders, their opinions, and your projects' status and where an issue or commitment first arose (not to mention helping to create a better user experience).
Traceability isn't something that comes with all SRMs, so make sure to review each software's information linking abilities before making any SRM buying decisions.
To learn more about how SRM traceability will help you see the bigger picture in stakeholder engagement, check out our blog!
How Do You Choose an SRM?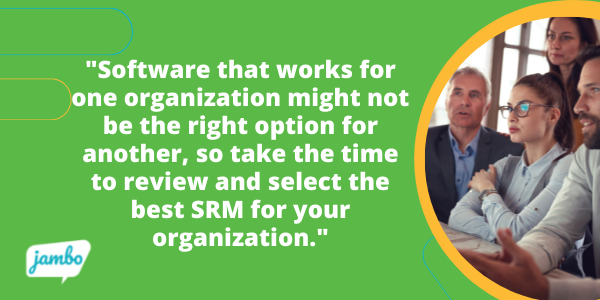 Now that we've discussed how an SRM is instrumental in your stakeholder issue management, how do you choose the right Stakeholder Relationship Management software?
Not every SRM is designed or supported the same (consider their implementation process), and not every SRM includes the issues management features we have described above. Software that works for one organization might not be the right option for another, so take the time to review and select the best SRM for your organization.
Next Steps
To thoroughly research an SRM and understand how it can help streamline your stakeholder engagement efforts, book a 15-minute discovery call with a Jambo expert!