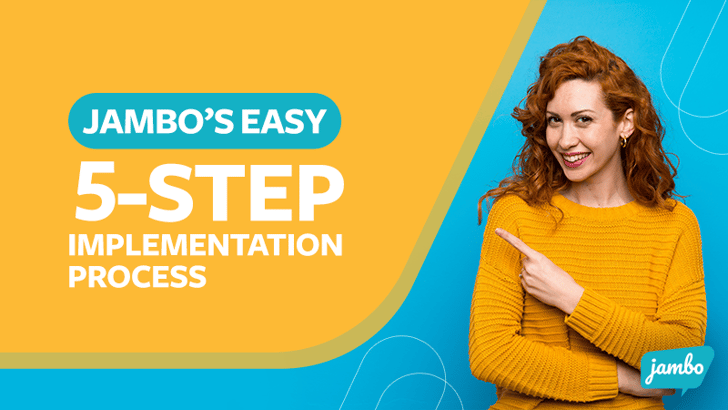 How to make your Jambo implementation a success in just 5 simple steps
You've chosen Jambo as the stakeholder relationship management (SRM) software option for your organization, but what's the next step?
We're sharing our simple 5-step implementation process for new users. We're also answering three of the most common frequently asked questions (FAQs) we receive around training, team use and support!
Jambo's Onboarding Goals
Our Goals
Introduce you to Jambo
Get you up and running with the platform as quickly as possible
Ensure you get the most value out of Jambo
Align the way you use Jambo's features and workflows to best suit your goals
Jambo's 5-Step Implementation Process
Our simplified and streamlined process includes the following five steps:
Define your goals in the initial meeting
Set up your project(s) to best meet those goals
Import stakeholder contact lists and any other engagement records (if required)
Training
Follow up and ongoing support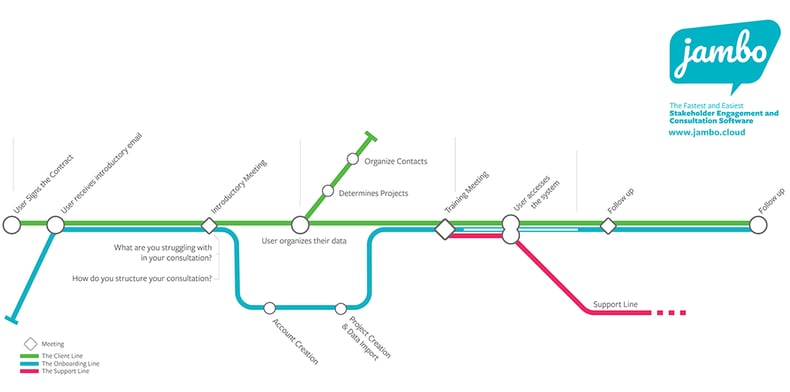 How Long Does It Take to Get Set up In Jambo?
While several factors can contribute to your implementation timeline, we aim to get you started with Jambo as quickly as possible so your team can start working towards your stakeholder engagement goals right away!
Example timelines:
Smaller organizations with limited data can be up and running the fastest (often in as little as two weeks)
Organizations with more data, or more complex business processes, might take a few extra weeks (two-six weeks)
Larger organizations with complex data requirements will take more time (~six weeks +)
We work alongside our clients and communicate clearly and transparently throughout the process, so you always know what you can expect and when!
3 Common Implementation FAQs
At Jambo, we've worked hard to streamline our implementation process so that you and your team can begin using the platform as quickly and efficiently as possible as we know critical tasks like managing stakeholder issues can be time sensitive and will need your attention right away.
The Jambo implementation process is guided by our customer success team and is called Jambo onboarding. Part of our user-focused approach is ensuring that the Jambo onboarding process addresses common worries and concerns teams have about implementing specialized Stakeholder Relationship Management (SRM) software.
Below, we've addressed three of the most common FAQs related to SRM implementation:
1. Training
Question: We are a busy team and don't have much time to learn how to use new software. How much time do we need to spend training? What if we need a training refresher?
After you discuss your goals with your Jambo customer success representative, our expert team will advise you on how best to organize your data and set up your project(s) to meet your organization's needs most efficiently.
After we set up your project and import any existing data, we start our hands-on training program!
Our talented team have designed the Jambo user-experience to be understandable and easy, which makes training a breeze. On average, your team will be well-trained in Jambo within 1-2 hours.
As part of your training, we set-up a practice project for you. In the practice project (or sandbox) your team can play around in the system and see how it works without affecting your real data.
Afterwards, you might have more questions, and our customer success team will be there to help you through it all.
For people who can't attend the training session, we can create an available recording of your training session. Several of our customers prefer to train new employees themselves as they find Jambo very easy to use and explain—whatever is most convenient for your team works for us!
2. Getting Your Team to Use New Software
Question: Once onboarding is complete; how can we ensure people use the software regularly?
At Jambo, we begin with defining your goals so we can understand what you're hoping to accomplish with our stakeholder relationship management software. Once defined, our team will work with you to setup your project(s) and propose digital workflows to use in your Jambo account to ensure your goals can be reached as easily and quickly as possible.
Simply put, we help you setup Jambo to meet your goals in the most efficient way possible.
Easy to use and efficient software naturally has higher adoption rates. With Jambo, it's fast and easy to understand and use, so your team will actually enjoy using the platform, meaning you'll see higher user rates (adoption rates) than what you'd typically see with other traditional software platforms.
3. Access to Support
Question: What happens after we are finished the Jambo onboarding process? What if we have questions? Do we have access to support?
As soon as you become a Jambo customer, you join the Jambo community, which means you can access the Jambo knowledge library of how-to articles and videos designed to augment and reinforce initial training.
You can also count on check-ins from your customer success representative. You can use these sessions to answer any questions that might have arisen since the last check-in or to discuss new project goals and ways to better use Jambo to align with these goals. However, you don't need to wait for your check-in! Log a ticket with our help desk, and our support team will quickly get back to you with the help you need.
Additionally, as Jambo continues to grow, we're always busy working on new features and updates. To ensure customers can take full advantage of the new features, we host regular Jambo customer training webinars.
Your success in Jambo depends on your team's ability to use the platform. We're always here to support our Jambo community!
Next Steps
Do you have more questions? We can provide a more detailed implementation guide if you need it for your software evaluation process, contact us here.
If you're new to Jambo, book a 15-minute discovery call to learn how Jambo can help your organization manage its stakeholder engagement information faster and easier!