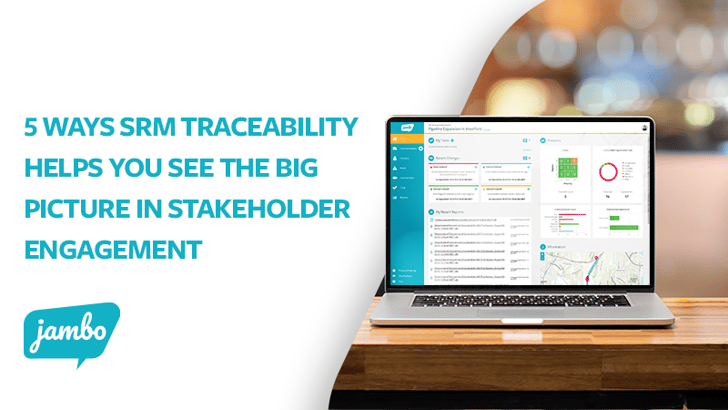 How Stakeholder Relationship Management Software (SRM) With Traceability Helps Your Stakeholder Engagement Plan
What is Traceability
Traceability in Stakeholder Relationship Management (SRM) software is the ability for all your stakeholder information to link together. This connectivity helps you build a full understanding of your stakeholders and your engagement projects quickly—i.e., the full story or big picture.
Not all SRMs on the market have traceability, but for SRMs with this capability, users have the ability to easily trace back through all the inputted stakeholder information and track each part of the engagement process to understand how everything connects, like what issues were raised at a meeting, or when a commitment was made, or which conversation a task is related to, etc. This makes your SRM the one source of truth for everyone in your organization and connects each piece of your stakeholder engagement plan.
5 Ways Using an SRM with Traceability Helps Stakeholder Engagement and Your Stakeholder Engagement Plan
1. Understand Engagement with Individual Stakeholders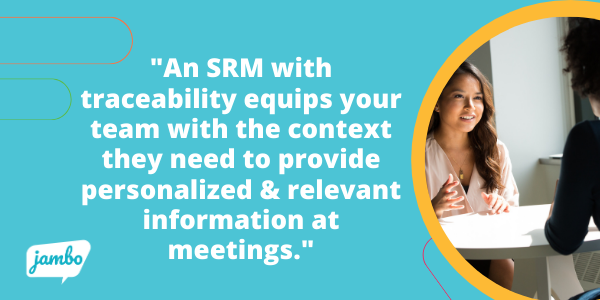 When you're meeting with a stakeholder, you want to make sure you're prepared by being able to review everything that's been said and promised to date. By utilizing an SRM with traceability, you can click on a stakeholder profile and access all previous engagement information, such as communications with the stakeholder, details of issues they were involved in, any commitments made to them, and team tasks associated with them. An SRM with traceability equips your team with the context they need to always provide personalized and relevant information at every meeting.
Having all your stakeholder engagement information documented helps you remove the guesswork as you'll understand the current situation with stakeholders as well as any potential gaps (e.g., realizing you should be engaging more with a stakeholder or noticing they haven't heard your organization's key messages yet). The ability to easily use your stakeholder information to better understand where you're at with your stakeholders will strengthen your stakeholder engagement plan and stakeholder relationships, which is key to your plan's success.
2. Back-track to Build the Full Story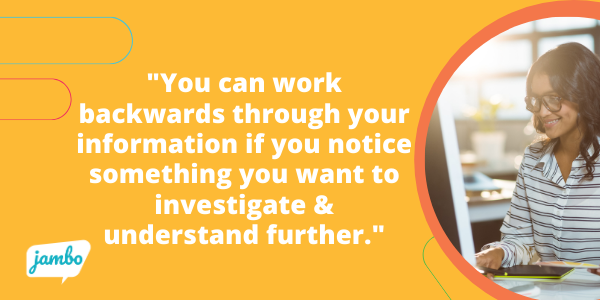 SRM traceability allows you to easily review a commitment or an issue and to see connecting information such as the original communication where the issue or commitment was first raised. This allows you to work backward if you notice something you need to investigate and understand further.
When you're communicating with various stakeholders and collecting a lot of different information, things can get disorganized. SRM traceability allows you to click into stakeholder profiles, individual issues, tasks, commitments, etc., to find all the related information and understand the big picture quickly and easily, regardless of which piece of information you started with.
3. Easily Shareable Information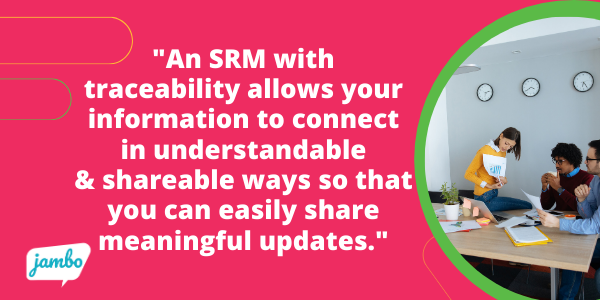 Part of a successful stakeholder engagement plan is the ability to share your project's progress with regulators, stakeholders, decision-makers, or members of your team.
An SRM with traceability allows all your information to connect in understandable and shareable ways so that you can easily share meaningful updates and insights through reports or dashboard analytics. This helps you inform anyone who needs to be updated about your project or your engagement efforts quickly and easily without having to dig for scattered information (in inboxes, notebooks or in spreadsheets); instead, with your SRM, you're confident you're sharing all the vital pieces in an organized format that makes sense for everyone.
4. Focusing Resources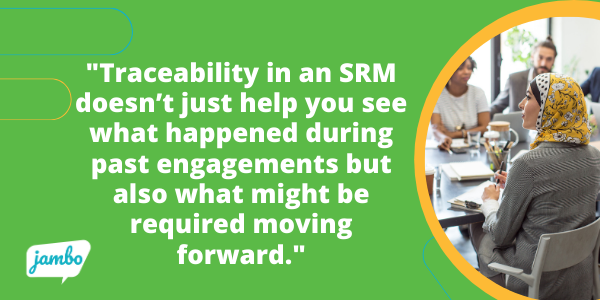 Traceability in an SRM doesn't just help you see what happened during past engagements but also what might be required moving forward. Having the ability to dig into your information and understand the full story can help you identify potential issues or areas where you might need extra resources, which helps you mitigate risks and plan the next logical steps for your stakeholder engagement plan.
To learn about the expert tips to get the most out of your stakeholder data, check out our blog!
5. Building Stakeholder Trust and Relationships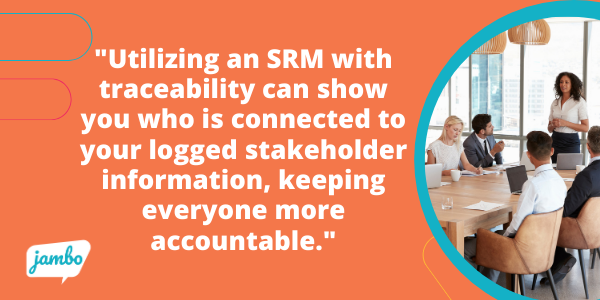 An effective stakeholder engagement plan is a collaborative process that requires you to work towards building stakeholder trust and long-term stakeholder relationships. To do this, you need to ensure your entire team is accountable and transparent so that everyone is on the same page. By utilizing an SRM with traceability that offers a clear trail of who in your team is connected to your logged stakeholder information, everyone is more accountable for their stakeholder engagement efforts, tasks, and actions as your team can easily understand information like:
Who has been communicating with stakeholders?
What has been said and when?
What promises (or commitments) have been made and by whom?
The details of any issues brought forth and any expectations on timelines
To learn how an SRM can help to build stakeholder trust and relationships, check out our blog post!
Keeping you and your team accountable and aligned with what's been previously discussed will help ensure your team and your stakeholders are on the same page and working together better. This will help to create more trust, stronger relationships, and better results for your stakeholder engagement plan.
To learn about the 7 ways to build stakeholder trust, check out our blog post!
Optimizing Traceability in SRM Software
Just because information connects in an SRM doesn't mean it's user-friendly. Traceability is complex and for it to work well for the end user, a lot of thought needs to go into the design of the software. People use software differently so make sure your SRM utilizes workflows that match your various user's needs. Choose a platform that is accessible and understandable for everyone on your team!
To learn more about how we've optimized the user-experience in our SRM, Jambo, check out our blog!
Next Steps
Our SRM, Jambo, includes all the benefits and features that we've discussed in this blog. To learn more about how Jambo can help simplify your stakeholder management efforts, check out our one-minute explainer video or book a 15-minte discovery call with a Jambo expert!