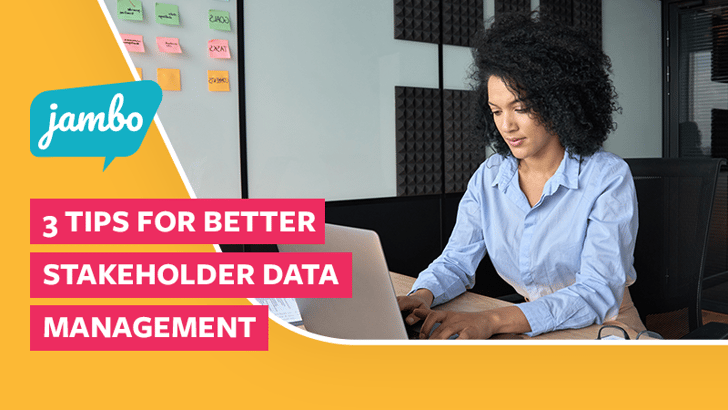 How Stakeholder Relationship Management (SRM) software can help you take your data management beyond spreadsheets for better results
Data is the key to your stakeholder engagement projects, and how you manage that data will impact your project's success.
To manage your stakeholder data more effectively, you want to keep it organized, centralized and accessible. This way, you can easily understand who you're engaging with (i.e., your stakeholders) and track everything your stakeholders share with you throughout the engagement process so that you can use this data to help you build stronger relationships and better project outcomes.
If you're interested in learning three tips to improve your stakeholder data management, keep reading!
Tip 1: Improve your contact management
Some of the first things you need to understand is who are you talking to and what are they saying? To help you answer these questions, your contact management needs to be organized and easy to understand.
You should be able to find your stakeholders, their contact information, and history of engagement, along with all communications, issues, commitments and tasks associated with that stakeholder in one organized place without having to dig for your data.
This is where Stakeholder Relationship Management (SRM) software, like Jambo, excels, as you and your teams have access to all your organized contacts and every interaction your organization has had with them in one centralized and searchable software. There's no digging for information or asking your teams for updates as your data is all available and organized within the SRM.
Want to learn more about Stakeholder Relationship Management (SRM) software? Check out our comprehensive blog here.
Why spreadsheets are not as effective for contact management
With spreadsheets, it's not uncommon for teams to input and organize data inconsistently, so it often becomes a free-for-all with teams adding duplicate entries or adding entries with spelling errors, etc. This can look unprofessional when reaching out to stakeholders and spelling their names wrong or reference an outdated job title. It also can increase your project's risks if you miss an important update because you didn't realize it had been logged in a duplicate spreadsheet you didn't know about.
Your stakeholders need to know you take them and the information they share with you seriously
It's important to be very careful with your stakeholder data as it affects your ability to connect with your stakeholders. If they don't trust you or think you're not taking them seriously, they're can often be less willing to engage with you, which will negatively impact your data quality and overall project.
By improving your contact management using SRM software to keep it all organized and searchable, you'll have access to all your data, so you and your teams can connect more effectively and build trusting, long-lasting relationships.
Tip 2: Track everything while keeping your data organized
Beyond stakeholder contact information, you want to ensure you and your teams log and track every conversation you're having with your stakeholders and all updates, as you never know what information might be crucial for your project.
For example, if stakeholders have been mentioning some concerns, you want to be able to track those and monitor them as you never know when one of these might suddenly turn into a high-risk issue that you'll need to know everything about.
You want to have all your data logged and organized from the start, so you don't have to search for it later.
Why spreadsheets aren't as effective for tracking and managing stakeholder data
If you're logging your stakeholder information in spreadsheets, it's very common to suddenly be juggling multiple spreadsheets and/or versions, which makes tracking your data and gaining updates challenging, if not impossible.
You might have started one spreadsheet for contacts, while your team started another spreadsheet for commitments, issues, concerns etc. Before you know it, you have many spreadsheets floating around your organization, which makes it confusing to know where to properly log new updates or where to find previously logged information, making your stakeholder data management disorganized and ineffective.
Even if you and your teams are tracking everything in your spreadsheets, if your data isn't organized and easy to find, you can't see how all your information connects together to gain those crucial understandings and insights you'll inevitably need.
Not sure how to say goodbye to spreadsheets? We put together an eBook just for you, 'The Step-by-Step Guide to Say Goodbye to Spreadsheets."
An SRM helps you easily track all your data so that it's organized and understandable
With clear places for all your data, an SRM will help ensure everything is tracked consistently and in an organized and easy-to-understand way.
With the concerns example mentioned above, an SRM like Jambo allows you to tag any concerns so that they're easy to track and monitor, which is especially important if they become a more significant issue down the road.
If a concern does become an issue, Jambo's issues management allows you to quickly understand what issues have been raised, when and by whom. Additionally, with Jambo, users can also identify the impact and priority of each issue with a colour-coded materiality matrix and smart reporting options.
This next-level SRM data organization helps you to track, monitor and use your data throughout your project, even as things inevitably change, so your data is working for you and towards your goals.
Want to learn more about Jambo's Tags? Check out three ways they can help your stakeholder management!
Tip 3: Keep your data secure and accessible for your team in one location
Managing data in multiple spreadsheets can be frustrating, which may lead to data gaps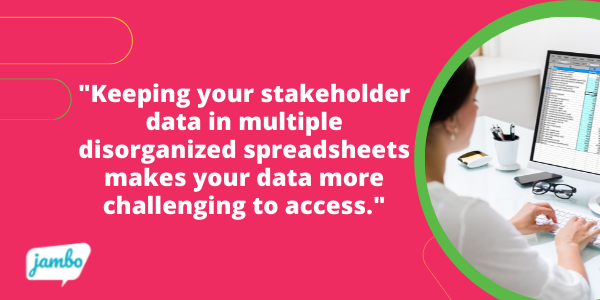 Keeping your stakeholder data in multiple disorganized spreadsheets makes your data more challenging to access, less secure, and unnecessarily frustrating for you and your team.
When something is frustrating to use, your team will often avoid using it altogether, which creates inevitable data gaps as your team won't be inputting their data consistently (or even at all). These data gaps can leave your organization open to unnecessary risks and challenges as your data may not be as accessible or secure as you'd like.
A quality SRM will keep your data accessible for your team while keeping sensitive information secure
To avoid the frustrations brought on by using multiple spreadsheets, you'll want to keep all your data centralized in one secure and accessible software, like an SRM, so you have one place to easily store and organize all your stakeholder data.
An SRM like Jambo is accessible for your team and anyone who has been given access. With its advanced security and privacy measures, including encryption, single sign-on and two-factor authentication options, Jambo helps keep your data safe, secure and accessible to authorized members on your team. Jambo helps keep your stakeholder data organized, secure and accessible, so you and your team always know where to go to access all your updated stakeholder data without unnecessary frustration or confusion.
The best option for stakeholder data management: Stakeholder Relationship Management (SRM) software
To make the most of these three tips, Stakeholder Relationship Management (SRM) software should be your top choice for your data management as it's been designed specifically for managing your stakeholder relationships and all the data surrounding those relationships. From communications, issues, commitments, tasks and more, an SRM is designed to be a collaborative, easy and effective solution to streamline your stakeholder management process and help ensure you get the most from your stakeholder data.
For those wondering if it's time to stop using spreadsheets, download our free 10 question checklist: Is It Time to Stop Using Spreadsheets for Your Stakeholder Information by clicking the image below.