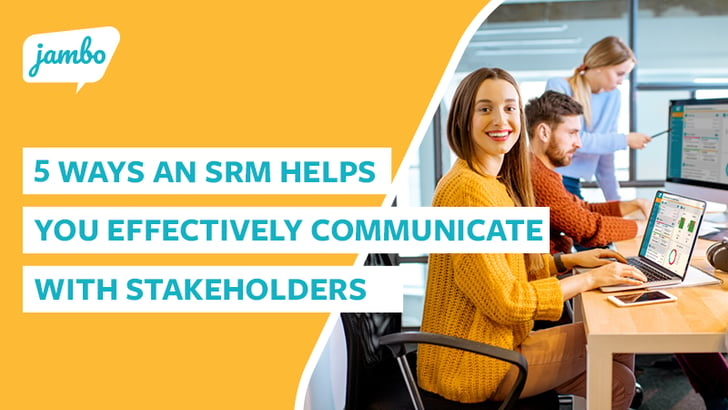 How an SRM Can Help to Improve Your Stakeholder Communication and Engagement Efforts for Stronger Stakeholder Relationships
Effective communication with stakeholders during stakeholder engagement is vital. Among many benefits, it can help you:
Understand your projects and your stakeholders better.
Prevent gaps in knowledge.
Reduce risks.
Develop lasting, positive stakeholder relationships.
Build project approval.
But how can Stakeholder Relationship Management (SRM) software help you to communicate better?
What is Stakeholder Relationship Management Software (SRM)?
SRM stands for Stakeholder Relationship Management, and an SRM is a software for managing all your stakeholder relationships and communications with stakeholders.
With an SRM, you and your team have one place to log stakeholder engagement information, meaning everyone always knows exactly where to find everything they need. Organized data simplifies the stakeholder management process so that it won't become overwhelming or unmanageable and allows you and your team to use the inputted information to stay informed, communicate more consistently and effectively, and focus on building meaningful and trusting stakeholder relationships.
Looking for a comprehensive overview of Stakeholder Relationship Management Software? Check out our blog!
5 Ways Stakeholder Relationship Management Software Helps You Effectively Communicate with Stakeholders:
1. Stakeholder profiles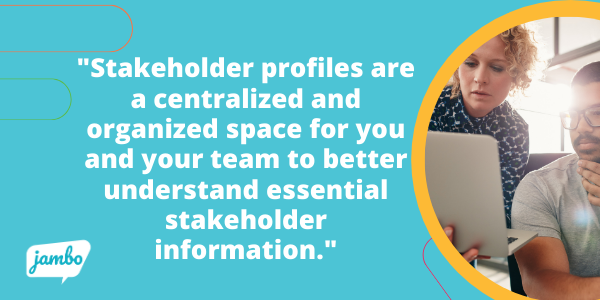 Most SRMs allow you to manage stakeholder contact information, but some enable you to see more detailed stakeholder profiles. The stakeholder profiles are a centralized and organized space for you and your team to understand essential information about all communications with your stakeholders or organizations like:
What's been discussed, and with whom?
Have any issues been raised? What is the status of issues (have they been addressed)?
Were any commitments made? Have commitments been fulfilled?
What concerns or interests does the stakeholder have?
What stakeholder groups or classifications do they belong to?
If you're meeting with a specific stakeholder, you can easily prepare for the meeting by going through their stakeholder profile to gain a quick overview. This overview helps ensure you won't ask them the same questions they have been asked previously and are better informed on their situation (e.g. are there any issues raised by this stakeholder still unaddressed or unresolved). This helps show stakeholders that your organization has listened to them and has taken their perspectives seriously, making them more likely to want to communicate with you again in the future.
2. Email integration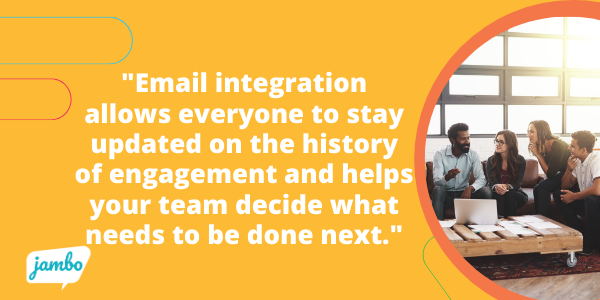 Understanding what's been said to stakeholders previously is vital for building positive relationships moving forward, so logging all records of communication with your stakeholders in an SRM can help keep everyone on the same page.
Email is a common communication tool for contacting stakeholders, so utilizing an SRM that allows you to email communication records directly into the platform can make logging records fast and easy. An SRM, like Jambo, can even go one step further by using system logic to translate your emails into a complete and understandable communication record while also keeping attachments intact and connected to the record. This allows everyone to stay consistently updated on the history of engagement and helps your team decide what needs to be done next.
Having the ability to easily send communication records to your SRM, means you don't have to worry that critical information is left sitting in various team members emails, reducing the risk that comes with stakeholder engagement data gaps.
Looking for tips on how to write effective stakeholder emails? Check out our blog!
3. Traceability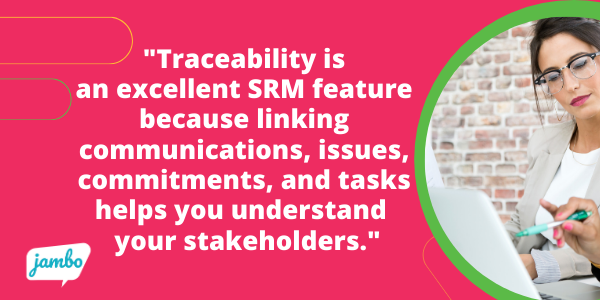 Not all stakeholders care about the same things or need the same information. To make sure you're communicating well with each stakeholder, it's vital to understand their unique perspectives on your project, which is where traceability can help.
Traceability is the ability for all your stakeholder information to easily connect within your SRM to tell the "full story" of what's happening with your project and stakeholders. Traceability is an excellent SRM feature because linking communications, issues, commitments, and tasks helps you build a comprehensive understanding of your stakeholders and their perspectives on your project very quickly, without having to dig. Having this complete understanding allows you and your team to communicate more effectively, confident you're addressing the vital topics that matter most to your stakeholders.
Interested in learning how traceability works in Stakeholder Relationship Management (SRM) software? Check out our blog!
4. Logging stakeholder roles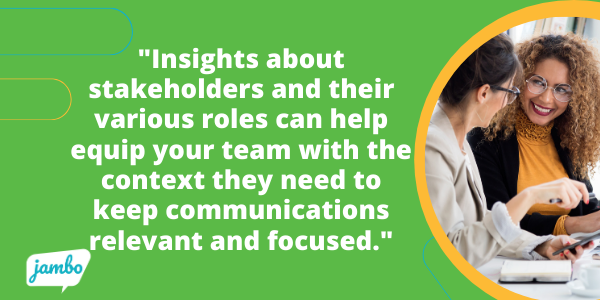 It's not uncommon for you to come across people who may be representing multiple stakeholder roles or perspectives in your engagement program.
For example, a stakeholder can be a private business owner, a member of the local historical society, and an employee of an organization all at the same time, so understanding which role they are representing at the time they're engaging with your organization can provide you with important context. For this reason, it's important that your SRM enables you to record:
that a stakeholder contact is associated with multiple organizations and;
which organization the stakeholder contact was representing for each engagement.
This feature allows you to easily identify what role a stakeholder is representing and which issues or commitments are associated with the stakeholder and the respective organization. This is beneficial for your records because the original record will remain linked to both the stakeholder and the original organization, preserving your historical data's integrity while highlighting the changing nature of your stakeholders and their relationships to their community, groups, and organizations.
These additional insights about your stakeholders and their various roles can help equip your team with the context they need to keep communications relevant, updated, and focused.
To learn how Jambo helps lower the risk of working with contractors, check out our blog!
5. Tracking preferences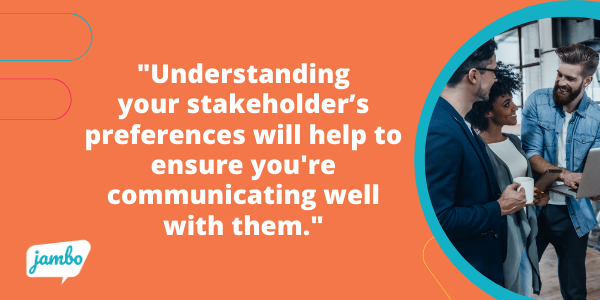 Understanding your stakeholder's preferences will help to ensure you're communicating in a manner that works best for them while also showing you're listening to what they've already shared, helping them feel acknowledged and respected.
To keep records of preferences, use an SRM with an internal notes section to log information such as the hours they're available, their preferred name, their favourite beverage, etc. You and your team can then use this information to personalize any communications or in-person meetings to show you listened and care about their perspectives and preferences, which will help to strengthen your stakeholder relationships.
Next Steps
It's essential to remember that when building relationships and implementing your stakeholder engagement plan, it's not just about how you engage; it's what you do with that engagement information that can make a big difference. To learn about why effective stakeholder engagement is crucial, read our blog!
Developing a repeatable and scalable process for stakeholder engagement management is essential for communicating effectively and building strong stakeholder relationships, which is why utilizing Stakeholder Relationship Management (SRM) software is key!
To level-up your stakeholder communication, it's time to choose the best Stakeholder Relationship Management software for your organization. To help you decide how to select the right SRM, download our free checklist!