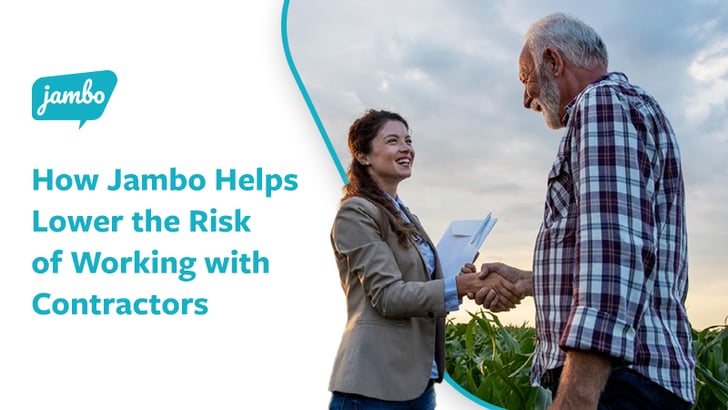 If you're currently hiring or working with third parties like contractors, subcontractors, students, or summer interns to help with your stakeholder engagement projects then you may have concerns about safely collaborating within your Stakeholder Relationship Management (SRM) software. This blog describes nine great ways Jambo helps lower the risk of collaborating with contractors.
Strengthen Your Engagement Project with Contractors
Hiring contractors can be a smart choice to keep your project on track. There are a number of reasons why you may be adding extra resources and expertise to your team:
For support with regulatory requirements and submissions (for development permits or environmental assessments).
To run stakeholder or Indigenous consultation programs.
To manage the communications or public relations for your project.
To oversee government relations.
Risks to Consider When Collaborating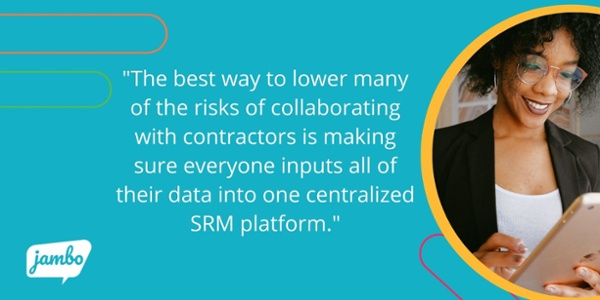 The best way to lower many of the risks of collaborating with contractors is by making sure that everyone inputs all of their data into one centralized SRM platform. This way, you have a line of sight into all the work being done so you can easily stay on top of everything happening across your projects and with all of your stakeholders.
However, giving everyone full access to all of the data and confidential information stored in your SRM might be a concern for some. To help with this, Jambo has many features to make collaboration easier and safer. To find out more and read about other great Jambo de-risk features keep reading below.
9 Ways Jambo Helps Organizations Lower the Risks Associated with Giving Contractors Access to their SRM
1. Individual User Permissions
You might not want to give every user the same access to your information. For example, you don't want contractors to have access to the internal notes of communication records or financial information. With Jambo, you can restrict user access to certain information on a case-by-case basis. You may also want to limit the number of users who can edit or delete records. You can even give read-only access to a user.
With Jambo, you can set different permissions for each user to meet their data requirements. These individual user permissions will help ensure your contractors can use your SRM to meet their specific needs while protecting your sensitive data.
A Tip from Jambo's Stakeholder Engagement Specialist: Talk with your team and consider what you want your contractors to be able to do with the data in your SRM. Do you want them to be able to edit records or just log information?
Consider whether you want to set up an approval process or a workflow where decisions around access to information in your SRM goes to somebody on your team with a higher level of permissions. Regardless of what you need, our Customer Success team is here to support you in reaching your goals.
2. Add, Remove, or Change User Permissions
At times, you may want to change some user permissions; especially as new contractors or summer interns join your projects (and others finish their contracts). Jambo administrators can manage account users, so they can easily change user permissions in real-time with no support request needed.
If you ever need to remove a contractor from a project, you can easily do this. They will no longer be able to access Jambo (however all their added data will remain in Jambo forever to ensure consistency in your records).
Risk management is an important focus for Jambo. Learn 4 ways Jambo helps you manage stakeholder risks.
3. Restrict Contractors from Viewing Other Contractors' Data
In some situations, you may be using multiple third-party companies and don't want them to see each other's data, whether for confidentiality reasons, to prevent a conflict of interest, or an overall need to keep companies' data private. In Jambo, you can restrict contractors from viewing other contractors' data.
If you don't want them to have access to each other's information, you can decide how you want to keep their data separated within Jambo. For example, you might want to set up different projects for each contractor and give your internal team access to all contractor projects.
A Tip from Jambo's Stakeholder Engagement Specialist: When you're defining your project goals, discuss how you plan to organize and integrate third-party data. Think about want data you want to be logged in your SRM and who will be overseeing that data. What does that mean in terms of user accounts? If you're adding contractors as users (which we encourage), then what information do you want them to be able to access?
Our Customer Success team can recommend the best configurations for your user accounts to help meet your data and privacy needs. Don't worry if you change your mind down the road! We can work together throughout your project to meet your changing needs and help you adjust accordingly.
4. Stay Updated on Your Field Contractor's Progress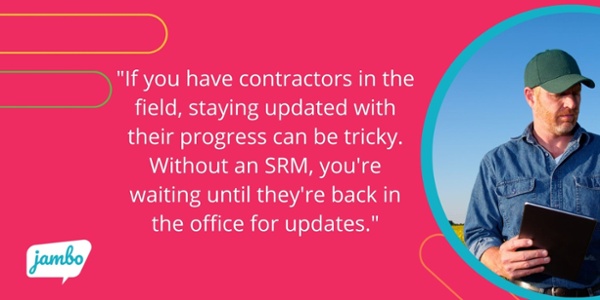 If you have contractors in the field, staying updated with their progress can be tricky. Without an SRM, you're waiting until they're back in the office for updates or to hand over reports. As Jambo is a cloud-based platform, your contractors can use it in the field. With its mobile-friendly and responsive design, field contractors can use their smartphone or tablet to input their records directly into Jambo wherever they're working as long as there's an internet connection.
Instead of waiting for your next meeting, this connectivity lets you see what field contractors are doing in real-time, so you're continuously aware of their progress and not missing any critical updates.
A Real-Life Example from a Jambo Expert: If your organization is dealing with a vital stakeholder issue and your contractor has gone to talk to the stakeholder about the issue, your team will be eager to hear an update. With Jambo, as soon as your contractor adds an issue update, it's available for all users to see.
This instant access saves any tedious or delayed check-ins as all the information you'll need can be instantly accessed. This is a significant risk management move as issues can be time-sensitive and have the potential to derail a project if not managed correctly. With Jambo, you're updated right away.
5. Protect Your Contractor's Knowledge and Hard Work
Once your third-party contract has ended, where does their information live? They've been working on projects and have essential project knowledge that needs to be transferred over. You need to reduce project risk and ensure their data doesn't leave when they do!
You'll want to know:
To whom have they talked?
When have they talked to them?
What have they talked about?
What promises were made?
What tasks they completed (or have yet to be completed)?
You'll need all this data to help build positive stakeholder relationships (it's hard to build trusting relationships when you don't know what was talked about previously) and help your projects succeed!
If a contractor had a user account and was securely logging their data in your SRM, then you will forever have access to their knowledge, which is vital for your current project and any future follow-up questions. You can feel confident knowing your data isn't walking away with your contractors once they leave your project.
A Real-Life Example from a Jambo Expert: It's common for regulators or stakeholders to ask questions about projects from many years ago. Suppose a Freedom of Information (FOI) request comes in, and you need to share information about who was engaged during an earlier project. In that case, you'll need quick and reliable access to that data.
When contractors have logged all of their data in Jambo, you know all your project information is searchable and accessible (no matter how long has passed). You don't have to try and contact old contractors to get the information you need, which is an important risk reduction benefit as they might have moved on or no longer have access to their notes from your project.
Want to learn how Jambo keeps your data protected through two-factor authentication (2FA)?
6. Run Representative Reports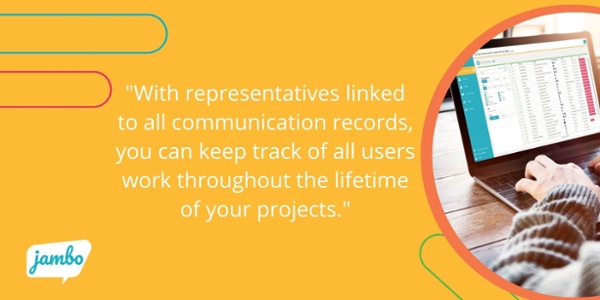 Keeping track of your contractor's work is important and Jambo's representative reports can help you do this. When a user emails a communication record into Jambo, it's linked to them, and they are considered the representative of that record. If you're creating a communication record in Jambo, you must select a representative for that record. With representatives linked to all communication records, you can keep track of all users work throughout the lifetime of your projects. If you want to look at your contractor's communications with your stakeholders, you can run a representative report to show you all the records linked to them.
A Tip from Jambo's Stakeholder Engagement Specialist: If you have a contract with a contractor to engage a specific number of stakeholders or complete a specific number of tasks, representative reports can help you see their progress, which helps to keep everyone accountable to the terms of the contract.
7. Utilize the Activity Logs and Recent Changes Features
There's a lot of useful information you can learn about your contractors based on how they use Jambo. This information can help you understand their progress.
Jambo's Activity Log and Recent Changes are two great ways to view your contractors' progress without constantly checking in on them or waiting for updates. These features help ensure there's transparency in your professional relationship and allows you to benefit from their work and make essential adjustments if you notice anything that needs attention.
Activity Logs
You can turn on Jambo's Activity Log to tell you what users are doing in the platform. This feature will give you the history of interactions within the platform like:
When did they log in and out?
Did they create a new record?
Recent Changes
On an individual communication record basis, Jambo has a Recent Changes feature that helps you check who made what changes, when, and to what record.
For example, if someone updates a phone number in a stakeholder's profile, the Recent Changes will tell you what the phone number used to be, what it was changed to, who made this change and when they made it. This helps keep everyone accountable for their actions and tells you who to contact if you have any questions about the changes.
8. Encourage Collaboration
Whether you're collaborating with remote teams or contractors in the field, the distance can make you feel disconnected, making it hard to stay on the same page in your project.
With Jambo, everyone can see what teams and contractors are working on as soon as the data is logged in the platform. There's no delay in viewing the updates once they're added, which helps people to collaborate within the platform in real-time.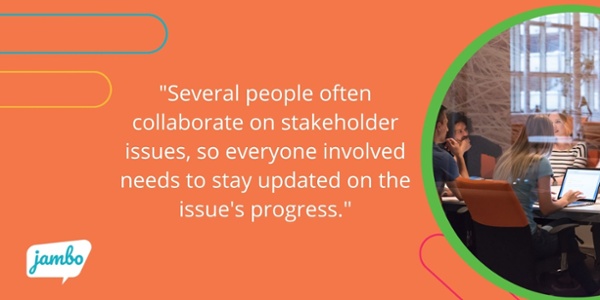 A Real-Life Example from Our Experts: Several people often collaborate on stakeholder issues, so everyone involved needs to stay updated on the issue's progress. In Jambo, if somebody is working on the same issue record as you, their avatar will pop up on the screen, so you know they are working on it too. Once you see someone else in the record with you, you can work together on adding updates or clarify who will manage what.
Additionally, if somebody updates an issue and you're the owner of it, you'll receive an immediate update. This is especially helpful when you're dealing with a time-sensitive, high-risk issue, as you'll receive the updated information from the work your contractors are doing right away.
Collaboration challenges are just one of the data management problems that teams face. Find out how Jambo helps you solve the 4 most common data management problems.
9. Benefit From Jambo's Customer Success Team
One of the best ways to minimize risk when working with third parties is by ensuring everyone logs their stakeholder data in the same SRM. To ensure everyone uses your chosen SRM, it must be easy to use and come with helpful support.
Our Customer Success team can help ensure all your users have the same understanding of how Jambo works. You can also include your contractors in training opportunities so everyone can get the most value from Jambo while ensuring your sensitive data is safe and risks are lowered!
A Tip from Jambo's Stakeholder Engagement Specialist: We've seen success from organizations who add a clause into their contract saying contractors must use their chosen SRM. This way, the expectation is made clear that the contractor will continuously update all the information they're collecting into the same platform, so you don't have to worry about missing data or tracking project progress.
By making it an expectation from the beginning, it's much easier to ensure that the important data being collected can be used to help your project without all the unnecessary risks that come with giving contractors access to your SRM.
Next Steps: See What Jambo is All About
If you're ready to look at Jambo and see all these excellent features in action, book a 15-minute discovery call or request a demo!