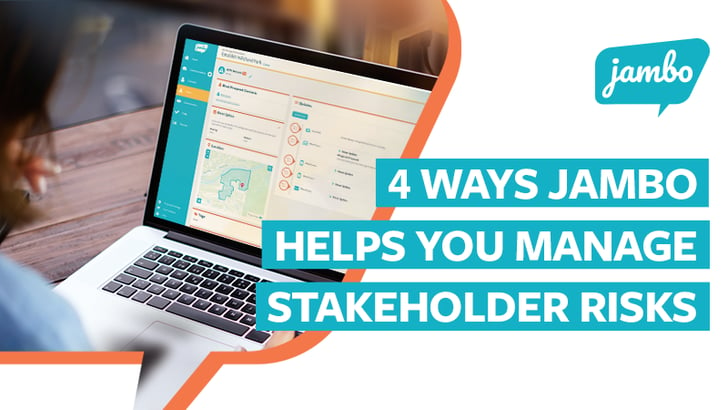 There are inevitable risks that will arise during your stakeholder engagement and management process, so having the ability to forecast and evaluate those risks to minimize their impacts or avoid them altogether is incredibly important for your project's and organization's success.
Using the right software will help you and your team immensely, and there's no better tool for your stakeholder management needs than focused Stakeholder Relationship Management software (SRM).
In today's blog, we're sharing how our SRM, Jambo, will help you manage your stakeholder risks throughout your project for better outcomes.
What is Jambo?
Jambo is the fastest and easiest Stakeholder Relationship Management software (SRM). It simplifies how organizations manage their stakeholder engagement and consultation projects by helping teams collaborate in real-time to track, report and stay on top of their stakeholder information.
When it comes to stakeholder risk management, Jambo allows you and your team to understand your full history of engagement with your stakeholder, so you'll see things you wouldn't usually notice in your data. With this understanding, you're updated and able to see past or current risks, allowing you and your team to make strategic decisions and better prepare your resources.
Want to learn how to de-risk your projects with Stakeholder Relationship Management Software? Check out our blog here!
4 Ways Jambo helps you manage stakeholder risks
1. Jambo's tags allow you to flag concerns
The more data you and your team collect and enter into your stakeholder management software, the better insights you can gather. But more data also increases your organization's risks for missing critical information if it's not organized well or accessible for your team.
Jambo's tags help you avoid these risks by ensuring you and your team can organize your stakeholder information according to specific interests, concerns, or important and emerging themes.
This ability to better manage and classify your stakeholder information will enable you to quickly report on and analyze your data more effectively. As these tags operate like social media hashtags, they are also searchable, so you can find exactly what you need when you need it.
With Jambo's tags, you'll easily be able to keep track of any concerns that haven't been logged as issues or grievances just yet, keeping you aware of things that might become riskier in the future.
2. Jambo's issues management will ensure you can prioritize your risks
Once a concern becomes an issue (i.e., a formalized concern you'd like to resolve), Jambo's issues management will help you with this next step, which is important as issues can carry different levels of risks.
Jambo has been designed to keep all your stakeholder issues in an organized space and gives you the ability to task manage the issue follow-up, so your team doesn't have to worry about forgetting to address an issue ever again.
Jambo's issue's timeline
With Jambo's issue's timeline, you can also gain a deeper understanding of the history for a specific issue. This view is essential, especially if you're addressing a high-risk issue and want to understand that particular issue (including what mitigations, responses and outcomes have been to date) and to help navigate it in an informed and careful manner.
Jambo's materiality matrix
As an additional feature for your issues management and to help you understand your risks, Jambo has a materiality matrix. Knowing the materiality of an issue (i.e., its level of impact vs its priority) allows you to better sort your issues according to their level of risk and communicate these risks to your team and management.
Jambo will also allow you to visualize this as part of your tracking and reporting, which can be a big time-saver and help you share the risk profile for your project or program with your team and executives!
Want to learn how an SRM can help you manage your stakeholder issues? Read the blog here!

3. Jambo's commitments management keeps everything front of mind
While many organizations are still using spreadsheets to manage their stakeholder engagement efforts, we know that spreadsheets complicate your stakeholder management process and increase your risks. These spreadsheets may or may not be up-to-date and can be hard to search and understand.
Plus, with multiple spreadsheets, it's hard, if not impossible, to keep track of important information like commitments, and if you're unsure when the spreadsheet was last updated, it can be hard to track the status of these commitments. This lack of understanding of your commitment history leaves you open to various risks that you may or may not be aware of.
With Jambo, your commitment information is centralized and organized, so you can easily see the last time your information was updated, and you always know you're looking at the latest version. With this information at your fingertips, you and your team will understand your current project liabilities from your commitments and can better minimize and manage your stakeholder risks.
Want to learn more about how an SRM can help with stakeholder commitments? Read our blog here!
4. Jambo's reporting options keep everyone updated on the risks
When meeting with teams, managers don't always know the risks because they're often not meeting with your stakeholders, especially if you have consultants and engagement practitioners, so you need to find a way to keep everyone updated on stakeholder risks. Jambo reports are a practical solution as our detailed reports can help keep everyone on your team updated on what's trending and what might need your team's attention.
Reporting on tags
Remember those tags we introduced earlier? You can dive into them even more in Jambo's reports to get a visual representation of what's happening in your project. With these reports, you can see the themes or arising concerns, and you can even run a top 10 tags report for any time frame or with specific stakeholders if you're looking for more detailed information.
With Jambo's smart filters, you can run the reports you need based on your stakeholder groups (whether it's a geographic location, special interest group, what's been trending in their conversations, etc.).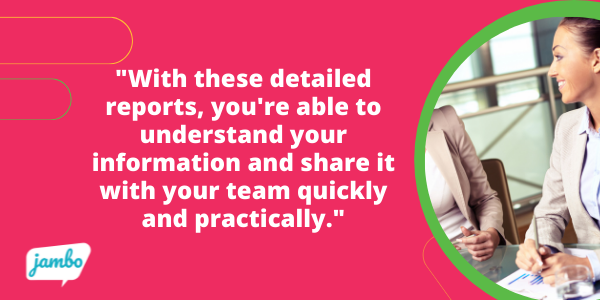 With these detailed reports, you're able to understand your information and share it with your team quickly and practically, so everyone is updated on any risks, concerns or issues that affect your stakeholder risk management plan.
Limit your stakeholder risks with Jambo
Poor risk management can lead to reputational damages, project delays, loss of stakeholder support and even fines. But with Jambo, you'll see the big picture of what's happening in your stakeholder engagements, so you can stay connected to your team, understand your stakeholders and keep track of any past, current or upcoming risks, so you're never caught off guard or unprepared.
Is Jambo the right Stakeholder Relationship Management software for your organization? Join a demo!
If you'd like to know more about all that Jambo can offer your organization, book a 15-minute call with a Jambo expert!