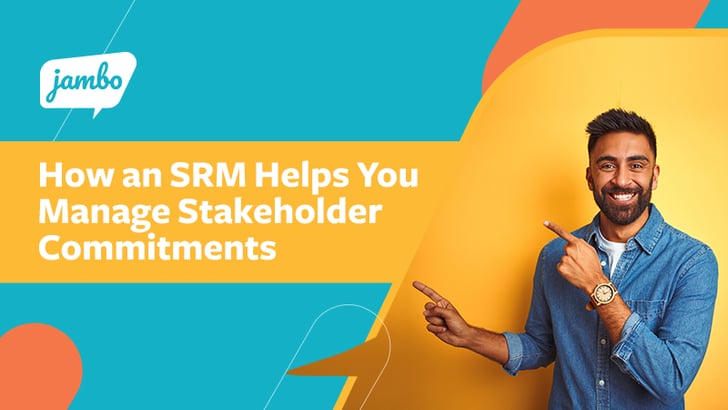 Follow Commitments Through to Resolution with Stakeholder Relationship Management (SRM) Software
Stakeholder Relationship Management (SRM) software is a valuable tool for connecting all your stakeholder engagement information in one platform to simplify and streamline your engagement programs.
A vital component of a successful stakeholder engagement plan is the tracking and fulfilling of stakeholder commitments.
What are Stakeholder Commitments?
A stakeholder commitment is a promise made to a stakeholder.
These commitments can take many forms; they can be general (such as a policy change, or an action that needs to be taken), involve a financial element (such as a donation or sponsorship), or represent a financial equivalent (such as goods or services provided or exchanged).
Common Pain Points for Organizations with Commitments
Forgetting about commitments (especially commitments that can't be fulfilled until far into the future)
Lack of commitment ownership (who is responsible for ensuring the commitment gets addressed and fulfilled?)
When staff leave, commitment information can leave with them
Difficulty tracking the status of commitments (e.g. not knowing how many are active and still need to be fulfilled)
Not being aware or understanding current project liabilities when making commitments
Not understanding how the commitment connects to other project information (e.g. what stakeholder, organization or community is a part of the commitment, what communications have been made to stakeholders regarding the commitment to date, what issues are associated with the commitment, etc.)
Benefits of Using Stakeholder Relationship Management Software for Commitments Management
There are many benefits to using an SRM to help with your organization's commitments management.
With the ability to quickly log all your stakeholder information into one centralized system, you can focus on engaging, building stakeholder relationships and working towards reaching your project goals.
With an SRM, you can:
1. Quickly Access Your Information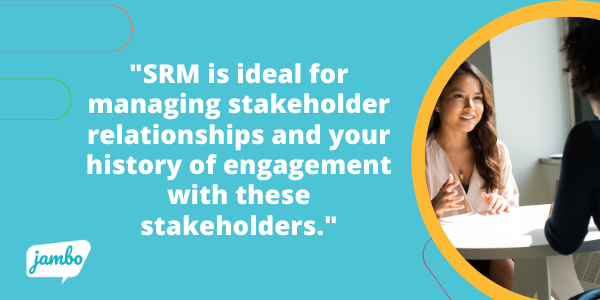 Depending on the SRM you choose, you should be able to view commitments associated with one or all your projects to help you build a full understanding.
When you record all your information, you always know where commitments have come from (i.e. which communication record or issue the commitment is associated with). When you know how your information is linked together, it helps you build a full understanding of your stakeholders and your projects.
Report on the Full History of Engagement
An SRM helps teams organize their commitments in a searchable and understandable way, making it easy to stay on top of them so you never forget another commitment again.
Communication records associated with the commitment will be easy to view as part of the overall commitment profile. This audit trail of information is important because, for example, if you run into a situation where there is a discrepancy over how a commitment was handled, you can quickly pull all the necessary information to show the exact communication that occurred.
Build Stakeholder Relationships
Being able to access commitment information so you can understand how and why it was promised helps you better understand your stakeholders' wants and expectations. Knowing what commitments exist and if they've been fulfilled will help ensure you never get blindsided again in a meeting with a stakeholder.
This understanding also helps you and your team communicate more consistently with stakeholders, prepare for stakeholder meetings and tactfully fulfill commitments in collaboration with other staff, contractors or business lines. This clarity will help your stakeholders to see you as more engaged, knowledgeable and reliable, which contributes to building important relationships.
To learn more about building stakeholder relationships, check out our blog!
2. Understand and Limit Risk
With your information tracked, organized and accessible in an SRM, you can better prepare for and mitigate risks to keep your projects on schedule and your organization better protected.
Track All Information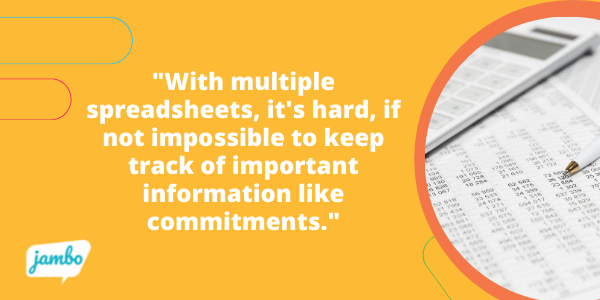 Many organizations are still using spreadsheets to manage their stakeholder engagement efforts. Spreadsheets may or may not be up-to-date and can be hard to search and understand.
With multiple spreadsheets, it's hard, if not impossible, to keep track of important information like commitments. If you're unsure when the spreadsheet was last updated, it can be hard to track the status of commitments.
This lack of understanding of commitment history leaves you open to a variety of risks.
With a cloud-based SRM, your commitment information is centralized, you can easily see the last time it was updated, and you always know you're looking at the latest version. If your SRM has user-based permission, you can also control who can access commitment information, which is beneficial depending on the role of staff or contractors in your project.
Manage Organizational Reputation
Positive perceptions help build your organization's reputation with people, which can be extremely valuable, especially during turbulent times or when trying to gain support. Your willingness to engage consistently and transparently while also ensuring you fulfill all your commitments will affect how people perceive your projects and your organization.
An SRM helps manage reputation by allowing you and your team to stay consistent in your messaging as you always know what's been said by whom and gives you the ability to organize commitments according to priority and due date, meaning you always know which commitments still need to be fulfilled.
Fulfill Future Commitments
Speaking of commitment fulfillment, it's inevitable that some won't be able to be fulfilled until years into the future, and it's hard to remember a promise made five years ago (especially one that pre-dates your time on a team)!
With an SRM, your information is tracked, organized and accessible, allowing you to review commitments quickly and understand what was agreed to, including any liabilities, helping to support your team's accountability to ensure commitments are always fulfilled regardless of when they were made.
To learn more about how an SRM helps you manage your stakeholder commitments, check out our blog!
Easily Compile Helpful Reports
As an SRM is built for managing stakeholders, the unique workflows can help you gain rich insights into your stakeholder engagement projects and allow you to easily create useful reports.
These insights and reporting capabilities are essential to the effective management of your stakeholder information and help you to understand how everything connects.
Some SRMs will allow you to run reports on commitments by status to help you keep track of important information like which commitments are currently high priority or overdue and need your immediate attention. These reports can help to improve accountability and ensure compliance.
To learn more about how SRM reports will help your stakeholder engagement, visit our blog!
How do You Choose an SRM?
Now that you understand the benefits of using an SRM, it's time to choose one!
Not every SRM is designed or supported the same. Software that works for one organization might not be the right option for another, so take the time to review and select the best SRM for your organization.
Next Steps
Ready to say goobye to spreadsheets and make the switch to stakeholder relationship management software? Check out our free eBook!