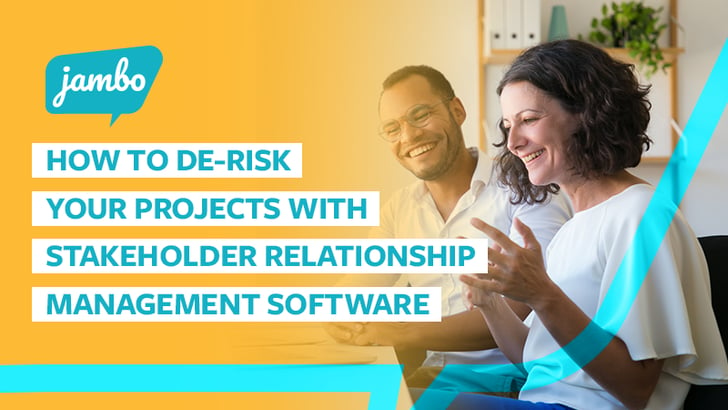 Common Stakeholder Information Management Risks and How SRM Software Can Help
When it comes to stakeholder engagement, there are inevitable risks that can affect your project and your organization's success. With quality Stakeholder Relationship Management (SRM) software, you can better prepare for and mitigate these potentially devastating risks to keep your projects on schedule and your organization better protected.
Risk #1: Where's Your Stakeholder Information?
Your stakeholder engagement project, or program, is a collaborative process. You might have several people engaging or consulting with stakeholders and inputting relevant data, which means your data is likely in several places.
Depending on how you're managing your stakeholder information, your collaborators might be avoiding the input process because your current stakeholder management process is clunky, messy and inconsistent (which is often the case when using spreadsheets!).
When the stakeholder information input process is frustrating or confusing, you'll find data is often being stored in emails, spreadsheets, project management programs, or on desktops, USB sticks, post-it notes and even external hard drives.
Not only does scattered information make it challenging to organize and report on your important stakeholder data, but there's also a risk of losing valuable information when people switch projects or leave your organization, taking the knowledge with them when they go.
This missing stakeholder information creates gaps in your data, which is risky because you never know when a manager, a key stakeholder or a legal authority might ask for your complete records.
Beyond incomplete data, it's also risky to have potentially confidential information floating around unprotected on laptops and other devices.
Risk #2: Is Your Stakeholder Information Protected?
When it comes to stakeholder engagement and consultation, you're dealing with people's personal information and sensitive project data, which means you must take steps to ensure that information is secure.
It's crucial to ensure that your data input process is consistent and that the stakeholder information management system you're using to manage that sensitive data is secure, utilizing extra security measures like two-factor authentication. Using a secure, cloud-based software will help to keep your information protected from program crashes and out of reach from those who don't need full access.
Want to learn more about some of the new features in Jambo? Check out our blog!
With cloud-based stakeholder relationship management (SRM) software like Jambo, you can manage user permissions and control the data that users have access to, which is especially useful if you'd like to give users different permission levels (e.g. external contractors, interns, etc.).
Risk #3: Are Stakeholder Issues Resolved and Commitments Followed-up?
Dealing with a variety of unique stakeholders (all with individual concerns and opinions) means you'll likely encounter some issues (e.g. a noise complaint, an environmental impact concern, a damaged fence, etc. – we've seen it all), and these issues must be resolved as quickly and as tactfully as possible.
When managing relationships with many stakeholders, you might be faced with multiple issues, grievances and concerns, and keeping track of everything can quickly become complicated. If you fail to address and resolve, even one issue, this can snowball out of control and lead to a a detrimental backlash and risky consequences.
Interested in learning more about managing stakeholder relationships? Check out our blog!
In terms of commitments (or promises), it's important to follow-through with these to build stakeholder trust and develop meaningful relationships. It's also important to keep track of all commitments and their current statuses to ensure they are fulfilled.
To learn about the 3 reasons stakeholder relationships are key to your organization's success, visit out blog!
We know that some commitments can't be fulfilled until years into the future, and it's hard to remember a promise that was made five years ago (especially if it pre-dates your time on a team) which is why it's important to track everything. With your information tracked, organized and accessible, you can quickly review commitments, understand what was agreed to, including any liabilities, helping to support accountability with your team to ensure commitments are always fulfilled. This data trail is essential and useful when it comes to both your organization's risk-management efforts and understanding your stakeholders.
Being accountable to your stakeholders by following-through on all stakeholder issues and commitments is crucial during the planning, pre-development and operational stages, and this is best accomplished with an SRM designed to keep you and your teammates on the same page.
Risk #4: Can you share the whole story?
The reality is, organizations can always be subject to concerns over whether adequate engagement or consultation has taken place.
If this happens, you may be required to illustrate your history of engagement and consultation with one or many stakeholders over an extended period. If your data is scattered, incomplete or messy, the process of gathering every piece of required information can be very time consuming and frustrating, which is risky as this process is often time-sensitive.
With an SRM like Jambo, you'll have an audit trail of your information, helping you to keep track of all stakeholder communications and all changes to the data (i.e. when changes were made and by whom) which helps ensure the authenticity of your data. You can use the issues management module to show what was done to address concerns and grievances and how you came to certain project decisions. This is an amazing tool to have when trying to visually explain your project and get plans approved!
Having the ability to track your stakeholder data and any changes made to that data within a centralized and easy to navigate space will lower risk and keep your information up-to-date, accurate and authentic, which better protects your organization.
Takeaways
While it's easy to focus on trying to gain support and keep things moving forward, it's crucial to be aware of the risks surrounding stakeholder information management. These risks have the potential to interrupt, halt or even stop your project and negatively impact your organization.
How Jambo Can Help

Be Transparent with Project Plans
Integrated maps to help track areas of concern and consultation locations.
Ability to export and share geospatial PDFs.
Insightful analytics and reports to help illustrate the status of projects.
Hosted Cloud
Available as a secure, yet easy-to-manage hosted solution.
No complicated and messy installations.
Mobile
Responsive design enables a great experience on tablets and mobile phones, in addition to desktops and laptops.
Use voice-to-text to capture engagements effortlessly.
Issues Management
Know what issues have been raised, when and by whom.
Easily identify which issues could put your project at risk through a materiality rating system and smart reporting.
Manage concerns and grievances and use the easy to understand timeline to show how you worked to resolve stakeholder issues and why you made project decisions.
Commitment Tracking
Track project commitments and view when they were made and by whom.
Ensure commitments are carried forward and fulfilled.
Interested in learning more on how an SRM helps you manage stakeholder commitments? Check out our blog!
Cloud Collaboration
Experience secure collaboration across teams with our web-based experience.
Access stakeholder profile information – including communications, issues, commitments and tasks – so you are prepared when communicating with stakeholders.
Everyone can centrally track and store all project information, so you always know what's happening without having to ask (or send an email).
Reporting
Create concise and useful project reports that illustrate stakeholder engagement project progress.
Save report types to make regular report requests easy to handle.
Download and share visual project reports with decision-makers to keep them up to date.
Next Steps
If you'd like to learn more about Jambo, view our one-minute explainer video!