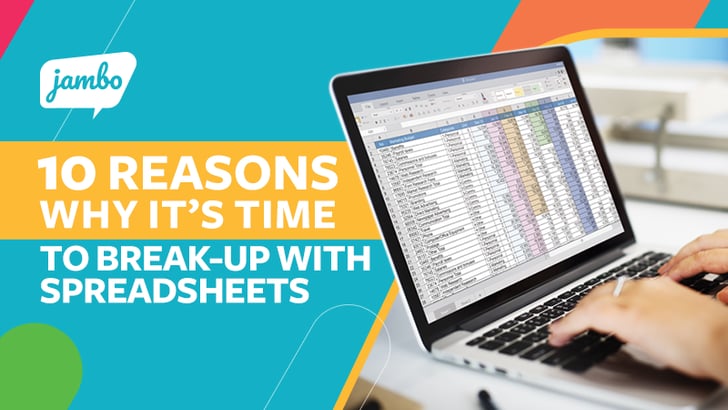 Spreadsheets aren't the best option for managing your stakeholder engagement information when building stakeholder relationships. Read our blog to find out why.
Effectively managing your stakeholder engagement information is crucial because it allows you to understand your stakeholders better and track essential deadlines (i.e. commitments and issues).
While spreadsheets might seem like a good option for your stakeholder engagement plan, they're not a sustainable solution if you want to build future-focused, long-term stakeholder relationships and there's plenty you can't do with them for your stakeholder management plan.
For today's stakeholder engagement expectations, spreadsheets are a temporary solution. For a more growth-orientated option, software specifically designed for stakeholder management, like stakeholder relationship management (SRM) software, is the ideal solution.
Check out the following list of 10 reasons why it's time to break up with spreadsheets --click to jump ahead!
1. Multiple Spreadsheets are Messy and Complicated to Manage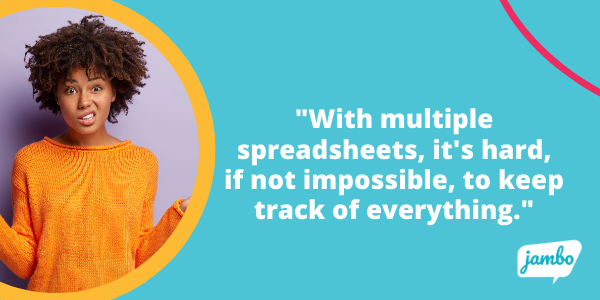 There's rarely just one spreadsheet.
You start a spreadsheet for stakeholder contact information, but then you begin another for communications, then another for commitments, and then another for issues. Suddenly, you have several spreadsheets, and your data is all over the place.
With multiple spreadsheets, it's hard, if not impossible, to keep track of everything.
A single spreadsheet can cause confusion and misunderstanding, too, because it's often long and loaded with tedious information. You'll find yourself scrolling and scrolling through a spreadsheet without ever being sure you're understanding its contents.
Beyond convoluted and confusing data, there's also the issue of attachments. What happens to extra documents that compliment your spreadsheet data?
You might have images from areas of interest or an audio file from a critical meeting. With spreadsheets, there's no clear way to add attachments, which leaves you and your team at risk of missing essential insights or critical data, which is counterproductive when you're trying to manage your stakeholder engagement information effectively.
2. Inconsistent Inputting Methods are Common with Spreadsheets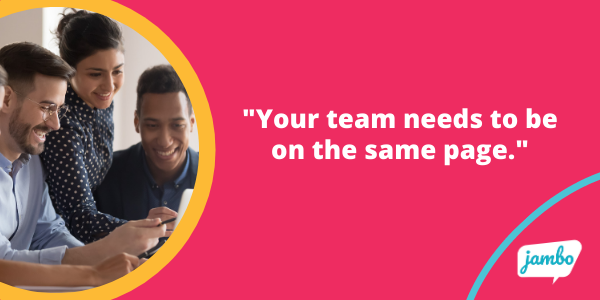 Unfortunately, with spreadsheets, your team members often develop independent inputting styles, which makes your spreadsheet data inconsistent and complicated. Suddenly, what makes sense to one person is nonsense to another, which doesn't work when you're sharing data as a team and trying to gather consistent insights and run regular reports.
Another inputting issue with spreadsheets is human error (e.g. spelling mistakes). You might rely on spell check, but it won't help you when it comes to inputting information like stakeholder names, and we don't have to tell you how critical it is to address your stakeholders by the correct name when you're trying to build stakeholder relationships.
3. Spreadsheet Reporting is Confusing and Time-consuming
Reporting on your stakeholder information is essential, whether it's for legal reasons, for sharing valuable insights with your team, or for you and your team to learn about your stakeholder's opinions on your project.
However, summarizing all your spreadsheet information into a single report can be difficult. Digging through multiple spreadsheets, with no clear way to know if you've compiled the information you need, if the information is updated, or if it's been inputted properly, leaves you at risk of missing critical information and of having an incomplete report.
4. Where's your Data?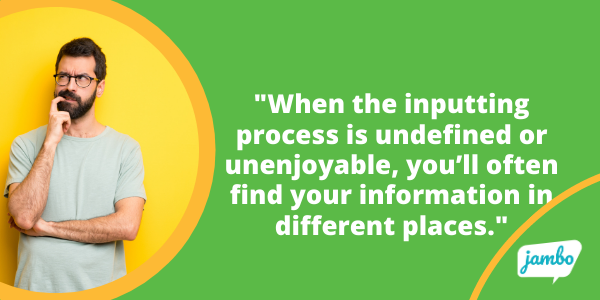 When the inputting process is undefined or unenjoyable, you'll often find your information in different places because your teammates are avoiding the tedious process.
Data might be on your team member's desktops, laptops, USBs, external drives, or even on post-it notes.
Beyond the difficulty of not knowing where your data is stored, there's also the threat of losing information when people switch projects or exit your organization. It's not uncommon for information to "walk away" when people leave.
With spreadsheets, it's hard to know if you have all your information, and this is problematic because you never know when a manager, a key stakeholder, or a legal authority might ask for your records and, in these situations, incomplete data is not an option.
5. Spreadsheet Management Wastes Time
Between managing deadlines, tasks, reports, and anything else that arises, you don't have the luxury of "extra" time, so spending hours inputting tedious information isn't ideal. However, it's not just time-wasted from inputting; there's also the problem of time-wasted from searching for information.
Consider this: you're about to meet with a key stakeholder, so you want to check your engagement history to ensure you know what's been previously discussed. However, your information is scattered throughout lengthy spreadsheets.
Suddenly, "quickly checking" your stakeholder engagement history turns into endless digging and scrolling, and now you're meeting with the stakeholder feeling unprepared.
6. Spreadsheets Increase the Risk of Missing Important Deadlines and Commitments
When you're working with stakeholders, you know the importance of building trust to help build stakeholder relationships, and there is no surer way to destroy trust than by failing to deal with any agreed-upon deadlines, especially when it comes to commitments or issues.
However, problems arise when you can't be sure of what's been promised because you can't find definite answers in your spreadsheets.
With no quick overview of your stakeholder information or way to track the progress of any commitments, issues, or other tasks, you're left feeling uncertain about your stakeholder history or the status of any deadlines and commitments, which isn't only unprofessional, it's a liability.
7. It's Hard to Collaborate on Spreadsheets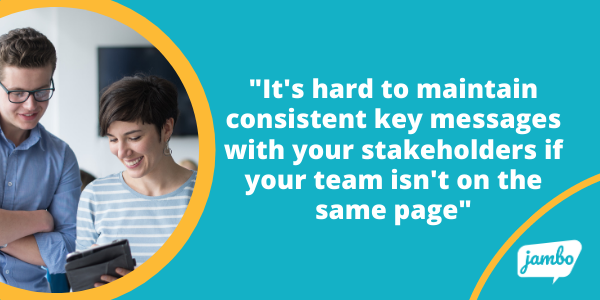 You rely on your teammates to complete tasks, to uphold business values, and to work together to meet deadlines, but with spreadsheets, it's hard to see who's made changes, when, and why because there's no shared dashboard to view updates.
A teammate might have told you they'd address an issue, but you don't know if it's done without having to stop what you're doing to ask, which interrupts workflow and wastes time.
Beyond the challenges of managing workloads as a team, it's also hard to maintain consistent key messages with your stakeholders if you and your teammates aren't on the same page. You can't be sure what your teammates are communicating, which is problematic when everyone is supposed to be representing your organization consistently.
Want to learn how Stakeholder Relationship Management (SRM) software is the best collaboration tool? Check out the blog!
8. Building Stakeholder Relationships can be Complicated with Spreadsheets
Learning about your stakeholders is important because understanding their wants, fears, and needs allows you to connect more meaningfully, engage deeper and build long-lasting, mutually beneficial relationships.
Traceability is essential in learning about your stakeholders and building stakeholder relationships because it helps you to know how your information is linked together. Every communication, issue, commitment, and the task should link together to help you build a full understanding of your stakeholders; ideally, with just a glance.
But if you can't find or understand all your stakeholder engagement data or you don't know which information is connected (or correct), learning about your stakeholders becomes challenging and overly time-consuming.
To learn how traceability can help you see the bigger picture in stakeholder engagement, check out the blog!
9. It's Difficult to Know when Data Has Been Updated with Spreadsheets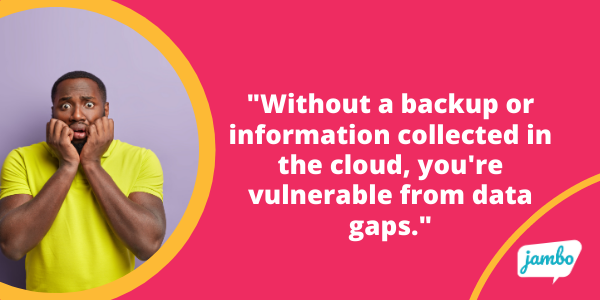 Spreadsheets don't have an audit trail, meaning you don't know when information has been updated, by whom, or whether the document you're reviewing is the most current version, which is extra problematic for reporting.
More problems arise when a spreadsheet isn't correctly saved after updates are added or when data isn't added on time, which is risky when you're trying to meet with stakeholders or create important reports.
Spreadsheet programs can also malfunction, like when a large document force quits, and this isn't just annoying, it's problematic if you didn't save (or auto-save didn't work). Without a backup or information collected in the cloud, this type of malfunction leaves you vulnerable to data gaps. While you might be able to re-enter the data again, it's a waste of time.
10. Spreadsheets aren't Intuitive for Users (i.e. Hard to Navigate and Understand)
Spreadsheets are clunky and disengaging, and most people don't like them because they're not user-friendly or intuitive.
Due to concerns like the significant amount of time it takes to input data, the lack of collaboration across departments, and the frustration on how to find necessary information, spreadsheets don't offer a user-friendly experience.
When people don't enjoy something, they avoid it, meaning you'll see low adoption rates, which leads to incomplete stakeholder engagement information. When that happens, it's tough to rely on your data, which can put your stakeholder engagement program at risk.
Next Steps
Save yourself and your team these hassles by switching to software designed to work with you to meet your stakeholder engagement needs. To learn more about making the switch from spreadsheets to stakeholder relationship management software, check out our eBook!
Is it Time to Stop Using Spreadsheets?
Download our FREE 10 question checklist to help you decide.