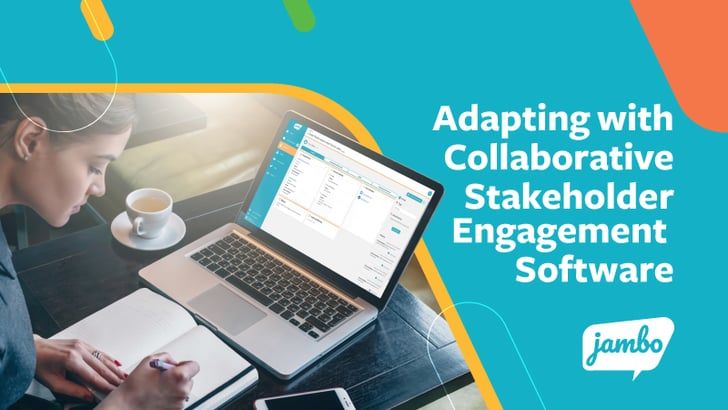 How Cloud-Based Stakeholder Relationship Management (SRM) Software Is Your Best Collaboration Tool Whether You're in The Office or Working Remotely
When it comes to working with your team on your stakeholder engagement projects, challenges can arise regarding questions like:
What are your team members working on?
Who's been engaged?
Are there any issues?
Does everyone have access to updated information?
What's the logical next step?
Understanding these unique challenges, our Stakeholder Relationship Management (SRM) software, Jambo, is the cloud-based collaboration tool you've been looking for to help your team connect, communicate and collaborate.
Not sure what an SRM is? Check our our comprehensive guide!
Whether you're in the office or working remotely, you can ensure your stakeholder engagement plans keep moving forward.
4 Ways Jambo Streamlines Your Team's Stakeholder Engagement Process from the Cloud
Gives you a high-level overview of your project
Helps you understand stakeholder's perspectives and concerns about your project
Increases collaboration with remote teams and simplifies engagement tracking and reporting
Increases team accountability to help build trust and improve your stakeholder relationships
We'll dive into more details for each topic below!
1. Gives You A High-Level Overview of Your Project
With Jambo's dashboard, you and your team have a quick overview of your project, with just a glance. The dashboard is designed to keep you updated on crucial information and is a vital tool that empowers your team with the most updated and digestible information about your project.
How big is your project?
With Jambo's easy to understand dashboard, you and your team can understand how big your project is and its progress with just a glance through elements such as the number of engagements, contacts, and organizations (by type).
What are the project's issues?
Jambo makes it easy to gain an overview of all issues, including the ability to search your data to find issues associated with specific stakeholders or organizations.
You can view an issue's impact and priority with Jambo's colour-coded materiality matrix, which is vital when identifying project risks and deciding where to prioritize efforts and resources.
What are my project tasks?
To make the job of keeping everyone on the same page even more straightforward, we've added the ability to assign tasks to your team.
This task assignment capability is an easy way to communicate and delegate, without having to make extra calls or send additional emails to your team, saving everyone time while also keeping everyone connected and focused.
Simply sign into the project dashboard and easily see an overview and status of the tasks that have been assigned to you.
Where are we engaging or hearing concerns?
With Jambo's integrated map viewer, you can easily understand and share areas of interest or concern and their associated engagements to understand what's taking place in each area or to see potential gaps (i.e. you may realize that your engagements are happening primarily in the same locations and you need to expand to different locations to reach more of your stakeholders).
Maps make visualizing and understanding project progress much easier and very simple to share with decision-makers for a deeper understanding of your project.
2. Helps You Understand Stakeholders' Perspectives and Concerns About Your Project
Gain a fuller understanding of stakeholder's perspectives and concerns
There's no better person to teach you about the potential effects of your project than your stakeholders. Listening to their perspective and learning from them is critical for successful stakeholder engagement.
Need a stakeholder engagement refresher? Check out our blog!
However, engagement can be tricky as you're potentially dealing with a variety of stakeholders (or groups) with a variety of perspectives and views, so keeping all engagements organized is vital, especially when you're preparing to meet with one of your stakeholders.
With Jambo, you can click on a stakeholder profile to access all previous engagement information, such as communications you've had with them, details of issues they were involved in, commitments you made to them or team tasks associated with them. This history of engagement helps you prepare for your meeting by giving you the whole story, so you're never blind-sided.
Having this engagement history can help you make informed decisions on how best to engage next, which is critical when building trust and relationships with your stakeholders.
Traceability to link all your data together
Traceability is an essential capability in building stakeholder relationships because it helps you understand how your information is linked together (i.e. where a commitment came from, what issues were discussed at a meeting, or what task is required before your next engagement).
Every communication, issue, commitment and task links together to help you build a full understanding of your stakeholders.
Shareable reports
With your stakeholder information well-organized and easy to find, you and your team can report on your data quickly.
With Jambo's out-of-box and configurable report options, you can run targeted and insightful reports to share at your meetings whether they're online or in-person to provide your team, stakeholders and managers with understandable updates.
This easy reporting enables you to show engagement and consultation efforts and properly share your information for better transparency and a clearer understanding of your stakeholder's perspective, issues or commitments, or your engagement project overall.
3. Increases Collaboration with Remote Teams and Simplifies Engagement Tracking and Reporting
Cloud-based software that's accessible from wherever you're working
Using cloud-based software means your software solution is accessible on-demand from anywhere in the world via the internet.
Jambo allows you and your team to view every project update and centrally track and store all stakeholder engagement information, meaning you can access your data as soon as you log in from your computer, tablet or smartphone. This accessibility removes the hassle of having to dig for information or having to wait until you get to the office to be updated.
With cloud-based software, all changes are instant which means you and your team always have access to the most accurate and relevant information. You never have to ask a member of the team where they left off, allowing you to continue working on projects as needed regardless of whether another member of the team is busy or on leave.
Whether you're busy working in the office, or working from home, your team can continue to collaborate and keep project plans moving forward.
Higher Adoption Rates
You can't effectively collaborate if your team is using different input methods on various platforms or scrambling to make sense of disorganized information in multiple scattered spreadsheets.
Want to learn about the downfalls of using spreadsheets for stakeholder management? Check out our blog!
With its stakeholder focused workflows, Jambo is quick to learn and easy to use, which makes your team's input process enjoyable and straightforward.
Jambo's user-friendly design will increase your long-term adoption rates, which is critical when it comes to collecting vital stakeholder data and collaborating with your team.
No more guessing about what was said in previous engagements
As mentioned above, with Jambo, you can quickly view your history of engagement with each stakeholder across your projects and programs.
This historical overview is especially useful when it comes to stakeholders who have been part of more than one of your projects because Jambo helps you to understand your full history of engagement with them, as well as their engagements with any of your team.
This is all done without having to send emails or make phone calls to gauge the situation with other members of your organization to understand the engagement history.
4. Increases Team Accountability to Help Build Trust and Improve Your Stakeholder Relationships
Task completion
Beyond being able to delegate by assigning tasks, with Jambo, you can also see when tasks are completed for better transparency and accountability amongst the team. This transparency also limits unnecessary check-ins with your team for updates on the progress of tasks.
Issues management
When it comes to stakeholder issues, you want to resolve these as quickly and tactfully as possible.
We mentioned having the ability to view the issue materiality matrix from your dashboard to understand project risk; however, you can also drill down into individual issues and see the history of engagement related to them for a deeper understanding and better risk management.
With Jambo, you'll know what issues have been raised, when, and by whom, while also being able to manage mitigations, responses and outcomes with our easy to understand timeline.
Stay on top of commitments
With Jambo, you can understand commitments across all your projects, whether they're general, financial or a financial equivalent. You can also search commitments by status, helping you to understand your current liabilities.
Want to learn more about how an SRM can help you manage your stakeholder commitments? Check out our blog!
Traceability within Jambo also plays an important part with commitments as it links elements together allowing you to understand where commitments are coming from and any associated communications, issues or tasks.
With all this information at your fingertips, you can ensure that you and your team are aware of any commitments and that they're fulfilled in a timely manner to preserve and build stakeholder relationships.
View and understand how your team are engaging to help guide your engagement strategy
It's essential to understand what you've already tried to help guide your next decisions. With all your stakeholder information organized and accessible in Jambo, you can better choose how to engage in future interactions based on your previous engagements.
For example, if you've encountered a key stakeholder who isn't responding to your engagement efforts, you and your team can drill down into their stakeholder profile in Jambo to better understand the history of engagement with them. Easily review communication tactics used, what's been said to them and any issues the stakeholder has previously brought forth.
Through this tracked history, there's an opportunity to notice essential elements like how you've been reaching out. If your team has been reaching out primarily through phone, perhaps there's an opportunity to try a different engagement tactic that might be a preferred communication style for that stakeholder, which could help foster more positive engagements in the future.
Build trust and improve stakeholder relationships
With its stakeholder-focused workflows, Jambo is designed to help you understand your stakeholders and your projects, which is vital when building stakeholder trust and relationships.
When you show you're listening to your stakeholders, whether it's remembering the last conversation that occurred, understanding any current or past issues/commitments made to them, or simply that they prefer a particular type of beverage during a meeting, you'll build trust and improve your stakeholder relationships.
By focusing on building positive stakeholder relationships, this helps stakeholders to understand your projects better while ensuring they feel involved. This focus on relationships results in lower project risks and contributes towards the success of your projects.
You're Only as Good as Your Team
You and your team all bring different skills and perspectives to your projects, and these unique views have the potential to help your projects succeed, and your organization to be successful. To be able to work as a team on your stakeholder engagement projects, you need to stay collectively updated and informed, working towards the same outcomes.
At Jambo, we're no strangers to working as a team, whether we're working in the same office or through cloud-based software while working remotely. We used this "separate, but together" mindset to design our software to help organizations, like yours, collaborate efficiently and comfortably, from wherever you're working.
Next Steps
Book a 15-minute discovery call with a Jambo expert to learn how Jambo can simplify your stakeholder engagement and Indienous consultation.