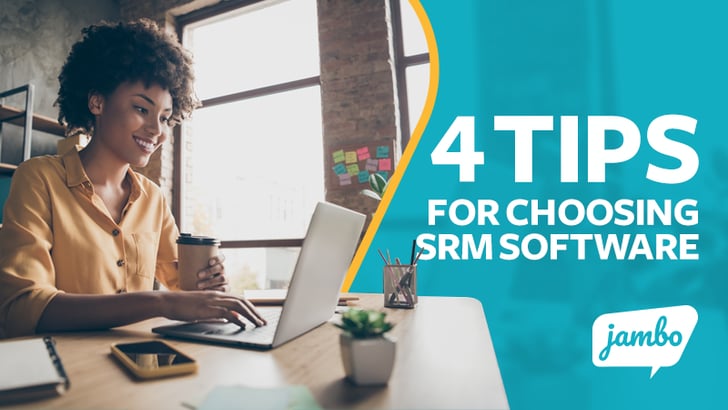 There's no denying that managing a stakeholder engagement program (or programs!) can be an overwhelming task. If you are trying to make the process more collaborative, efficient and scalable, then Stakeholder Relationship Management (SRM) software is an incredibly valuable tool.
A quality SRM connects all your stakeholder engagement information in one platform, simplifying and streamlining how you and your team manage your stakeholder engagement projects or programs (not sure what an SRM is? Check out our comprehensive SRM guide!).
However, not every SRM is designed or supported the same. Software that works for one organization might not be the right option for another, so you should take the time to review and select the best Stakeholder Relationship Management software for your organization.
Below we've compiled a list of four tips for choosing SRM software:
1.
Tip: Choose Software Made for Managing Stakeholders and Stakeholder Engagement
To simplify your stakeholder engagement process, you want to look for an SRM specifically designed to manage stakeholders and stakeholder engagement. (It's an easy mistake to make but an SRM is different from a CRM - which is made for managing customers and sales – we explain this in more detail here).
An SRM built with stakeholder-focused workflows designed specifically for managing stakeholder information and stakeholder engagement efforts is the best option for helping you reach your goals.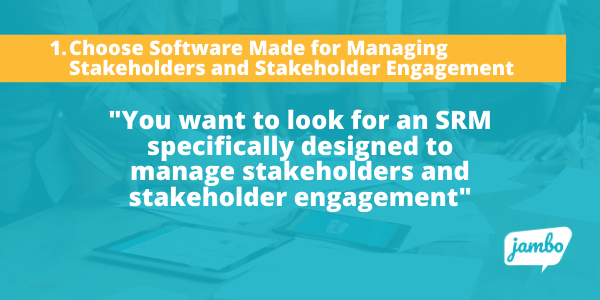 What to Look for:
Stakeholder-focused: Look for software that helps you record your stakeholder communications in a way that allows you to clearly understand the essential information about your stakeholders and the communications you've had with them. A quality SRM will allow you to record communication records by stakeholder name and organization as some stakeholders may be associated with multiple organizations such as communities, governments, companies, or associations.

The SRM should offer a straightforward space to log the following stakeholder information:
Stakeholder contact profiles
Stakeholder communications
Stakeholder issues
Stakeholder commitments
Dashboard: The dashboard should offer helpful analytics and be organized to ensure that you and your team can quickly view metrics that illustrate important project insights like risk profiles for stakeholder issues or the top communication tactics being used to contact stakeholders.
Reports: Look for an SRM that can run a variety of reports. Insights gained from reporting capabilities are essential to the effective management of your stakeholder information. You need to be able to report on stakeholders, issues, commitments, the history of engagement, and more. Also, if you ever need to produce a report that illustrates the entire history of engagement that occurred, be sure your SRM can handle this type of report in a format that is easy to understand.
Traceability:

Choose software that

shows

links

between

communications, issues, commitments and tasks. This ability helps you build a full understanding of your stakeholders and your projects. A quality SRM can help with project traceability by allowing you to easily show the steps your team took to try and resolve a stakeholder issue. To learn more about the importance of traceability and stakeholder engagement, check out our blog!
2.
Tip:

Choose Software that Makes Collaboration Easy

Keeping your team on task and updated is a critical part of running a successful stakeholder engagement program.

User-friendly SRM software made with collaboration in mind will make it easy to understand who your team is talking to, how they have been engaging and what has been said or promised without having to send an email to find out.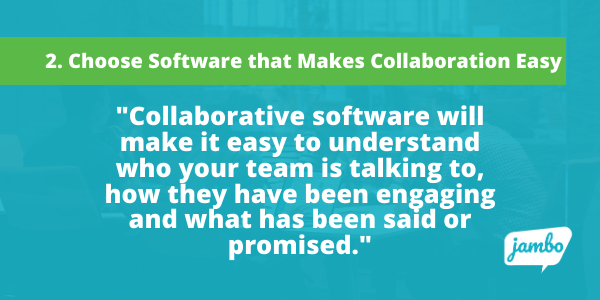 What to Look for?
Cloud-based software: An effective SRM needs to be cloud-based so it can be accessed on-demand anywhere in the world with internet access. Information is stored in a secure, centralized 'cloud' system so updates can be made over mobile devices and changes are virtually instant so you and your team don't have to wait until you're in the office to log a communication record and those in the office can see the updates in real-time.
Tasks: Look for an SRM that allows you to assign tasks to your team to help keep everyone on the same page. Additionally, look for an SRM that gives you the ability to see when tasks are completed to allow for better team transparency and accountability.
Easy to Use: Choose an SRM built with the end-user in mind. Does it look easy to use and learn? Will it make your job easier? If the software is clunky or complex, adoption rates will be low and ultimately the software will fail.
3.
Tip:

Choose Future-Focused Software That Values User Input

The right SRM should be ready to meet most of your organization's needs. You may have some unique needs that aren't currently solved with software (remember, no software is going to be the absolute perfect fit). Something to consider when choosing an SRM vendor is to find out if the software is scalable to grow with you and if the vendor is actively updating the current software offering.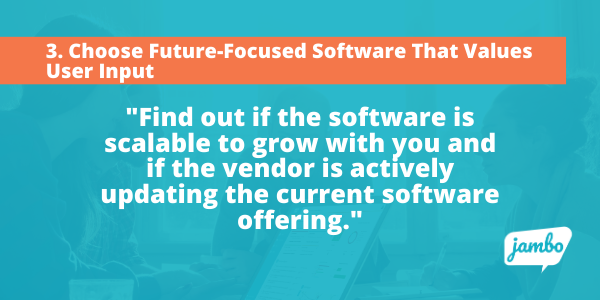 What to Look for?
Does the SRM vendor explain (on the website or during the demo) how its software helps meet your industry's needs or challenges? Do they seem like they are innovative and open to your input regarding feature updates or development?
Scalability: Will the software be able to handle the number of users you need to have access? Can you increase the number of users or projects during your subscription term? Make sure the SRM can grow as you do.


Updates: Some SRMs never change or get updated. Stakeholder engagement is a growing and changing industry so make sure to find out if your SRM vendor is continually updating its software with new features that align with increasing engagement expectations. Ask how often they plan on rolling out new releases so you can set your expectations accordingly.


Product Roadmap: Is there a vision for the product in the future? Are users able to submit ideas for new features?
4.
Tip:

Select Software that Helps Limit Risk

In stakeholder engagement, there are inevitable risks that can potentially affect your project and your organization's success.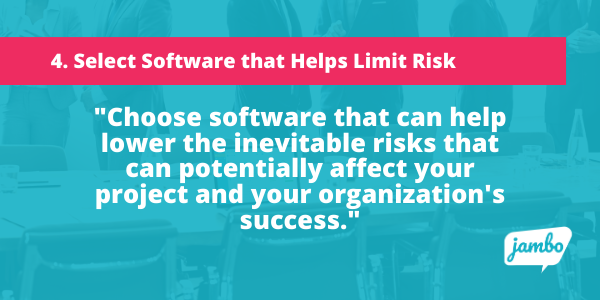 Risk 1
Information management: There is the risk of losing data when staff have no central storage system or if they move on from your project or organization. Data stored in different places like personal desktops, USB's, notebooks or emails leads to data gaps and inconsistent records.
What to look for:
A cloud-based SRM so all your data is saved in one accessible and searchable location. Ask the SRM vendor if you will still have access to a user's data even if their user account is removed.
Risk 2
Managing confidential stakeholder information: Stakeholder engagement and consultation projects generally include some confidential personal information and/or sensitive project data.
What to look for:
An SRM vendor that's using security best practices, which includes things like data encryption, firewalls, and options like 2FA (two factor authentication) or SSO (single sign-on), etc. Also, look for an SRM that has user-based permissions. This feature enables you to add different levels of access for different users so you can restrict certain data.
Risk 3
Illustrating the engagement that occurred: Can you easily pull your data to illustrate the history of engagement and consultation with one or many stakeholders over an extended period? If you can't do this, you can face problems later.
What to look for:
An SRM with comprehensive reporting capabilities. Ask the SRM vendor to show you what a report of this kind would look like. Is it easy to understand?
Risk 4
Forgetting stakeholder commitments: Missing even one commitment can escalate things quickly and result in detrimental backlash and a loss of vital stakeholder trust and essential relationships.
What to look for:
An SRM with a dedicated commitments management module that allows you to monitor commitments right through to fulfillment and provide summaries that give you insights like how many commitments you have by type, status, stakeholder, or even financial amounts, etc.
Risk 5
Owning your data: Your data is an asset, both to your organization, your project's success, and your stakeholder relationships. When your project or engagement program ends, can you get a copy of your data?
What to look for:
An SRM vendor that will allow you to export your data if you decide to leave after your subscription term ends.
Next Steps
Talk with your team and gather their opinions on what they would like to see in an SRM software. Discuss how an SRM can help make their job easier and what weaknesses in the current stakeholder engagement management efforts could be eased with software.
Make a list of all your must-haves and nice-to-haves and research your SRM software options.

We always suggest that you sign up for a demo to see the SRM you're evaluating in action, as this is the easiest way to visualize using it within your organization.
You can always reach out to SRM vendors directly to discuss your questions, concerns and challenges—they should be happy to talk with you and help you work through your software evaluation checklist.
If you're not sure where to start, download our comprehensive checklist for buying SRM software by clicking the image below. It's the ultimate list of questions to guide your SRM research, helping to ensure you choose the best Stakeholder Relationship Management software for your organization.
Questions? The Jambo team is here to help!