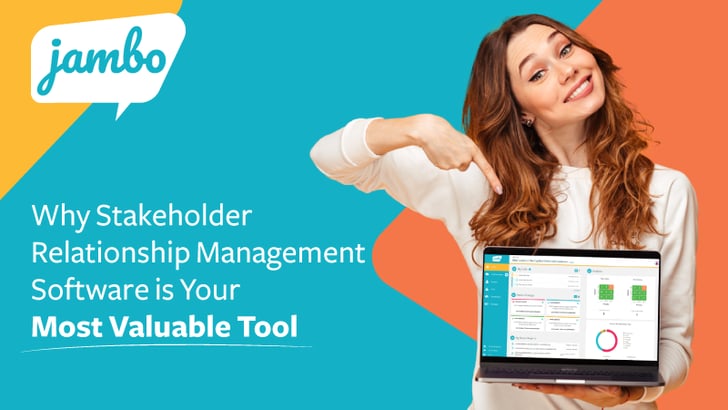 Things can change quickly, and organizations need to be able to adapt. When it comes to your stakeholder engagement programs, quality Stakeholder Relationship Management (SRM) software is an incredibly valuable tool. With an SRM that has cloud-based capabilities and an interface design made for collaboration, your whole team can continue working on their stakeholder engagement programs from wherever they're working (and do it more efficiently and effectively than ever before!).
For this blog, we'll be referencing our SRM, Jambo, and its features to help you understand the immense value that this tool can bring to your organization.
Collaboration with Your Team
Jambo is in the cloud, which offers great benefits over traditional installed software, especially in terms of accessibility and collaboration.
With this cloud capability, teams can coordinate their stakeholder engagement activities, share them amongst the team and then easily create progress reports for management and executives.
Interested in learning more about using collaborative stakeholder engagement software? Check out our blog!
Stakeholder communication records can be logged automatically via our Project Email functionality or added on the go when using a smartphone or tablet. Using software 'in the cloud' means that any updates are instant, which allows the whole team to know who's communicating with whom without having to ask.
Essentially, cloud-based software helps keep everyone on the same page and armed with the latest stakeholder information that's always available to view in a clear and easy to understand way.
Keeping your team on task and updated is a critical part of successful stakeholder engagement programs. With Jambo's easy to understand dashboard, you and your team can understand how big your program is and its progress with just a glance.
You can also dive into your data to gain essential insights like a visualization of risk profiles for stakeholder issues and an understanding of how big your engagement program is through elements such as the number of engagements, contacts, and organizations (by type). You can also see which tactics are being used to engage with your stakeholders and more.
To make the job of keeping everyone on the same page even more straightforward, we've added the ability to assign tasks to your teammates. You can also see when tasks are completed for better transparency and accountability amongst the team.
With Jambo's integrated map viewer, you can easily understand and share areas of interest, concern and associated engagements to understand what's taking place in each area. Maps make visualizing and understanding project progress much easier and very simple to share.
Understanding Your Stakeholders
With all your information centralized and organized, you can better pull essential trends and insights from your inputted data, allowing you to clearly understand what your stakeholders care about (i.e. what's important to them, their opinions and their concerns).
Stakeholder mapping is a critical part of identifying, engaging and understanding your stakeholders and includes using a stakeholder engagement assessment matrix to categorize stakeholders according to their level of interest and level of power regarding your project. However, the work isn't over once you've classified your stakeholders; it's important to continue tracking and monitoring!
Interested in learning how to do a stakeholder mapping exercise? Check out our blog!
Understanding the importance of stakeholder mapping, we've included custom fields and a tagging system that allows you to organize your stakeholder information clearly to ensure you're monitoring and responding as efficiently and tactfully as possible.
With these capabilities, you and your team can organize your stakeholder information according to specific interests, concerns, importance and emerging themes. This ability to better organize and classify your stakeholder information will enable you to report and analyze your data more effectively.
With Jambo, you can quickly view your history of engagement with each stakeholder across your projects and programs.
This historical overview is especially useful when it comes to stakeholders who have been part of more than one of your projects because Jambo helps you to understand your full history of engagement with them.
For example, stakeholders can be part of multiple projects and can be engaging with several members of your team or another team. It can be frustrating to meet with a stakeholder and get blindsided because you weren't aware of what happened during a previous engagement with them.
With Jambo, you can easily access their engagement history to see if they had an issue with another project. This insight helps you to consider how best to engage with them today. This is all done without having to send emails or make phone calls to gauge the situation with other members of your organization to understand that stakeholder's engagement history. This understanding is essential when you want to build long-lasting and trusting stakeholder relationships without burdening your team with needless check-ins and queries on their stakeholder experiences.
Reducing Risk
With Jambo, you bridge the gap between your teams, projects and programs, so that you know the history of engagement (i.e. all communications, issues, commitments and tasks) to fully understand what's relevant and important as you move forward. This fuller understanding reduces the chances of your organization getting blindsided, which is a significant risk management move.
To learn how you can further de-risk your projects with stakeholder relationship management software, check out our blog!
While it's best to always deal with issues and commitments quickly, the reality is that these can last for years. Keeping track of everything is vital to make sure you and your teammates never miss a commitment or issue ever again.
Issues
Understanding the issues associated with your project is crucial, and having the ability to view each issue's impact and priority is vital when identifying project risks.
Jambo makes it easy to grasp an overview of all issues, including any associated with specific stakeholder contacts or organizations either in one or all your projects. You can drill down into individual issues and see the history of engagement related to them for a deeper understanding and better risk management.
To make understanding your current issues simple, your data must be organized and easy to find. Our unique, stakeholder focused workflows allow for smart suggestions that make it easy to capture updates, ensuring the data entry process is simple for you and your team. Simplifying the data entry process helps to keep your information consistent and easy to understand.
Commitments
With Jambo, you can understand commitments across all your projects, whether they're general, financial or a financial equivalent commitment. You can also search commitments by status, helping you to understand your current liabilities.
To learn more about how an SRM helps you manage stakeholder commitments, check out our blog!
Traceability within Jambo links elements together to give you and your team a full understanding of your stakeholders, with just a glance, allowing you to understand where commitments are coming from and any associated communications, issues or tasks.
Interested in learning how SRM traceability helps you see the big picture in stakeholder engagement? Check out our blog!
To gain a quick summary of commitments, Jambo's easy reporting capabilities ensure you'll never miss another commitment again, helping to improve your accountability and ensure compliance.
Next Steps
With the current state of our world, increasing engagement demands and increasing channels for stakeholders to voice and share opinions, using an SRM is an opportunity to lower your stakeholder engagement risks, build meaningful stakeholder relationships, and keep your projects moving forward from wherever you and your teammates are working.
To learn about the new trends and best practices in stakeholder engagement, check out our blog!
To learn more about Jambo, watch our one-minute explainer video!