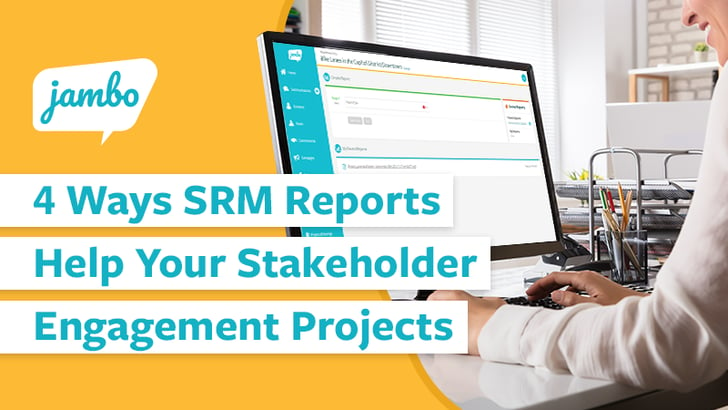 Throughout your stakeholder engagement project, you'll inevitably need to compile reports to meet various needs. These reports are crucial for the success of your project, so today, we're sharing four ways Stakeholder Relationship Management (SRM) software reports will help with your stakeholder engagement projects.
Examples of needs for reports include:
To gain project insights
To share updates with your team
For briefings with managers
To meet regulatory requirements
To gain approval from decision-makers
To share information with stakeholders or communities
To compile comprehensive annual reports
1. SRM reports will help you and your team save time
With an SRM, reporting is much faster! Whether you need a report for a regulator, team meeting, a management update, etc. SRM reports can compile your required information in a structured and organized manner within minutes.
What's the difference between spreadsheet reporting and SRM reporting?
When using spreadsheets instead of an SRM, it's hard to keep your data consistent, which can make summarizing it for a report nearly impossible (not to mention the troubles that come from managing multiple spreadsheets and trying to track down the latest versions).
Spreadsheet reporting can take a substantial amount of time to compile, but with an SRM, you can quickly and easily report on anything you've logged.
Want to learn 10 reasons why it's time to stop using spreadsheets for stakeholder engagement? Check out our blog!
Fast reports for government departments
For those in government who need to meet a Freedom of Information (FOI) request, Access to Information and Privacy (ATIP) request, or even just an information/status request, SRM reporting make it easier to pull what you need, including any supporting documents, to meet expectations quickly and effectively.
Working in government and want to learn how an SRM can help you meet your stakeholder management challenges? Check out our blog!
2. SRM reports will help you improve transparency
How you choose to share your stakeholder information will affect your ability to build trust in your project and with your stakeholders for better relationships in the long run, so project transparency should never be overlooked.
For your stakeholder engagement reports to meet transparency expectations, you need to ensure you've included all the requested information in an organized and understandable summary.
Note: it's important to consult with different groups and individuals regarding their reporting expectations to ensure you're building reports that meet their needs.
Transparency helps build trust
These SRM reports help keep everyone informed and included with timely updates from your organization, so there's no breakdown of trust over missing information or confusing summaries.
3. SRM reports will help provide valuable updates and overviews
Whether someone has asked for specific updates or you need a project overview to prepare for an upcoming meeting, SRM reports will help you roll up your data to understand what's going on in your project and with your stakeholders.
For example, you might need to know which project stakeholders care about a particular issue or how many conversations your team has had about a specific interest within a set time. An SRM report can help you answer these questions easily, so you and your team know what's happening and where to focus resources.
Your issues management needs to be a team focus
When it comes to your issues management, you need to work closely with your team to monitor, understand and resolve your stakeholder issues, as it's crucial for your project risk management. In our SRM, Jambo, you can run reports to gain a high-level overview of your issues to help you understand which ones are high risk and low risk, to ensure you and your team know what needs your attention.
4. SRM reports will help you to lower your project risks
You must keep track of what's happening in your project
While managing a team with multiple people engaging with stakeholders, it can be challenging to keep track of everything. SRM reports will help you understand who's being engaged, what kinds of conversations are being had, the issues being raised, the commitments made to stakeholders, etc. With this information available in reports, you lower your project risks by understanding what's happening (including your liabilities), which will help you to make better decisions, prepare resources and make strategic adjustments to your stakeholder engagement plan.
An SRM helps to keep your data centralized and safe
You also lower your risks by using an SRM that centralizes your information. This way, you always know where all your data is located and never have to worry about what happens to a team member's information if they leave the organization because you know it's all logged and available in your SRM. This allows you to utilize and continue reporting out on all the data even after someone has left the team.
Final thoughts: Are all SRM reports the same?
It's clear that SRM reports can benefit your stakeholder engagement project, but it's important to note that not all SRMs are made equal. Every reporting benefit and feature we mentioned in today's blog is available in our SRM, Jambo, but won't necessarily be available in other SRMs on the market. To find the best SRM for your team's needs, you'll want to do your research.
How to choose the best SRM? Free checklist!
To help you choose the best Stakeholder Relationship Management (SRM) software for your organization, we created this free checklist to help guide your research. This checklist includes over 30 questions to help you understand which features to consider in your ideal SRM software.
To download your free checklist, click the image below!