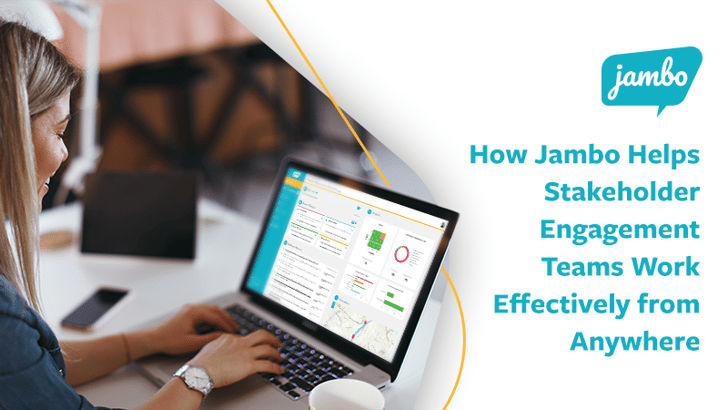 These days, engagement teams are often working on the same projects but from separate locations. With some people in the field, some in the office, and some working remotely, it can be challenging to keep track of everyone's progress while working together towards project goals.
To meet the challenges of collaborating with dispersed teams, we have compiled a list of ways that a Stakeholder Relationship Management (SRM) software like Jambo can help.
Accurately track team members work across various locations and time zones
Increase team collaboration
Help team members stay accountable for their responsibilities
Learn from previous work
Help your team stay focused
1. Accurately Track Your Team's Work Across Various Locations and Time Zones
With team members working in different locations and potentially in different time zones, it can be challenging to keep track of all the stakeholder data they're collecting, which can result in unnecessary check-ins with team members and duplicate conversations with stakeholders.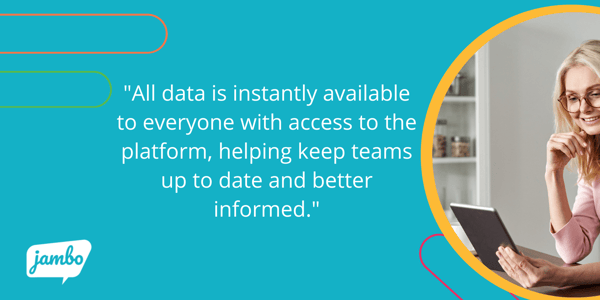 When you use Jambo to manage your stakeholder engagement, you are creating a centralized database. This means that no matter where team members (or contractors) are working from, they are logging their stakeholder information and notes in the same, accessible location. All data is instantly available to everyone with access to the platform, helping keep teams up to date and better informed.
Label Data with User-Specific Time Zones
With Jambo, users can set their time zone preference, so whenever they send an email or make a record, it defaults to the time zone they've set and is viewable by the rest of the team.
Set Time Zones for Reports
You can also choose which time zone you want to report in, which is excellent as you can manage different time zones both from a collaborative perspective and a reporting and data entry perspective.
A Real-Life Example from the Jambo Experts: If a team member logged a stakeholder conversation at 9:00 am (MST) and another team member logged a stakeholder conversation at 3:00 pm (EST), Jambo will show the correct time zone for each conversation. This gives everyone an accurate account of when the work was done.
2. Increase Team Collaboration
Whether you're tracking engagements, running reports, or identifying stakeholders, you and your teams can all log into Jambo and work collaboratively within the platform, even with some members working in the office, from home, or another city.
Walk Through Examples Together
When you're not face-to-face with a team member, it can be difficult to talk about data updates without seeing examples. With Jambo, you and your team members can log into the platform at the same time and walk-through examples and project updates together to see exactly what's being referred to instead of having to guess or send extra emails back and forth to clarify.
See Who's Viewing the Same Record As You
To increase team transparency and improve teamwork, Jambo shows you who's currently live in the platform. This transparency makes it easy to know who to communicate with if you have any questions or who to contact if you plan to make any changes to the record. It also helps ensure you're not working on the same things simultaneously.
A Real-Life Example from the Jambo Experts: When you're working on a communication record in Jambo, your profile picture appears in the top right corner of the screen. If another team member is viewing or editing the same record as you, their profile picture will also be visible – this indicates that you are both currently viewing/editing that record. This allows for easy collaboration within the platform (and eliminates any duplicate efforts).
Work More Intentionally with Your Teams and Your Stakeholders
Jambo can help you see what your teams are working on along with the details of the conversations they're having with stakeholders without having to email or call them for updates. Having access to this data helps you keep your finger on the pulse of what's happening with your stakeholders and communities, and these insights can help make future stakeholder engagements more effective.
A Real-Life Example from the Jambo Experts: If you're getting ready to engage with a specific stakeholder you need to understand every conversation they've had with your organization, even if you weren't part of them. When all stakeholder interactions are logged in Jambo, you'll avoid having to ask your stakeholders unnecessary and potentially frustrating questions like, "When is the last time somebody talked to you about this?" or "When is the last time we reached out to you?" Instead, you'll have access to a record of every conversation had with that stakeholder, allowing you to be more efficient and coordinated in your engagements.
3. Help Everyone Stay Accountable for Their Work and Efforts
If you've set required hours or goals with your team or contractors for the amount of engagement, they'll each do or tasks they'll complete, you can easily see the most recent records in Jambo to see if they're on track, which helps everyone to stay accountable.
Run Specific Reports to Gain Detailed Updates
With Jambo, you can quickly and easily run specific reports based on time, location, and even a user, so you can see who's been adding updates or who's connected to records to see what progress is being made.
Check on Your Team's SRM User Adoption Progress
An important part of team accountability is ensuring your teams are inputting their data into Jambo and using it regularly. But how do you know who's using the platform if your teams work from different locations? Jambo has a few ways to monitor team usage including a representative report that allows you to view what records a user has logged or is connected to.
A Real-Life Example from the Jambo Experts: If you run a representative report in Jambo and notice there isn't much data logged by the user, you can organize a chat with them about this. If the progress they tell you about isn't reflected in the platform, it's a good opportunity to work together to get them using Jambo more consistently, so all their work is available for the team to learn from and use.
Are you thinking about using an SRM? Read our blog, 14 Ways to Prepare Your Team for Using New Stakeholder Management Software.
Keep Everyone's Tasks Front of Mind
When everyone isn't working in the same building, you can't just pop into someone's office to ask them to do something or have a quick chat about project progress at the coffee machine, so you need another way to effectively assign and keep track of team tasks.
The Jambo 'Tasks' feature, allows you to assign your team members specific tasks to complete. A notification will be sent to the user when a task is assigned to them, and reminder notifications can also be sent.
You can also request task notifications be sent to you or someone else on the team, so you know when a task is completed. This is useful when a task completion is time-sensitive or has follow-on tasks depending on it.
Ensure Your Team Requests Are Completed on Time
The Jambo 'Recent Changes' feature helps you track which team member made the last changes or additions in the platform and when those changes or updates were made.
4. Learn From Team Member's Work in Current and Past Projects
With Jambo, you can build upon previous conversations and gather important learnings from what's happening (or happened) in different departments, regions, or projects.
Stay Informed on Any Emerging Trends or Issues and Learn How to Proceed
Jambo can provide a line of sight into what's happening across your project(s) and help your teams be consistent in their stakeholder communications. For example, if you're seeing a common issue arising across all your sites, you can use Jambo to work together on addressing the issue.
A Real-Life Example from the Jambo Experts: If you notice that noise issues have been raised in many of your sites, you can investigate how different teams or sites have responded or addressed these noise issues to help you decide your next move. This logged information allows you to learn from them, whether through their wording choices or offered solutions.
Use Your SRM as a Living 'Key Messages' Document
With Jambo, you can review how your team members have already responded or communicated key messages. You can look into their responses, see if they were approved, and see how they were received. You can use these learnings for your future communications to keep things consistent and effective. You can search for specific terms or stakeholders to help you understand what key messages are being used and how best to proceed.
Learn From Past Projects
If your organization has used Jambo for more than one project, users (with the correct account permissions) can view data across all projects, allowing them to gain insight into successes, failures, and different learning opportunities that they can bring back to their teams to strengthen their own projects.
5. Help Your Teams Stay Focused and Contributing as Team Players
When you use Jambo to log all your stakeholder data, you don't have to worry about where all your team's data is being stored or how to bring it all together for reports. Instead, you and your teams can focus on collaborating to meet your project goals from wherever you're working.
Give Everyone What They Need Through User-Based Permissions
Jambo has user-based permissions to ensure that each user can only access the data they need while restricting anything private, confidential, or unnecessary. As your teams won't be overloaded with access to extra data, they don't need to accomplish their goals, they can stay focused and better collaborate on their assigned tasks. This data focus will help maintain your overall data integrity and protect any privacy concerns you might have.
Get the Most from Everyone's Data with a User-Friendly and Responsive SRM
Jambo is responsive with a user-friendly design that will help you and your teams stay focused because it's easy to use and access. You're not wasting time trying to figure out how to use the platform or make sense of your team's updates.
Instead, Jambo allows teams to access the user-friendly platform through a browser. Whether you and your teams are working on a desktop, from your phones, or on tablets, as long as you have access to the internet, you can easily use the platform to log your data and access updates.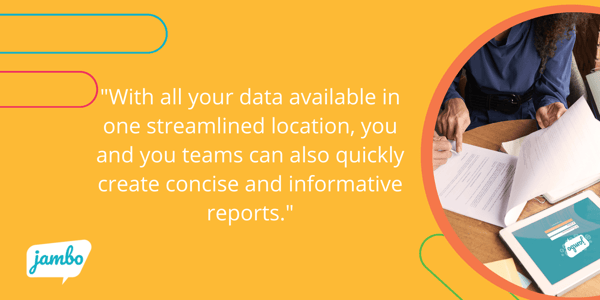 With all your data available in one streamlined location, you and your teams can also quickly create concise and informative reports with all the useful data your team's been collecting whether they've been working locally, in a different region, or remotely from home.
Next Steps: Is it Time to Use an SRM?
No matter where you and your team are working, a cloud-based SRM like Jambo can help bring your data and team together. If you're still not sure you need an SRM, check out our blog 10 Signs it's Time to Use an SRM.
If you have any questions, don't hesitate to reach out to the Jambo team!