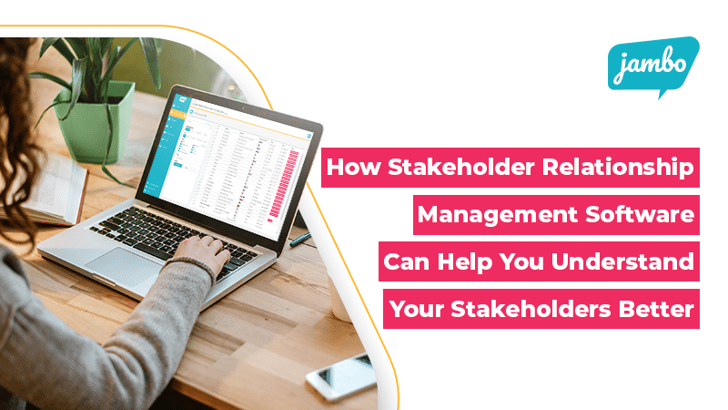 And how using Stakeholder Relationship Management (SRM) software to understand your stakeholders can lead to better project outcomes.
Building positive stakeholder relationships is vital to your project's success and is best accomplished using quality Stakeholder Relationship Management (SRM) software.
In this blog, we'll talk about how an SRM can help you better understand your stakeholders and how this understanding can lead to better project outcomes.
What is Stakeholder Relationship Management Software?
Stakeholder Relationship Management (SRM) software helps you manage all your stakeholder relationships and communications with stakeholders.
With an SRM, you and your team have one centralized place to log stakeholder engagement information, meaning everyone always knows exactly where to find everything they need. Organized data simplifies the stakeholder management process so that it won't become overwhelming or unmanageable and allows you and your team to use the inputted information to stay informed, communicate more consistently and effectively, and focus on building meaningful and trusting stakeholder relationships for better project outcomes.
Looking for a comprehensive overview of Stakeholder Relationship Management Software? Check out our blog!
Why is Understanding Your Stakeholders Key to Your Project's Success
Focusing on understanding your stakeholders and building positive relationships helps your stakeholders to understand your projects better and ensures they feel involved in the process. This focus on stakeholder relationships results in a better reputation, lower project risks, and contributes to your organization's success.
To learn more about why stakeholders are key to your organization's success, check out our blog!
3 Ways an SRM Helps You Understand Your Stakeholders Better
1. Offers You a Centralized Space for All Your Stakeholder Information
One of the key elements to running a successful stakeholder engagement project is collecting quality stakeholder data, and by using an SRM, you'll have one defined space to input and organize all the stakeholder information you collect so that it won't become lost or overwhelming.
Having one defined space to input all your stakeholder information reduces the likelihood of losing your vital stakeholder information, which is common when data is sitting in spreadsheets saved on your team's desktops or when your data "walks away" after team members leave your project. Utilizing an SRM helps to keep your data protected and accessible for your team.
Beyond offering a defined and protected space for all your information, an SRM will help you organize and make sense of all your inputted stakeholder information like issues, contact information, commitments and tasks. Having all this information well organized helps ensure that your team is quickly and easily updated on your stakeholders, empowering you and your team to engage more meaningfully, consistently and effectively.
To learn about the benefits of centralizing your stakeholder data, visit our blog!
2. Ensures Your Team is Updated on Everything
As you'll likely have several team members engaging with the same stakeholders, ensuring everyone is fully informed before they engage is crucial for building positive stakeholder relationships. With all your information accessible in an SRM, your team is easily updated on the status of your stakeholder relationships, including information on:
Who has been engaged?
What's been communicated?
What's been promised/committed to stakeholders?
Are there any current or emerging issues?
What is the status of team tasks? How many have been assigned? How many need to be completed?
With an SRM, you can jump into a stakeholder's profile before meeting with them to be updated on your team's prior engagements along with any outstanding issues or commitments, all without having to ask the stakeholder or your team members for updates. Having the ability to avoid asking repeat questions helps your stakeholders feel like you are taking their time and their perspectives seriously, increasing the likelihood that they'll be willing to work with you again.
As issues are common, ensuring you and your team understand the full history of any stakeholder issues and whether they've been fulfilled gives you an insight into what stakeholders care about as well as what might need to be done before your next meeting. Our SRM, Jambo, has a timeline that allows you to track the history of an issue visually, so even if you haven't been updated on it previously, you can quickly gather a full understanding of the issue.
Additionally, if you want more targeted collaboration in an SRM, utilizing a system with a task management feature will allow you to assign and monitor team tasks within the software so that everyone knows exactly what they're responsible for and whether or not tasks have been completed.
To learn more about how an SRM can help you collaborate with your team, check out our blog!
3. Helps Your Team Decide What's the Next Best Step for Engaging with Stakeholders
When it comes to stakeholder engagement, part of deciding on your next logical step is through making sense of all the stakeholder information you've collected. With all your stakeholder data centralized within a well-designed SRM, you'll begin noticing different trends, themes, and concerns arising. These insights are vital to helping you understand your stakeholder's perspectives on your projects as well as your current risks and opportunities. These SRM insights are incredibly valuable as it can be difficult and overwhelming to decipher this information from large amounts of inputted data, which is a common problem when trying to use spreadsheets for stakeholder management instead of an SRM.
Once you have your data inputted in an SRM, you can work more effectively to understand critical insights about your stakeholders and your project to build even stronger stakeholder relationships, gather better data and create more positive project outcomes.
Next Steps: How to Choose the Right SRM
While there are many Stakeholder Relationship Management (SRM) software options available on the market today, they vary widely on what they offer, so it's important to do your research to select the best SRM for your organization and your projects.
To help you as you begin researching options, download our free SRM software checklist. Our checklist includes a comprehensive list of features and considerations to help you make an informed decision.