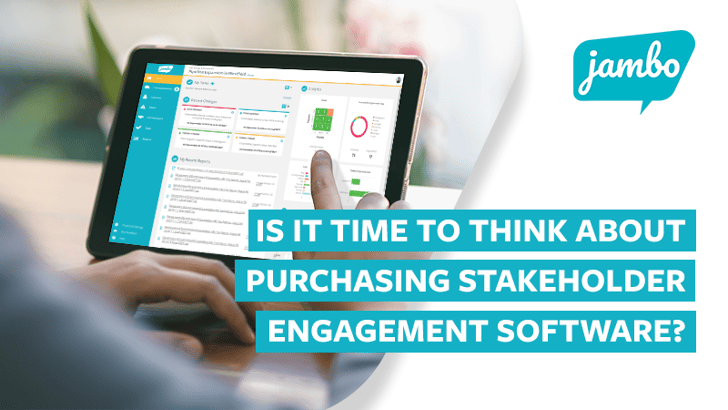 If you're using spreadsheets or software built for things other than stakeholder engagement (like project management, marketing, or sales) to manage your stakeholder engagement data, you might notice that some of your tasks are becoming overly complicated.

Don't worry, you're not alone; many organizations are making do with spreadsheets or creating complex workarounds with other software to manage stakeholder information. But if this way of doing things is getting too much for you, it might be time to start using software built specifically for stakeholder engagement.

In this blog, we've highlighted some of the biggest pain points you might be experiencing, indicating that it is the right time to invest in a Stakeholder Relationship Management (SRM) platform like Jambo.
6 Signs It's Time to Invest in a Stakeholder Engagement Software
1. The Volume or Complexity of Stakeholders You're Engaging with Has Grown Significantly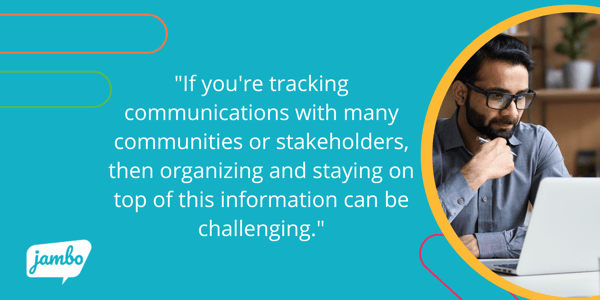 If you're tracking communications with many communities or stakeholders, then organizing and staying on top of this information can be challenging. It can become increasingly challenging when you start tracking other stakeholder interactions like issues or promises. All of this stakeholder information needs to be maintained and kept in a consistent and organized way.
We commonly track stakeholder information to:
Gain insights for project success

Meet regulatory reporting requirements

Learn about stakeholders, communities, and project themes

Build long-lasting and trusting relationships

Reduce risks
When your data becomes too disconnected or difficult to manage, you risk having the ability to easily pull it together to understand progress or connect it to your project goals.
With a purpose-built stakeholder engagement platform like a stakeholder relationship management software (SRM), all your data is organized and accessible in one location. You can easily search for and find what you need while making sense of your data without sacrificing any critical stakeholder management activities.
2. You've Established a Process for Data Collection but are Having Trouble Implementing It
When you create a workaround process that needs instructions, you're facing the hurdle of repeatedly having to teach the process to team members. You may also find yourself having to remind members of the team to log their data as they may be avoiding using an overly complex workaround.

This can happen when a process:
Isn't intuitive for users
Doesn't solve all or enough of their problems
Isn't easier than what they're already doing
Is too confusing to learn or use
Doesn't give users what they need
Without buy-in from your team, you won't get the results you need. So, whether your data management process (spreadsheets or software) is missing a specific feature or is too overwhelming, it's negatively affecting your project if it isn't getting the adoption rates you expect and need.
3. Your Organization's Focus on Stakeholder Engagement Has Outgrown Your Current Process
If your project or organization is growing, the focus on, and investment in, stakeholder engagement will increase as well. When this happens, you might notice that your current process no longer meets your needs. When your process doesn't support your stakeholder engagement goals, you won't be able to effectively illustrate all the great work you're doing and learn from the quality data you've collected.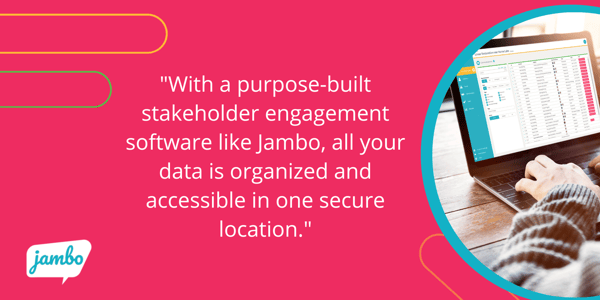 With a purpose-built stakeholder engagement software solution like Jambo, all your data is organized and accessible in one secure location. You can easily search for and find what you need while making sense of your data and tracking against project goals.
4. There's a Lack of Cross-Team Visibility
If you can't easily view and understand what your team is doing it can cause a significant breakdown in communication both with team members and with stakeholders and communities. This can lead to a loss of trust or even a derailment of your plans.

If you have team members engaging with the same stakeholders, problems arise when conversations aren't shareable across the team. Stakeholders can become frustrated with your organization if they're asked the same questions over again. You're also at risk of being unaware of high-priority issues, not being able to follow through on important commitments or even coming across as disingenuous.

Using a stakeholder engagement platform like Jambo offers the data visibility you need to give everyone on your team access to updates and valuable information, so everyone's on the same page.
5. Reporting Requests and Project Updates are Becoming Impossible to Complete
If requests for information or report updates are becoming more frequent or complex or you're having difficulty piecing together the information you need to create the reports within a reasonable timeframe, your project might be at risk of unnecessary delays.

Whether the frequency or complexity of your reports is becoming unmanageable or you're tired of spending time searching for the information you need to build your reports, an SRM like Jambo can simplify all your stakeholder engagement reporting needs. With everything centralized, organized, and updated in one location, you can choose the data you need to quickly compile reports in an easy-to-understand and visually appealing way.
To learn more about how SRM reports can help with your stakeholder engagement projects, check out our blog!

6. You Need to Give Third Parties Access to Your Data but Can't Manage Permission Levels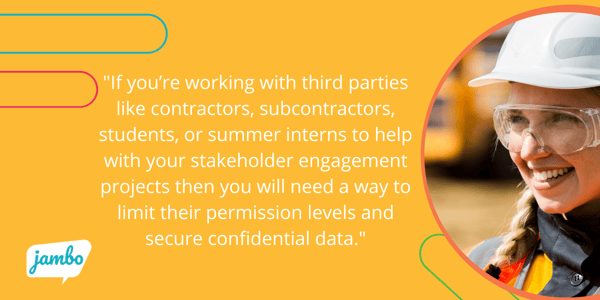 If you're working with third parties like contractors, subcontractors, students, or summer interns to help with your stakeholder engagement projects then you will need a way to limit their permission levels and secure confidential data. If your current data management process offers all or nothing access to your data (i.e., no user permission levels), you have two options:
You create different spreadsheets or software projects to ensure the separation of tasks and data to try and protect your information.

This means someone on your team needs to spend time

pulling data in and out of the sheets or projects.

You give contractors full access to your data management process and risk the consequences.
If you're dealing with sensitive information and communications, you need to be mindful of who (even within your team) has access to that information. While you need it to be recorded, it must be protected, which isn't easy without permission controls. Also, be aware, if people accidentally delete information or make updates and you don't know this is happening, your data integrity is at risk.
An SRM like Jambo offers multiple permission levels and security supports to make sure your information is protected. Jambo also has activity logs and a recent changes tool that helps you understand who updated data, what those changes were, and when they were made.
Next Steps: Getting Your Team Ready for a Stakeholder Engagement Software
An easy-to-use and secure stakeholder engagement platform like Jambo can ensure you have the proper training, support, and setup you need to meet your goals with enough flexibility to grow with your organization.
If you've decided you are ready to start using stakeholder engagement software, you'll want to prepare your team for the switch. To help you with this next step, read 14 ways to prepare your team for using new stakeholder management software, or click the box below to download the free checklist to help you pick the right SRM.