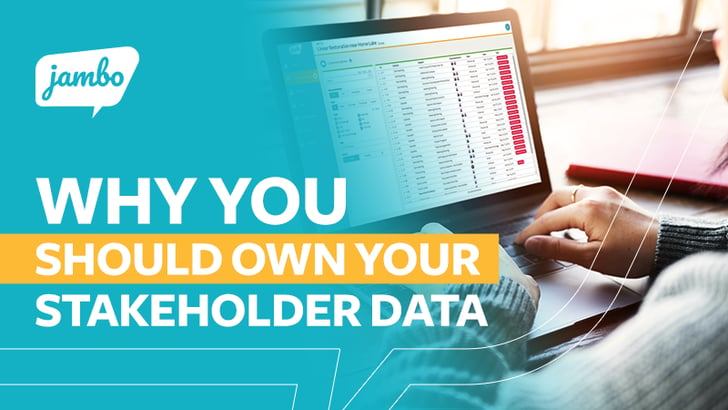 Important considerations when outsourcing your stakeholder engagement
Stakeholder Engagement is an Ongoing Process
Stakeholder engagement isn't a linear process; you need to be continually monitoring your stakeholders, engaging with them, recording your communications with them, updating their information and be ready to share all that data at any moment. This process is time-consuming and challenging, which is why many organizations choose to outsource their stakeholder engagement and consultation to a third-party who specializes in running stakeholder engagement programs.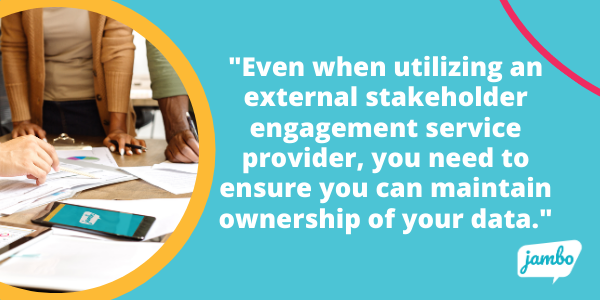 Outsourcing Stakeholder Engagement
Some organizations outsource their stakeholder engagement, using consultants or stakeholder engagement service providers to administer and facilitate their engagement programs, and this model can work great! Professional stakeholder engagement service providers can provide invaluable experience and unique perspectives on how to get your program up and running with advice on how to address and mitigate issues along the way.
Interested in learning how to manage stakeholder issues? Check out our blog!
However, even when utilizing an external stakeholder engagement service provider, you need to ensure you can maintain ownership of your data.
Ownership is best accomplished through the implementation of a collaborative, cloud-based Stakeholder Relationship Management (SRM) software platform that both you and your stakeholder engagement service provider can access at any time.
When we talk about data ownership, we are talking about your ability to access your stakeholder data and your overall ownership of the information management system used to organize that data. There are many reasons you may want to have instant access to your stakeholder information, which we will discuss below in this blog.
How is Your Data Being Managed?
Managing engagement with all your unique stakeholders is vital because stakeholder relationships can be varied, numerous and, at times, overwhelming. Having the right information management system in place to help you stay organized is crucial for your organization's success.
An SRM software platform empowers organizations to build strong stakeholder relationships by helping to manage all your data in a well-defined space. Keeping track of all stakeholder interactions in a collaborative platform means everyone is on the same page and understands the history of engagement with stakeholders via shared stakeholder profiles.
Want to learn more about SRM software? Check out our blog!
Not All SRMs are Created Equal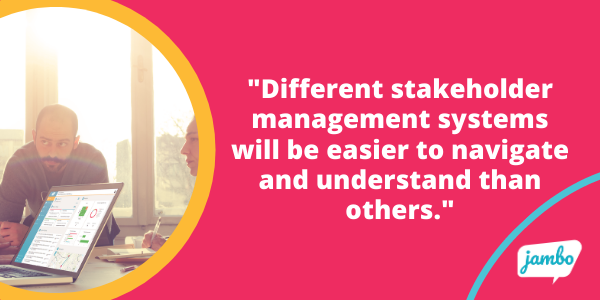 Even if you're outsourcing your stakeholder engagement programs, the way your stakeholder engagement data is organized and managed matters for your organization's success.
As the owner of your stakeholder engagement programs, you want your data to be stored in a system that allows you to access the information instantly while offering the ability to compile reports on the data quickly. You never know when you'll be asked to pull historical information or to give an update on project progress, so having the ability to do so without having to put in a request makes the whole team more empowered and efficient. Typically, organizations don't want a third-party gatekeeper to their own data; they want on-demand access as it's their data.
Choosing an SRM
Different stakeholder management systems will be easier to navigate and understand than others.
Some SRM systems are advanced cloud-based platforms with elaborate user-based permission options that allow you to provide multi-level access to your team and your stakeholder engagement service providers. These types of platforms allow everyone to enter information easily and enables seamless collaboration between you and your stakeholder engagement service provider.
When evaluating an SRM system, it's important to make sure you choose one that has a strong development team backing it, focused on continually developing and supporting the software platform. You don't want your information management system to make it harder to access your information, so selecting the right SRM solution is vital.
Looking for tips to help you choose the right SRM solution for your organization? Check out our blog!
Importance of Owning your Data
There are many more questions to consider beyond the quality of your SRM system.
Things Can Always Change
What happens to your data if you switch stakeholder engagement service providers or if you decide you want to manage your stakeholder engagement in-house?
Things can change, so it's essential to have a conversation with your service provider about your data to find out what happens to it if you decide to go in a different direction in the future.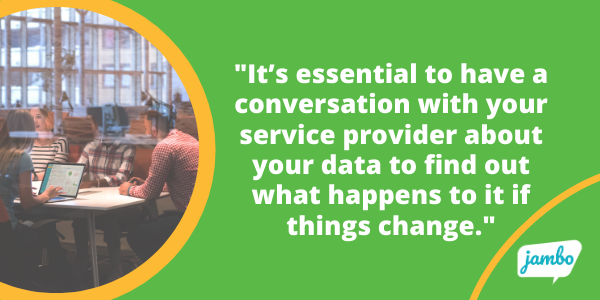 Questions to consider:
Do you get access to your data if you switch service providers?
In what format will the stakeholder information be provided to you?
Will you be able to understand the exported data?
If you switch stakeholder engagement service providers and you don't get to keep your data, or it's in a format you can't understand, you're at risk of losing valuable information. Not only is this a liability, but it can be extremely frustrating if you end up dealing with the same stakeholders from previous projects and must collect their information all over again.
Accessing Your Progress
If you own your data, you should have access to it, so you'll want to discuss your ability to access your stakeholder information with your service provider.
Consider questions like:
Can you have access to the data to check in on progress?
Do you have the ability to run quick reports on the data?
Is there a cost for accessing your data or for running reports?
You want to ensure that you and your team can access your data whenever you need it, so you want to be clear on any required steps.
Transparency
Transparency is vital when it comes to building trust and relationships and is essential whether you're dealing with your team, your stakeholders or your stakeholder engagement service providers.
When it comes to your service providers, you want transparency to understand what's happening with your data and to be confident that your information is being managed in a safe and organized way.
For your stakeholders, they expect transparency from you through proper engagement, honest information and through knowing you're protecting the data that they've given you (e.g. contact, personal or financial information).
With these transparency expectations in mind, you need to know where your information is being stored. Is it on a secure, cloud-based software that will protect your sensitive stakeholder information? If not, talk with your service provider about how this confidential data is being protected.
Risk and Long-term Planning
Risks are a reality when you're dealing with stakeholder engagement.
Just as it's essential to make a stakeholder engagement plan before you begin engaging, it's necessary to consider and plan for any future risks surrounding potential stakeholder engagement issues.
Any issues that arise out of the stakeholder engagement process are still your issues. Whether you choose to complete your stakeholder engagement in-house or outsource the process, the way your engagement programs are managed will undoubtedly reflect on your organization.
Being on the same page about the ownership of your data and your ability to access your data helps to better protect your organization from future risks and frustrations.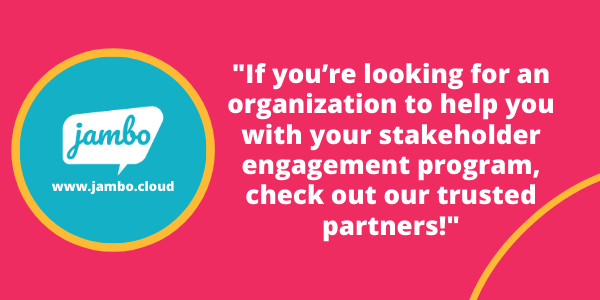 Next Steps
There are many stakeholder engagement service providers out there with dedicated and motivated teams who want to help your projects succeed.
If you're looking for an organization to help you with your stakeholder engagement program, check out our trusted partners!
For information on our SRM, Jambo, check out 1-minute explainer video, or book a 15-minute discovery call with a Jambo expert!