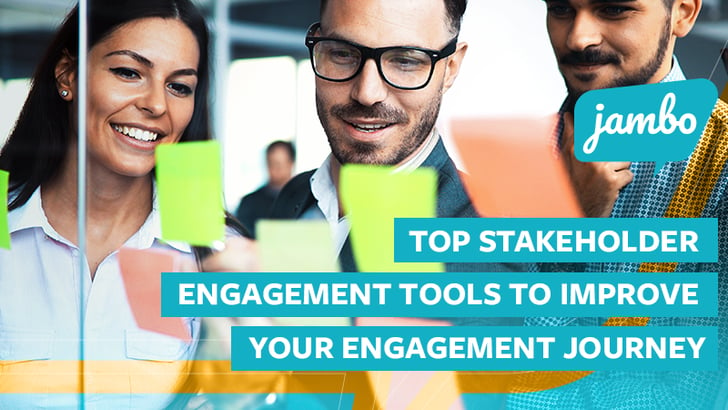 In this blog, we share some of the top stakeholder engagement tools and explain where in the stakeholder engagement journey they may be helpful.
We've split the list into the following engagement journey stages:
The planning stage
The facilitation stage (in-person and virtual)
The follow-up stage
To easily jump through the tools covered in this blog, you can use the linked table of contents below:
Top Stakeholder Engagement Tools For The Planning Stage
Top Stakeholder Engagement Tools For The In-Person Facilitation Stage
Top Stakeholder Engagement Tools For The Virtual Facilitation Stage
Top Stakeholder Engagement Tools For The Follow-Up Stage
Top Stakeholder Engagement Tools To Use During The Planning Stage
#1: Stakeholder Mapping
If you're new to the concept of stakeholder mapping, visit our stakeholder mapping blog which includes a free downloadable stakeholder map canvas.
Performing a stakeholder mapping exercise that uses a stakeholder map canvas during the stakeholder engagement planning stage will help you better understand your stakeholders. After this exercise, you will have a much better grasp of the volume of stakeholders you will be engaging with and to what extent. It also helps you to plan the resource requirements, budget, and tactics you will use to engage.
#2: Publicly Available Resources
Subject matter experts and industry organizations regularly share great resources online for free. For example, reports, whitepapers, and blogs are freely available to view and download online. Search for and use these resources to broaden your thinking and learn new and exciting ways to engage your stakeholders. The International Association of Public Participation (IAP2) has a wealth of resources for engagement professionals.
Here at Jambo, we've partnered with some leading stakeholder engagement experts to create helpful blogs packed full of tips and advice. You can check out some of these blogs below:
Top Stakeholder Engagement Tools To Use During The In-Person Facilitation Stage
#3: Sticky Notes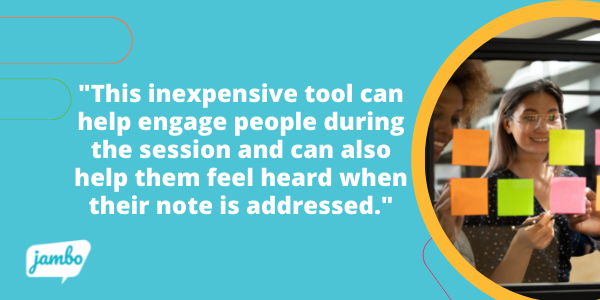 If you're hosting in-person engagement sessions, a helpful tool to use is simple sticky notes. Pick up different colour pads and leave a stack on each table or give them directly to individuals at the start of the session. During presentations or discussions, ask your attendees to write out their questions, comments, and considerations on the sticky notes. Collect the sticky notes intermittently or at a designated time during the engagement session. Make sure to display the sticky notes or plan for an exercise to respond to the sticky notes during the session.
Tip: some people may not be comfortable sharing their sticky notes with the group so allow people to hold onto their notes. However, make sure to collect them after the session so you can still capture the information.
This inexpensive tool can help engage people during the session and can also help them feel heard when their note is addressed. Going through the sticky notes after the session can help your team figure out the common questions or concerns related to the engagement. Be sure to capture this important information in your stakeholder relationship management system.
#4 Easels & Paper Pads
Designate a team member to act as a note taker on an easel with a paper pad. They can either jot down interesting points that are discussed during the session or take the questions and comments from the sticky notes and write them out in bullet form for everyone to view and respond to. Using this process helps your attendees feel heard and validated and you'll easily be able to see the trending questions or comments.
Top Stakeholder Engagement Tools To Use During The Virtual Facilitation Stage
#5: Webinar Registration Pages
Webinar registration pages are great for letting you know who is coming to your event, but did you know you can also use this tool to ask more questions like, "How did you hear about this event?" or "How do you feel about this event?" This additional information can help you build a better understanding of your project, the sentiment towards it, and who is talking about it.
#6: Interactive Webinar Features
By now, everyone has a webinar software of choice (Zoom, GoToWebinar, WebEx, etc.). Make sure to explore the full range of interactive features available within the webinar software and plan to make full use of them during virtual engagement sessions. Most webinar software's have features like polls and whiteboards.
The whiteboard feature is a great way to take notes and visually illustrate the discussions taking place. You can also choose to make the whiteboard collaborative so attendees can join in to add their own feedback. These tools are also helpful for prioritization exercises, you can post options on the screen and participants can identify their preference using a sticker or a simple checkmark. At the end of the session, depending on your webinar software, you can download the whiteboard as a PDF to use in your meeting notes or for your report back to attendees. If you can't do this, consider grabbing a screenshot.
#7: Participative Presentation Platforms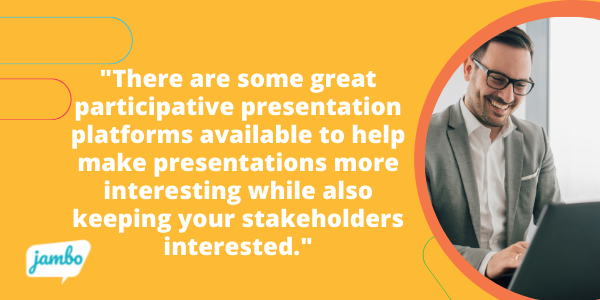 There are some great participative presentation platforms available to help make presentations more interesting while also keeping your stakeholders interested. Check out Mentimeter, Prezi, SlideDog and Genially).
These participative presentation platforms differ slightly but most offer similar features like polls, questions, word clouds, and real-time voting to help gather data while also keeping attendees engaged. These features are great to use as icebreakers or during presentation wrap-up. Afterwards, you can download the data to use in meeting notes or share it with attendees in your report back. Sharing these kinds of resources is a great way to show you were listening.
Top Stakeholder Engagement Tools During The Follow-Up Stage
#8: Emails
It sounds straightforward but emails are a tool you can use in the stakeholder engagement follow-up stage. Create an email template that you can send to attendees after an engagement session to thank them for participating and ask them if they want to be kept up to date and if they want to be included in future sessions or feedback options. Asking stakeholders these simple questions show you respect their opinions and their time.
#9: Survey Platforms
After a stakeholder engagement session (both in-person and virtual), you can send out a survey to attendees. Survey software's you can explore include SurveyMonkey, SoGOSurvey, SurveyPlanet, etc. Also, for virtual events, some webinar software's offer built-in survey features that you can schedule to be sent automatically after the webinar ends.
These surveys can help you do a number of things:
Evaluate the overall session
Gain insight into what worked or what didn't, or which tools attendees liked/disliked
Address the things you didn't get to during the session
Provide an opportunity for open feedback that might not have been possible during the session
Ask key questions to help better understand your stakeholders
#10: Stakeholder Relationship Management (SRM) Software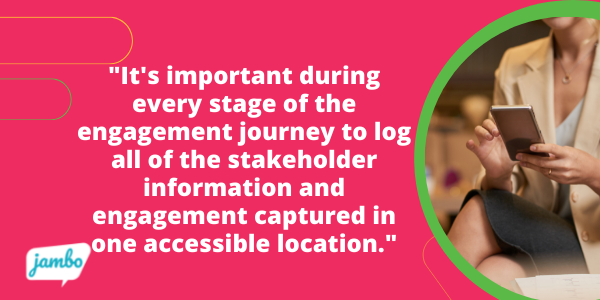 It's important during every stage of the engagement journey to log all of the stakeholder information and engagement session data captured in one accessible location. Wherever you choose to save your data, it must be secure (as you're sometimes dealing with sensitive or personal information). Data also needs to be searchable so that the whole team can easily view it as you can learn a lot about your stakeholders from reviewing this data. Stakeholder Relationship Management (SRM) software like Jambo was built specifically for logging, tracking, and reporting on stakeholder information and stakeholder engagement activities.
Building relationships and trust with your stakeholders is always top of mind. An important element in this is making sure to follow through on commitments (also referred to as accommodations or promises). We know things can get busy, and sometimes commitments can get lost in the mix, especially if only one person (like the session facilitator) knows about it. To make sure a commitment is never forgotten, it should be documented. The Jambo commitments module allows you to log a commitment and track its status. Teams can monitor commitments together to ensure each and everyone is addressed.
Tip: There is a difference between CRM (Customer Relationship Management) and SRM software. A CRM is a tool for managing customers and sales while an SRM is a tool for managing stakeholder information and stakeholder relationships. For anyone new to this, there are some key differences between a CRM and an SRM that can make a big impact on your projects.
Choose The Tools Designed To Improve Your Stakeholder Engagement And Build Stakeholder Relationships
While there are more stakeholder engagement tools available to you outside of this list, the above will give you a great starting place. Software tools are great to help you gather data and insights that your team can use to be more intentional about your engagement strategies. However, regardless of the tools you use, it's important to listen to your stakeholder and follow up with them to show they've been heard and build long-term relationships with them.
If you've read through this blog and are interested in understanding more about Stakeholder Relationship Management (SRM) software, check out this video.