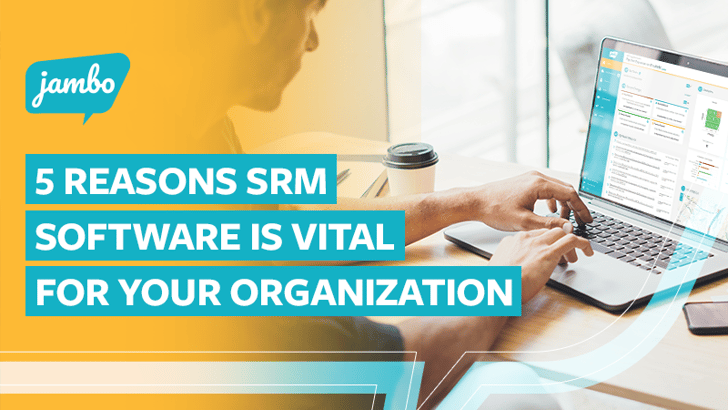 Today, stakeholder management is about so much more than just managing data and trying to win influence; instead, it's also about building mutually beneficial stakeholder and community relationships to work towards positive outcomes.
Organizations wanting to take their stakeholder management to the next level might wonder whether Stakeholder Relationship Management (SRM) software is worth it. So, in today's blog, we'll share how SRM software can help your organization strategically manage your stakeholder information and build those positive relationships for better project outcomes.
In This Blog, We'll Cover:
What is Stakeholder Relationship Management (SRM) Software?
Stakeholder Relationship Management (SRM) software helps you manage all your relationships and communications with the stakeholders and communities you're engaging and consulting.
With an SRM, you and your team have one centralized place to log engagement information, meaning everyone always knows exactly where to find everything they need. Organized data simplifies the stakeholder management process so that it won't become overwhelming or unmanageable and allows you and your team to use the inputted information to stay informed, communicate more consistently and effectively, and focus on building meaningful and trusting stakeholder and community relationships for better project outcomes.
Who Uses Stakeholder Relationship Management (SRM) Software?
Stakeholder Relationship Management software helps any organization tasked with managing large volumes of stakeholder information and who is committed to meeting regulatory requirements, running better projects and building meaningful, long-term stakeholder and community relationships.
Whether you're dealing with internal or external stakeholders as part of a policy development process, a change management strategy or throughout a project, engagement and consultation is an essential component in:
Forestry
Mining
Energy
Renewable energy
Environment
Construction
Transportation and Infrastructure
Government
Consumer products
Healthcare organizations
Non-profit organizations
etc.
The list of organizations and groups that can benefit from SRM software is extensive because an SRM can be a vital stakeholder management tool for almost every sector.
5 Reasons an SRM is so Vital for Your Organization
While it's important to know that an SRM can manage your data and help you make better strategic decisions with your teams, it's essential to break down specific SRM features to show you how an SRM will benefit your organization.
Below, we'll highlight five of our favourite SRM features and why these features are so important for your organization, with a few tips to consider when choosing your SRM.
1. Contact Management
Having talked with many professionals in the stakeholder engagement space both while designing our SRM, Jambo , and while working with teams to simplify and organize their stakeholder management efforts, we continuously hear that often an organization's contact management is a mess.
Messy contact management is a problem because you and your teams cannot easily gather important information about the stakeholders and organizations you're engaging with without access to organized and comprehensive contact profiles—These gaps in knowledge can leave your organization open to risks.
How SRM Contact Management Helps Your Organization
By utilizing an SRM with well-designed contact profiles, you and your teams can easily click into them to understand the essential information, keeping you updated and ready for meetings, check ins and more.
An SRM contact profile should give you access to information like:
What's been discussed, and with whom?
Have any issues been raised? What is the status of issues (have they been addressed)?
Were any commitments made? Have commitments been fulfilled?
What concerns or interests does the contact have?
What stakeholder groups or classifications do they belong to?
With quick access to this information, you and your teams will have a fuller understanding of the stakeholders and communities you're engaging with, what they care about and what they expect from your organization. This understanding will allow you to engage more effectively while moving forward with your project plans.
Reader Tip for Selecting the Best SRM
As each SRM vendor is different, when choosing your SRM, make sure you select one that allows you to organize the bulleted information above and an SRM that enables you to create individual and organization profiles for optimal efficiency and better organization.
2. Issues Management
Issues are an inevitability during stakeholder engagement, and you'll often be expected to work through each one. Unmanaged or missed issues can cause problems for your team, project and organization in some of the following ways:
Halting your project
Draining your resources
Diminishing your organization's credibility
Breaking down trust with your stakeholders and communities
Increasing your project's risks
Understanding the high costs associated with unmanaged or missed stakeholder issues, we know they're a high priority and that your organization could benefit from features focused on supporting you and your teams through your issues management efforts.
How SRM Issues Management Helps Your Organization
By utilizing an SRM with issues-focused features, you and your teams can work through them more efficiently and effectively, regardless of whether you can resolve them quickly or slowly over several years.
With a quality SRM with issues-focused features, you and your teams will be able to:
Know what issues have been raised, when and by whom
Easily identify their impact and priority
Quickly search through your data to find issues associated with specific stakeholders or organizations
Utilize timelines to gain the history of specific issue
Better protect your organization and your vital stakeholder trust
The efficiency gained from these features will allow you to work more closely and more productively with stakeholders and communities, showing them that you take their concerns seriously, which is important for future-focused stakeholder and community relationships.
Once you've successfully navigated an issue, trust will be gained with any affected parties. If future concerns do arise, they will remember how respectfully and efficiently you worked through the previous one, which helps you maintain and build relationships while avoiding unnecessary escalation and the dreaded rumour mill.
Reader Tip for Selecting the Best SRM
To get the full benefits of the issues-focused features that we listed above, look for an SRM with:
Materiality matrix: A colour-coded materiality matrix will help you and your teams identify the impact and priority of the issue, so you always understand your risks and can strategically work through the highest priority issues first.
Issues timeline: An integrated issues timeline will help your organization gain the full history of specific issues and the steps taken to address them, giving you and your teams an easy and understandable way to stay updated.
3. Commitments Management
Just as issues are inevitable, commitments (or promises) will also be a common occurrence, and your organization needs to be able to monitor and work through them as they arise.
As they are so common, the number of commitments you and your teams might be juggling can become overwhelming and so losing track of them becomes a real risk. This risk is amplified when you consider that missing even just one commitment can harm the trust your organization has worked so hard to build with your stakeholders and communities.
How SRM Commitments Management Helps Your Organization
With an SRM, you can increase your confidence around:
How many commitments you have
Who is associated with each commitment
When they were made/when they are due
Any communications associated with the commitment
Whether the commitment is still open or has been fulfilled
With these questions easily answered, your organization can be confident that you're one step closer to building and maintaining trust and relationships with all the groups you're engaging while working towards your project's goals.
Reader Tip for Selecting the Best SRM
Look for an SRM with the following features to get the most out of your commitments management:
Global reporting: The global reporting feature allows you to monitor commitments across one, some, or all your projects.
Traceability: An SRM with traceability will ensure all your information is connected, helping you and your teams to understand the big picture of your engagement and your project. When it comes to commitments, an SRM with traceability will show you how each commitment connects to your other project information (e.g. what stakeholder, organization or community is a part of the commitment, what communications are associated with the commitment, what issues are connected to the commitment, etc.).
4. Consultation Records
While the ability to show accurate and complete consultation records is already vital, its importance is expected to increase in the coming years. Especially with government legislation around the Duty to Consult with Indigenous peoples, requirements with Corporate Social Responsibility (CSR) and organizational expectations with Environmental, Social and Governance (ESG) reporting continue to evolve.
Want to hear from an industry expert on what they're predicting with Reconciliation and ESG reporting expectations? Check out the blog with enTrust engagement!
With these evolving expectations in mind, organizations need to have the ability to illustrate their consultation efforts with individuals and groups. While this expectation to show adequate consultation, including consultation that happened several years ago, can be extremely overwhelming, an SRM can drastically simplify the process and reduce risk.
How SRM History of Engagement Helps Your Organization
Equipped with a complete understanding of the history of engagement and access to all your consultation data, you and your teams will:
Keep all your information organized and accessible for you and your teams to learn from and run reports on
Simplify consultation reporting, as you'll be able to quickly run reports on all your consultation efforts over the years, even consultation from years ago
Be able to access all issue and commitment records, along with their status and all information connected to them (including how they've been managed and all communications surrounding them)
By utilizing a quality SRM, you and your teams will simplify and improve how your stakeholder and community information is managed so that it's easy to track, allowing you to create comprehensive reports on your consultation efforts.
Reader Tip for Selecting the Best SRM
To make your consultation records even more shareable and understandable, look for an SRM with an integrated map. With an integrated map, you and your teams can visualize consultation information on maps to help illustrate where consultation has occurred, meeting locations, areas of concern, etc. Additionally, by utilizing an SRM that allows you to export geospatial PDFs of these maps, you can increase understanding and transparency around your consultation.
5. Save time with the Right Software
While there are more features to share, the final one we'll highlight today is related to one of your most limited resources: time.
First, we'll talk about how selecting software not designed for stakeholder management is often a big culprit for you and your team's time loss.
Problems with Spreadsheets for Stakeholder Management
If you're using spreadsheets, you're likely wasting time in the following ways:
The inconsistent inputting process
Scrolling through unorganized spreadsheets to find specific information
Hunting down copies or versions of your spreadsheets
Checking with your teams to find missing information
Checking with your teams for updates
Trying to build complete reports, unsure if you have everything
To learn more about why spreadsheets aren't the best option for your stakeholder management, check out our blog!
Problems with CRM for Stakeholder Management
Similarly, teams who are already using a CRM for another purpose may try to use the software for stakeholder management, but, like spreadsheets, CRMs aren't built for managing stakeholders. By using software not designed for stakeholder management, you're immediately at a disadvantage, and you'll waste valuable time and resources trying to customize it and alter it to accomplish a task it was never designed for in the first place.
To learn more about why a CRM isn't the best option for your stakeholder management, check out our blog!
Lower User Adoption Rates
Beyond wasting time trying to make ill-fitted software meet your needs, you're also at risk of low user adoption rates (i.e. no one wants to use confusing, clunky or frustrating software, so they'll avoid it altogether).
Low user adoption rates are a problem because if your teams aren't using your chosen software, your data will be inconsistent, which immediately opens your organization to various risks, gaps and problems.
To avoid these issues, your organization needs software designed specifically for stakeholder management that's enjoyable and will foster collaboration across your teams.
How SRM Helps Your Organization Save Time
Beyond an enjoyable experience and consistent data, an SRM can help you and your team to save time in a few of the following ways:
Keeps all your data centralized, connected and accessible, so you always know where to find it
Makes it fast and easy for your teams to collaborate in real-time, allowing you to see what others have logged and changes they've made along the way
Allows you and your team to input data consistently and quickly
Ensures your data is easily searchable, so there's no more time wasted hunting down information
Allows you to run a variety of reports in minutes for quick understanding
Helps you to understand the entire history of engagement for a specific stakeholder or your whole project quickly and easily
An SRM will operate as your organization's single source of truth, giving you and your team one centralized space to find all your updated, organized and accessible information. With this access, you'll never waste time tracking down missing information, slogging through confusing inputting processes, or trying to figure out what your team is working on because an SRM will streamline and organize your stakeholder management process.
Reader Tip for Selecting the Best SRM
For the fastest and easiest stakeholder management experience, look for an SRM that offers:
History tracking: Understand changes that have been made to core records with automated history tracking, so you know who made changes and when.
Tags: An SRM that utilizes tags will allow you to add custom tags to any of your information to help you track the information that's relevant to you and your teams, like keywords, trends, themes, categories and concerns. You'll save more time because, in some SRM, these tags are easily searchable.
Task management: SRMs with a task management feature will allow you to assign yourself or your team tasks. Some SRMs will automatically associate a task with a communication record or issue, allowing you to more easily trace the conversation that a task emerged from and understand the big picture.
Attachment Management: For even more efficient reporting that will save time and effort, look for an SRM that enables you to run reports that can download attachments added into the SRM like PDFs or images. SRMs that allow you to add attachments to communication records and then easily run reports to download attachments will save you from having to fill your team in searching for supporting documentation related to your engagements.
Choosing the Best Stakeholder Relationship Management (SRM) Software
While it's clear that Stakeholder Relationship Management (SRM) software is a vital tool for organizations dealing with stakeholder management, there are many SRM options to choose from.
Every feature we've discussed today is available in our SRM, Jambo, plus many more features designed to help you and your teams to streamline and organize your stakeholder management efforts, quickly and easily. If you'd like to see Jambo in action, sign up for a free live demo to see how it could work for your organization.
Reader Tip for Selecting the Best SRM
Understanding that each organization's needs are unique, we know choosing the right SRM for your organization will require some research. To help you on your journey, we've developed a free checklist to help you work through everything you should consider while researching the best SRM. Download your copy by clicking below!