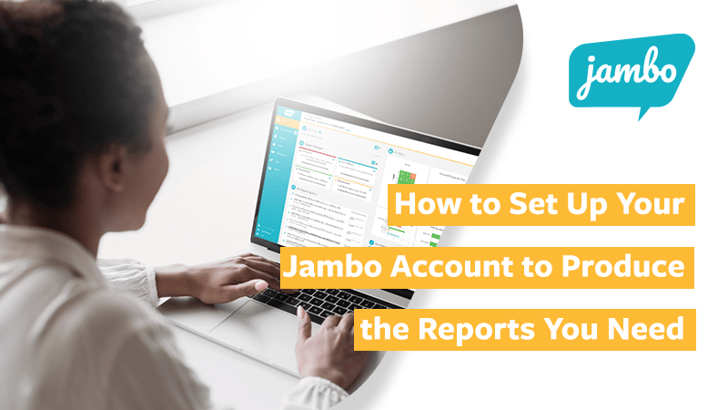 Often, it isn't until you need to produce a stakeholder engagement report that you realize:
How vital reporting is to stakeholder engagement -

especially when you have a regulator or key stakeholder awaiting your time-sensitive report.

How time-consuming and frustrating stakeholder engagement reports can be to produce

if you're not using a data management platform to help you build them quickly and easily.
Luckily, with Stakeholder Relationship Management (SRM) software like Jambo, you won't be stuck trying to track down your stakeholder information or overwhelmed trying to pull it together because the platform technology can do it for you.
But with various reporting requirements and different report options, how do you set up your Jambo account to ensure you can use your data to produce the reports you actually need?
Why Reporting Is Important in Stakeholder Engagement
First, let's cover why reporting is such an essential part of the stakeholder engagement and consultation process.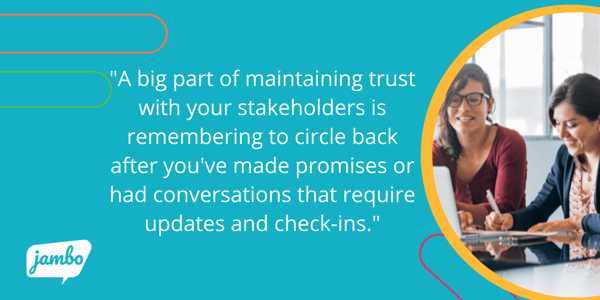 There are two key points to consider:
Reports play an important part in closing the loop with your stakeholders.

A big part of maintaining trust with your stakeholders is remembering to circle back after you've made promises or had conversations that require updates and check-ins. Using Jambo reports, you can easily close the loop with your stakeholders and continue to build strong stakeholder relationships.
Stakeholder trust is a crucial part of stakeholder engagement. Learn seven ways to build stakeholder trust.
Whether you're dealing with government, regulators, internal audiences, or external audiences

, reporting helps you illustrate the impact of your work and summarize what you've been doing.

You will spend time inputting your data into Jambo, so reports ensure you can use this data to show your progress, how you are tracking against your goals, and illustrate the consultation that has occurred for government and regulators.
Types of Reports You Can Produce in Jambo
Before we talk about how  to set up your Jambo account to produce the reports you want, it's helpful to know about some of the Jambo reports available out of the box. Below, we've listed a few examples that you might use during the following stakeholder engagement stages:
Engagement planning stage reports

Consultation/engagement stage reports

Post-consultation stage reports
Engagement Planning Stage Reports 
During the planning stage, you will want to:
Identify the stakeholders and communities you want to engage

Learn about them

Learn from previous projects to help guide this project
In this stage, you might find our 'contact report' and/or 'commitment report' valuable.
Contact Report:
You can run a contact report for many reasons. You may need a simple list of all your stakeholder's names and email addresses or a much deeper report with every piece of information you've added to contact profiles (like associations, tags, or custom fields). Ether way, Jambo's contact reports can help you get the data you need.
Jambo Contact Reports Can Help You Determine:
Which contacts are within a certain location or a specific area of interest?

A contact report can help you see which contacts are related to areas of interest or situated in a particular location.

Which contacts will be part of your next project?

The data and attributes you've added to your contact profiles can help you create your audience for your next project or help you decide who you should

 

consider for your next project.
Commitment Report:
During the planning stages, it can be helpful to run a commitment report of previous projects to learn about the types of promises made to stakeholders in the past. This can help you understand what resources you may need for your upcoming project.
Jambo Commitment Reports Can Help You:
Learn from previous engagements.

By looking into past commitments, you can see if there's been common requests, promises or conversations with stakeholders during previous engagements that you can use to help prepare key messages and resources.

Learn about a specific stakeholder before you begin engaging.

If you're engaging with a stakeholder your organization has made previous commitments to, you can run a commitment report to review the history of commitments with them to help understand what the stakeholder values or cares about. Taking the time to learn about your stakeholders can help you make the most of your first interaction with them.
Consultation/Engagement Stage Reports
In the consultation or engagement stage, you may want or need to show the work your team(s) are doing along with details and updates about your project's progress. Here, Jambo's 'communication report' and 'project overview report' can help.
Communication Report:
A communication report can help you summarize:
Who you've been talking to

What you've been talking about

What issues or commitments have arisen
Jambo Communication Reports Can Help You Determine:
Is anyone missing?

This report can help you see if there are any people you've missed that you planned to engage or consult with. This quick overview can help ensure you're on track with your engagement plan.

Have you forgotten to follow up with someone you promised you would?

If you promised to follow up with a stakeholder during a specific project phase and the deadline is approaching, you can see what you still need to do before you move on to the next step in the project.
Project Overview Report:
The project overview report will help you summarize your activities, contacts, communications, issues, tasks, and other essential elements that may have come up during a specific timeframe in your project.
Jambo Project Overview Reports Can Help You Determine:
What has your team accomplished to date?

You can run a report based on your team(s) activity for a period of time (i.e. the past three months) to gain a high-level summary that will help decide if you're on track or need to adjust your plans. This can be great to share with management teams or decision-makers to keep everyone updated on the project and help gain buy-in.
Post-Consultation Stage Reports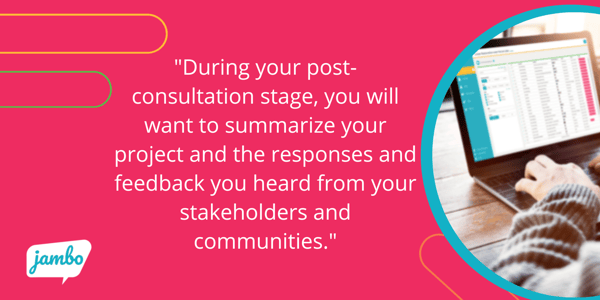 During your post-consultation stage, you will want to summarize your project and the responses and feedback you heard from your stakeholders and communities. You will also want to ensure that nothing is outstanding and that you have closed the loop with everyone involved. Graphics and analytics from Jambo reports and the 'issues report' can help you wrap up your projects successfully.
Graphics and Analytics from Jambo Reports:
Regardless of which area of Jambo you report on, there will be colourful and useful analytics and graphics for you to pull and share with all your important audiences.
Report Graphics and Analytics Can Help:
Share your final learnings in your wrap-up presentation.

You can run the 'project overview report' or 'communication report' we mentioned earlier to access useful analytics and graphics that you can add to company reports or presentations to help visually communicate your project outcomes and overall learnings.
Issues Report:
With Jambo's issues report, you can see what issues have been raised, what they're about, who's involved, their status, impact, and priority, and even the history, including any communication records related to those issues.
Jambo Issues Reports Can Help You Determine:
What issues came up during your project, and how did you resolve them?

Part of your risk management overview may be looking into all the issues that came up during your project. You can run a report on all your project issues, which will tell you who was involved, what conversations were had and the types of responses that came with each issue.

Are there any outstanding stakeholder issues?

If you're wrapping up your project and want to see if there are any outstanding issues or follow ups, you can run an unresolved issues report.
A Tip from Jambo's Stakeholder Engagement Specialist:  If you've done your follow up, make sure you record a final "what we heard" summary in your communication records. This way, you're demonstrating that you've gone full circle and can show you closed the loop with all your stakeholders, so your team(s), audiences, and regulators can see the results.
How to Set Up Your Jambo Account to Produce the Reports You Need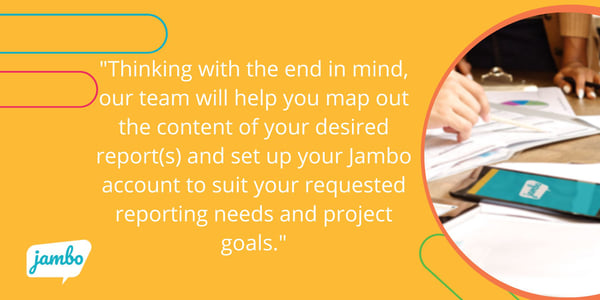 So, how can you ensure your Jambo account is set up to meet your unique reporting needs? The best way to do this is during the Jambo onboarding stage, where you'll work with the Jambo Customer Success team to discuss what data management and reporting success looks like for your organization. Thinking with the end in mind, our team will help you map out the content of your desired report(s) and set up your Jambo account to suit your requested reporting needs and project goals.
We'll make recommendations and configurations to meet your needs, which might include specific reports with custom fields, tags, or report templates. At the end of the day, your account will be set up for you, so you'll know exactly where your data goes in the platform and how to produce the reports you need.
Does Jambo Offer Custom Reports?
There are many ways to customize Jambo reports, and this is something our Customer Success team can walk you through during onboarding. You may need to filter your data in a certain way or group different attributes to really dig through your data. We may even be able to configure a current report to meet your customized needs.
What are Jambo's Reporting Templates?
Above, we mentioned reporting templates which are reports you can build, save, and label for you or your team to use again in the future, which is a considerable time saver!
A Real-Life Example from the Jambo Experts: If you are responsible for running a monthly status report but are going on vacation and need a backup to run it, you can create a report template of this regular report and label it accordingly (i.e. monthly status report). Once you have saved the report template, every Jambo user on your project team will be able to access the template, so knowing this, you can assign a task to someone else on your team to run the report while you are gone.
Questions to Help You Prepare for Your Jambo Onboarding: 
To help you get the most out of your onboarding experience, you can prepare by brainstorming answers to the following questions:
What are some of the reports you want to generate?

What information will you want to share or portray throughout your project?

What regulatory requirements do you need to meet?

What are the insights you want to gather?

What kind of information do you want to learn about your project?

What are some of the specific areas that you often get questions about?

What are some of the most challenging reports you've generated in the past?

What are some of the goals or KPIs you have for your project?

What would success look like for your project?
How We Meet Your Reporting Needs Now and Into the Future
During onboarding, our Customer Success team will get you up and running within the Jambo platform, but we're also here for your long-term success. Jambo is designed to be responsive to your changing needs, so when things change for you, reach out to your Customer Success team so they can help ensure Jambo continues to fit your growing needs.
Where to Learn More About Jambo's Implementation and Onboarding Process
To learn more about our easy onboarding process, check out our blog on Jambo's Easy 5-Step Implementation Process, where we cover:
Goals

Approximate timelines

Common FAQs on data imports, training, and ongoing support
Questions? Book a 15-minute discovery call with our team.