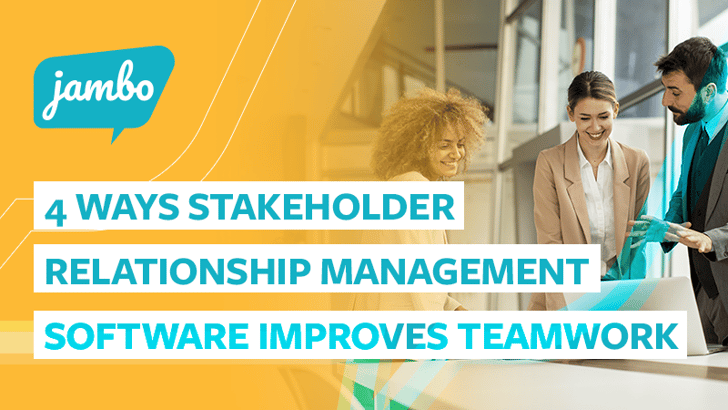 With stakeholder engagement and consultation projects, you might be working with different stakeholder engagement practitioners, management teams, contractors, and various departments, all of whom may be engaging with your stakeholders or working on your project together, so teamwork is vital.
The best way to keep your teams on the same page and working towards your organization's goals is with Stakeholder Relationship Management (SRM) software. With an SRM, everyone will be able to easily input the data they're collecting and will have secure access to all the logged information (assuming they've all been given access).
An SRM is the easiest way to streamline your stakeholder management process for more productive teamwork and collaboration.
Today, we're sharing four ways an SRM can improve your teamwork.
1: An SRM is built for stakeholder management collaboration
Stakeholder Relationship Management (SRM) software is built to manage all your stakeholder engagement information and has been designed to facilitate team collaboration within the system.
With an SRM, despite the many different meetings and touchpoints you and your teams may be having with your stakeholders and each other, you can easily see all these stakeholder conversations and interactions without having to send unnecessary check-in emails or book extra meetings.
With an SRM, everything is logged and organized, allowing you and your team to gain quick updates on what's happening with all your stakeholders, even if you're not the one engaging with these stakeholders.
Are you using spreadsheets for your stakeholder management? Check out our blog on 10 reasons why it's time to stop using spreadsheets!
2: An SRM will improve your team's accountability
After a meeting or discussion with your teams, there will be inevitable next steps for your stakeholder engagement project. You want to ensure you can make those next steps as clear as possible, so everyone knows who's accountable for what and when it's due.
With the right SRM, you can assign commitments, issues, and general team tasks to team members. With this capability, everyone (who has access to the SRM) can see who owns that task, issue or commitment, and which ones have been assigned to them.
With an SRM like Jambo, you can also gain updates on your team's tasks right on the dashboard, so everyone is updated when they're completed and can work together to assign new tasks to keep the project moving forward.
3: An SRM will help you create better reports for more productive team meetings
Whether you hold team meetings regularly or not, you'll still want to make your meeting time as productive as possible. Reports can help with this, as creating organized reports to share various updates will keep your meetings focused and more productive so that you're not getting sidetracked by less important conversations.
If you're meeting to talk about your project's stakeholder issues with an SRM like Jambo, you can run a full report on every stakeholder issue that's been logged to see what's been resolved and what still needs attention to guide your next steps.
Additionally, suppose a key stakeholder or several key stakeholders will be engaged in an upcoming meeting or event (like a town hall). In that case, you can run a report on all the engagements logged with just those specific stakeholders, so everyone is briefed on the perspectives, concerns, and ideas they've shared.
Regardless of what information you want to focus on in your team meetings, with the right SRM, you can create reports on your stakeholders, commitments, issues, the history of engagement, and more. This will help the team's understanding/knowledge, facilitate better discussions and help you work together more effectively.
SRM reporting across projects
If you need to look at your data on an organization-wide level rather than on a project level, an SRM like Jambo offers the ability to report across all your logged projects. This is useful in various situations, like when you have a stakeholder who has been engaged on previous projects. If your team needs a quick overview of that stakeholder's entire history of engagement with your organization, Jambo can pull all this information into one organized report in minutes.
Regardless of what information you need, the right SRM will help you roll up your data into organized and sharable reports, so everyone is on the same page fast.
Want to learn more about how SRM reports can help your projects? Check out our blog!
4: An SRM will help you make more strategic decisions as a team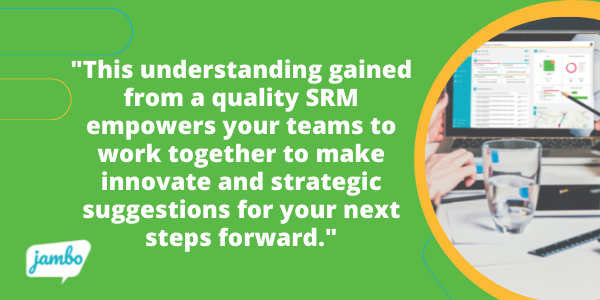 Once you have everyone on the same page, the insights and understandings you and your teams will gain from your SRM will help you have better discussions, ask meaningful questions, and work together to create positive solutions.
Regardless of whether you're in an in-person meeting all together or collaborating in your cloud-based SRM across the world, everyone on the team will have access to the stakeholder data they need. With this access, every team member can see what's new, what their team members are working on, current risks with stakeholder issues, outstanding tasks, and more.
This understanding gained from a quality SRM empowers your teams to work together to make innovative and strategic suggestions for your next steps forward.
The fastest and easiest Stakeholder Relationship Management (SRM) software: Jambo
When choosing the best SRM for teamwork, you want to choose one that's been built with team collaboration in mind.
Our SRM, Jambo, has been designed to help teams work together faster and easier than ever. Jambo helps you and your team to collaborate in real-time to track, report, and stay on top of your stakeholder information for more positive project outcomes with the ability to build stronger stakeholder relationships along the way.
If you're interested in seeing a quick overview of what Jambo can offer your team, check out our one-minute explainer video by clicking the image below!