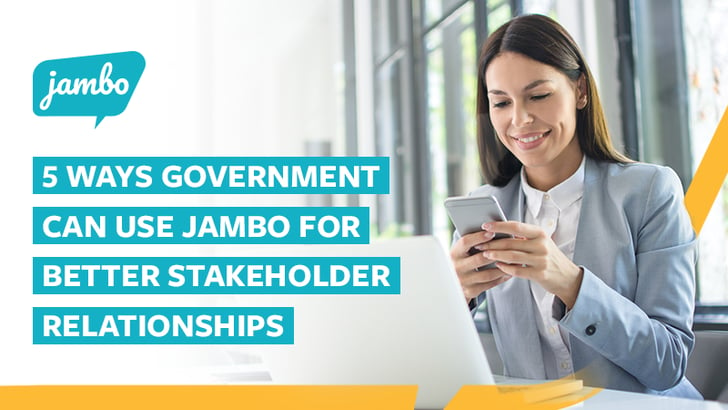 If you're part of a government department, office, agency, or crown corporation and you're doing government-led citizen and stakeholder engagement, then building trust and positive relationships should be a top priority.
Learn 3 reasons stakeholder relationships are key to your organization's success by checking out our blog.
Whether your team is aiming to meet legislative or policy requirements or working towards more transparent, inclusive, and collaborative engagement, your stakeholder relationships are vital to creating positive project and program outcomes.
Interested in making your stakeholder engagement more inclusive? Check out our blog!
However, we know it can be challenging for government teams to create positive stakeholder relationships, especially as trust in some government institutions has declined (Endelman Trust Barometer, 2021).
To meet these challenges and help government relations and public affairs teams foster better relationships, we're sharing how our Stakeholder Relationship Management (SRM) software, Jambo, can help build more positive, long-term stakeholder relationships for better project and program outcomes.
How Jambo Helps #1: Stakeholder profiles to help your team prepare for stakeholder meetings
Each stakeholder that you or your team log into Jambo will have a stakeholder profile. In the stakeholder profile, you can access a variety of information about that stakeholder like:
Contact information
Logged communication records with them
Notes about that stakeholder logged by yourself or your team
Any issues that stakeholder raised or is involved with
Any commitments made to that stakeholder
Etc.
The profile puts all the information you need about your stakeholders at your fingertips. Access to this information in a centralized space means you know that you're looking at all your team's most updated information on that stakeholder, so there's no more guessing. This way, you're always ready for any data requests or upcoming engagements and meetings.
Plus, this allows you and your team to understand, at a glance, any concerns or interests for groups that stakeholder might belong to, which will help you to build a fuller picture for that stakeholder and anything else they're connected to.
How Jambo's stakeholder profiles will help you build better stakeholder relationships
With access to all this information, you and your team can understand a lot more about your stakeholders, empowering you to focus your engagements on addressing what's most important to them while ensuring you never forget about any issues or commitments (i.e., promises).
Jambo ensures you're not caught off guard in stakeholder meetings with any surprises. You can easily jump into the software beforehand to quickly see the last point of contact, notes on the stakeholder, and the other vital information you'll need to prepare for your meetings.
This helps your stakeholders understand that your team listens to their perspectives, takes them seriously, and is dedicated to working with them for positive outcomes—it's a crucial component to building trust and positive stakeholder relationships!
History of engagement
Whether you want to highlight your team's engagement and consultations with Indigenous communities, another government agency, a resident landowner, or whomever else, Jambo keeps all your logged engagements organized, streamlined, and searchable.
This history of engagement allows you to dig into your data to gain a deeper understanding about your program and the engagements you and your team are having, so you understand what's already happened and what needs to happen moving forward for better relationships.
How Jambo Helps #2: Stakeholder focused workflows designed to meet your stakeholder management challenges
Jambo has multiple stakeholder-focused workflows that allow you to quickly consume all the logged information within the system, so you understand it or record it as part of your citizen and stakeholder engagement efforts. These workflows ensure you can do whatever you need to do when you need to do it without any extra hassles or frustrations.
There's carefully designed automation happening behind the scenes in Jambo that ensures you can quickly gain all the updates you need on the spot because all your information is connected together. For example, you can easily look at an issue update and see the communications connected to that issue. You can also investigate a stakeholder engagement and see any team tasks related to that engagement. With Jambo, you're always able to see how your information connects to tell the whole story.
How Jambo's stakeholder focused workflows will help you build better stakeholder relationships
These Jambo workflows are unique because they help you to naturally captures engagements the way they happen in real life—It's not just about the last thing that's been said; you need to understand everything around that stakeholder and what they've shared with you or your team on this program or on a previous program in order to build a positive relationship with them. With Jambo, everything you need is organized and understandable in the system, so you can understand that big picture right away without wasting time or resources trying to piece scattered information together.
What about a CRM?
While some government departments might still be trying to use something like a CRM to make do, a CRM isn't the best tool for building stakeholder relationships because a CRM is for managing customers and sales, not stakeholder relationships and communications with those stakeholders. Instead, an SRM like Jambo allows you to naturally capture your conversations and organize them in a way that makes sense for your whole team.
To learn more about why a CRM is not the right tool for stakeholder engagement, check out our blog!
How Jambo Helps #3: Your stakeholder information is accessible for your team while remaining secure in the SRM
With Jambo, your stakeholder information is all centralized and secure within our cloud-based software. This way, your data is accessible for your team while being protected and secure to meet your rigorous data security requirements.
We offer automatic audit trails and logging that will keep your IT teams happy and confident that your data is secure. We also offer Single Sign-on (SSO) options for enterprise customers wanting to tie into their own authentication systems, such as Microsoft Azure AD.
To learn more about our government-approved security measures, reach out to our team for a no-pressure call where we'll answer all your questions!
How keeping your data centralized and secure in Jambo will help to build better stakeholder relationships
With all your citizen and stakeholder engagements centralized within one secure system, you and your team always know that you're viewing the most updated information about your stakeholders. This way, you never have to dig for the information you need or worry that it's been logged somewhere that's not secure or accessible for your team.
For teams with questions about privacy and security, Jambo is a secure SRM that utilizes industry-standard security processes. Information is managed safely and securely with encryption both at rest and in transit. Information is kept safe in Jambo and is securely backed up, all while ensuring it's accessible for those who have been given appropriate access on your team. And with Jambo, you always retain ownership of your data.
To learn more about data ownership, read our blog on why you should own your stakeholder data!
How Jambo Helps #4: Never miss an issue or forget about a commitment to a stakeholder again
In citizen and stakeholder engagement, issues and commitment will arise. Whether someone flags an issue with a policy in your program or asks you to follow through on a task, you need to stay updated on every issue and commitment.
How Jambo's issues and commitments management will help you build better stakeholder relationships
One thing that's frustrating for engagement practitioners is when they meet with a stakeholder and the stakeholder says, "I told your people about this problem last week, don't you talk?" To avoid this, you and your team need to know about existing issues and commitments before your stakeholder meetings. When you're not filled in on those issues and commitments, it reflects poorly on your whole organization.
With Jambo, you're easily updated on every current or past issue and commitment. You can quickly check in on a stakeholder profile before the meeting to see any issues they've raised or overdue commitments and address them during the meeting, which shows that you're listening and your whole team is dedicated to working with them.
Addressing issues and commitments tactfully and promptly will also help ensure that your stakeholders know you take their concerns seriously and increases the likelihood that they'll be willing to work with you (now and in the future).
Jambo's issues materiality matrix
To make your issues management as efficient and easy as possible, Jambo also offers an issues materiality matrix that helps you easily identify each issue's impact and priority to help you understand which ones pose the greatest risk for your organization. This allows you to focus strategically to resolve those high-risk issues first, which the connected stakeholders will appreciate.
Task management
Additionally, with Jambo's task management, you can assign tasks to yourself or your team and use the dashboard to monitor their status and progress.
A unique and vital addition that Jambo has recently added is the ability to connect tasks to any related commitments logged in the system. So, when you or your team look into a commitment, you can also view the tasks for that commitment.
As commitments are so critical for government teams wanting to build stronger relationships, the tasks feature allows you to create tangible steps within the system that let you and your teams know what needs to be done, by whom, by when. This keeps everyone on the same page and your programs and projects moving forward.
How Jambo Helps #5: Run concise, detailed and transparent reports for information requests
Whether you're trying to meet a Freedom of Information (FOI) request or an information/status request from senior officials or another government department, you need to be able to meet these requests comprehensively and quickly, which is where Jambo's reports can help.
How Jambo's reports will help you build better stakeholder relationships
Information requests are common in government and can take a lot of effort and digging to put them together in the manner that's expected, but with Jambo, you can run organized and detailed reports in minutes.
Regardless of whether you're meeting a request or wanting to show management, executives, or other government elected officials the current issues, commitments or history of engagement, you can create these reports in Jambo to illustrate the kinds of conversations you're having in the community. This way, everyone who needs this information can be looped in quickly and easily.
When it comes to stakeholder relationships, the ability to adequately and transparency share what's happening will help build trust in your organization and help grow confidence that you and your team are committed to transparent and respectful engagement.
Next Steps: Jambo for Government
To help you understand the total value Jambo can offer your team, visit our Jambo for Government page or book a 15-minute discovery call with a Jambo expert!