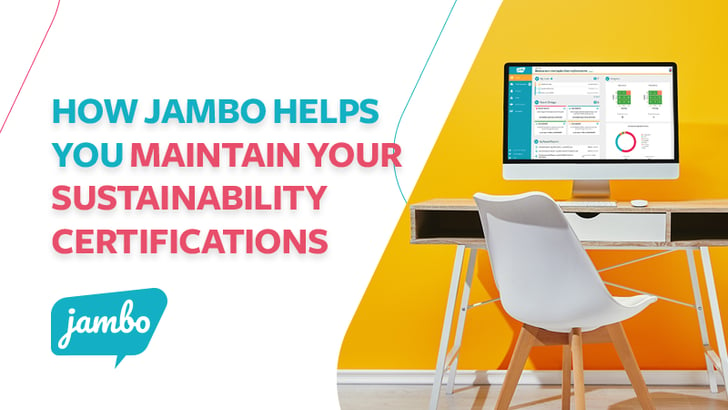 In sustainability reporting, organizations report on their environmental, social and corporate governance (ESG) performances. While sustainability reporting and certification is vital in many sectors (especially in resource management), many organizations are seeking additional management certifications to increase consumer confidence, build their reputation, and commit to sustainable practices.
To learn more about ESG reporting, check out our guest blog with enTrust Engagement!
Three widely adopted certifications are:
Canadian Standards Association (CSA)
Forest Stewardship Council (FSC)

Sustainable Forestry Initiative® (SFI)
These certifications have many requirements but are similar in that they aim to help address various global issues and work towards responsible forest management. However, there are also many differences between the certifications, especially as standards continue to evolve, so visiting their websites to learn more is highly encouraged.
There are often rigorous auditing processes that require extensive documentation to show how organizations are meeting or working towards meeting standards to maintain sustainability certifications. Keeping detailed and accurate records of everything in clear and understandable formats can help organizations maintain their certifications, which is where our Stakeholder Relationship Management (SRM) software, Jambo, can help!
Looking for a comprehensive overview of Stakeholder Relationship Management Software? Check out our blog!
3 Ways Jambo Can Help you Maintain your Certifications
While there are many situations where Jambo can help with maintaining sustainability certifications, for today's blog, we're focusing on:
1. Special Sites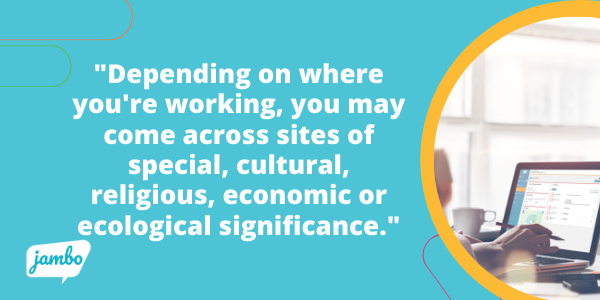 A special site can be like a road that a hunter or trapper uses to access an area or a culturally significant site to a local Indigenous community. Depending on where you are working on your project(s), you may come across sites of special, cultural, religious, spiritual, economic or ecological significance. You have a responsibility to communicate and potentially collaborate with individuals or communities to ensure you protect the site's integrity in an agreed-upon manner, depending on the circumstances around that specific site.
How Jambo can Help
Log Special Sites on Jambo's Geospatial Map
Using the simple integrated map viewer, you can identify special sites and export and share geospatial PDFs with your team or communities to enhance project understanding and transparency. Our mapping system is easy to understand, so you don't need a GIS (geographic information system) professional to know what you're looking at.
Should any issues around special sites be brought forth by stakeholders or community members, you can effectively track what's been raised, when and by whom. Issues are searchable in Jambo so that you can find any issues (past or present) associated with a contact or an organization. Issues are easy to follow with Jambo's issues timeline, which helps you understand the history.
You can quickly produce reports for visual documentation of your organization's entire history of engagement with a single contact or a whole community to help with transparency and show engagement and consultation efforts to meet your certification requirements. When it comes to reporting for certifications, you can even add any of those issues we mentioned above into your shareable reports to help show the full story of what you've encountered and how you've been working towards solutions.
Additional Considerations
Respecting sensitive information:

Community members don't always want to tell you the location of special sites, especially if it has cultural significance. With Jambo's geospatial mapping tool, you can create a map that highlights the area you're planning to develop or work within and bring this to community members.

Seeing the map, it's easy for community members to let you know if your plans are occurring on or near a special site, allowing you to proceed or to collaborate further.
Aggregate locations of interest: Additionally, with Jambo's spatial planner, you can gain a greater understanding of issues that might occur. For example, if diverse community members tell you there are various locations of significance, you can plot these points on the map. Once you see a collection of plot points within a particular area, you can understand a potential need to adjust your plan to avoid any unnecessary problems or relationship breakdowns.
Accessibility: Also, on the topic of maps, be aware that not everyone enjoys looking at maps. Consider presenting the location in different ways to accommodate more people (e.g. can you bring people to the site, or work with community members to help guide others on understanding what they're looking at?). Within Jambo, you can add notes on individual or community preferences to help you understand stakeholders and community members better while showing the steps you've taken to provide accessible information.
2. Indigenous Consultation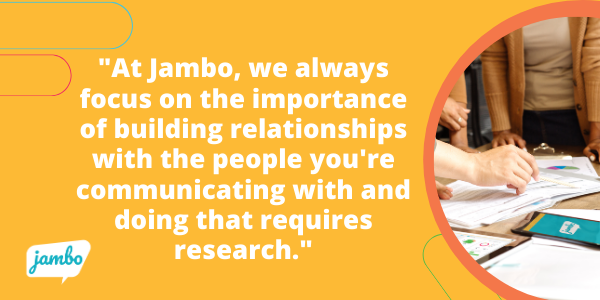 It's crucial to recognize and respect the legal and constitutional rights of Indigenous peoples. Organizations who have a responsibility to demonstrate meaningful Indigenous consultation in a documented form must show they've made adequate efforts to communicate with Indigenous communities, while adhering to all legal requirements.
At Jambo, we always focus on the importance of building relationships with the people you're communicating with and doing that requires research. Take the time to learn about the Indigenous communities you're planning on consulting with, like how they'd prefer to communicate and collaborate. With that said, be respectful of people's time and privacy rights.
How Jambo can Help
Improve Consultation Management
With Jambo, your consultation teams can quickly log contact information, communications, issues and commitments with Indigenous communities, allowing you to see who you've consulted with and what has been said, along with any related information like tasks, commitments or issues. Your teams can use Jambo to review and understand the history of consultation with Indigenous communities, which is essential in building those strong relationships.
Stay Focused and Organized
Depending on the complexity of a project, one organization can have many staff consulting with the same Indigenous communities or groups at any one time. Indigenous community members are also likely communicating with more organizations than just yours, so respecting their time with clear and accurate records is vital. With Jambo, you have a centralized space to store all your consultation records, so you and your team always know what's been discussed, reducing the likelihood of repeat questions or unnecessary check-ins, keeping communications focused and personalized.
Jambo has streamlined the stakeholder information management process, which is excellent as regulators and stakeholders often want updates with short notice! One of the many functions that help you save time is with Jambo's responsive design that enables you to access your information on your smartphone or tablet. You might be visiting Indigenous communities, and you can take Jambo on-the-go, so you don't have to wait to input your data. Plus, if your device has a microphone, you can use voice-to-text features to easily input your data. Mobile access is also beneficial as you can quickly show Indigenous communities exactly what you've inputted for greater transparency and to clarify that you've understood everything, which helps build accurate records and trust.
To learn five ways Jambo helps you save time, visit our blog!
Additional Considerations
Communication preferences: Not everyone enjoys communicating the same way, so take the time to learn how individuals prefer to communicate and be willing to work with them, so communications are useful for everyone. Consider whether individuals prefer emails over face-to-face meetings and also consider the language you're using to communicate and whether it's understandable for everyone (e.g. using a lot of technical jargon and acronyms).
3. Stakeholder Engagement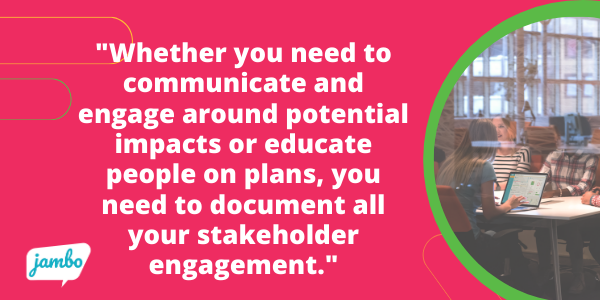 Whether you need to communicate and engage around worker and community safety, identify potential impacts of your project, educate people on your plans, or work towards issue resolution, you need to document all your stakeholder engagement efforts.
How Jambo can Help
You may collect important documents like PDFs and images that are relevant to your engagement efforts. For example, in Ontario, it's common for Local Citizens Committees (LCC), to keep meeting minutes, which you can easily add into Jambo. Any additional documents can be added to communication records, stakeholder profiles, issues and projects, and can be added to reports to ensure you're telling the full story.
Tag Important Information
Jambo's tagging feature is an excellent way to track relevant data like important keywords, trends, themes, groups, categories or concerns. These tags work like a hashtag for any of your inputted information and are excellent for organizing your data. If you have an important tag like "community safety," you can easily search all data with that tag and report on it to share any related communications, issues, commitments or tasks, making it easy to share your engagement efforts around that topic.
Manage All Your Commitments
A stakeholder commitment is a promise made to a stakeholder, and these are very common in stakeholder engagement. With Jambo, you and your team always know what commitments exist and if they've been fulfilled. You can report on commitments by status to keep track of important information like which commitments are currently high priority or overdue and need your immediate attention, which can improve accountability and help ensure compliance.
Additional Considerations
Timing: Make sure people find out about your projects within a window of time that allows them to have input—people should never find out about things once there's no time for changes! For collaborative engagement, ensure you use two-way communications methods, so your stakeholders have a clear way to share their feedback.
Follow-through:

We often have great ideas and even document those ideas in our meeting minutes, but the follow-through on those action-items doesn't always happen. With Jambo, you can easily assign tasks to yourself and other users.

Jambo's task assignment is an easy way to communicate and delegate with your team without making extra calls or sending additional emails, saving everyone time while also keeping everyone connected and focused.

You can also report on tasks, showing auditors any team-related action-items for greater transparency.
Next Steps
Whether you're dealing with special sites, Indigenous consultation or stakeholder engagement, an SRM like Jambo can organize all your data and simplify your sustainability reporting process. The ability to share quality and focused data in easy-to-understand reports will help you work towards achieving or maintaining your sustainability certifications and greater ESG goals.
We've only mentioned a few of Jambo's features here, so check out our Product page for a full list of features or book a 15-minute discovery call with a Jambo expert!