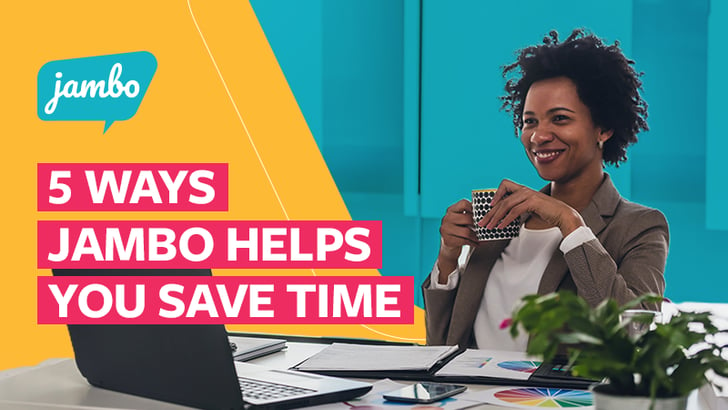 While designing Jambo, we talked to a lot of industry, government and sustainability professionals to find out what challenges they were facing in their stakeholder engagement management efforts. It became clear that the administrative burden associated with logging, tracking and reporting stakeholder engagement information is a struggle. 
Today,
stakeholder
professionals are
often
wearing multiple hats and taking on a variety of r
oles and
responsibilities, which means they're extra busy and don't feel like there's enough time in the day.
In this blog, we've highlighted some of the ways our Stakeholder Relationship Management software (SRM), Jambo, helps users to save time, increase efficiency and improve stakeholder engagement management practices (not sure what an SRM does? Check out our comprehensive guide!).
Tags to Track Relevant Data
With Jambo, you can add tags to any of your information to help track relevant data like keywords, trends or useful qualifiers. 
With Jambo tags, you can:
Effortlessly track any trends you and your team are interested in following

 

Simpli

fy searching through

stakeholder engagement or contact

records by

quickly a

dd

ing

 important keywords as tags

Easily

report on your chosen tags to help better track your data and gain useful insights

 
Run Reports in Minutes
Whether your reports are required by regulators, internal policy, or for you and your team to learn about your stakeholders, they hold valuable information. 
With Jambo reports, you can:
Run comprehensive reports in minutes

 

Better organize your data to

 

pull easy-to-understand insights

 

Reveal

trends or patterns in your

engagement

data

 

Run reports that

assemble

your

attachments

(i.e. audio, images and documents)

 

and connect them to stakeholder engagement records
Contacts Simplified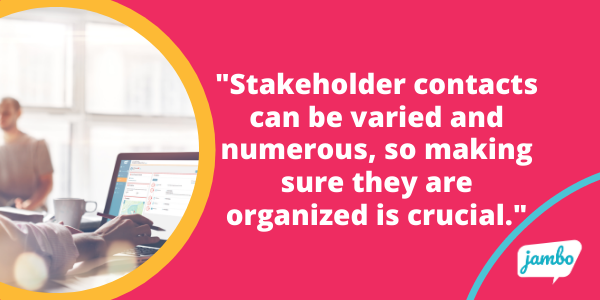 Stakeholder contacts can be varied and numerous, so making sure they are organized and searchable is crucial. 
With Jambo, there's a simple contact entry system that allows you to enter consistent contact information. This contact information is easily searchable and straightforward to understand. 
With 
Jambo's
 contact organization, you can:
Save

contacts for use across

all your

projects

 

Associate multiple organizations and

roles for a single contact

 

Quickly see if you've communicated with your contacts

in a way that best matches

their role 

at the moment

 you engaged

 

Open contact profiles to view

a

 

full history of engagement

, which keeps you better prepared for stakeholder

meetings,

 

so you don't get blindsided again
Unique Workflows Designed for Managing Stakeholder Information
Jambo's unique workflows help to make your input process faster and more accurate by anticipating your needs and keeping your information at your fingertips. Jambo helps automatically suggest and associate records to reduce data entry for your team.
With 
Jambo's
unique
workflows
:
Your

stakeholder

information is accessible and well organized

 

Stakeholder records such as communications, issues

, commitments and tasks

can

automatically

interconnect

The software is easy to use with minimal training

 

and allow users to

focus on capturing the engagement

vs thinking about where

information

should be stored
Mobile and Email Capabilities
Two more Jambo features that we love and that help you save time are Project Emails and Jambo's mobile responsive design.  
These features mean
, you can:
Log email communications

to a specific project

with stakeholders automatically

 

via CC/BCC/FWD

Utilize the system logic that will translate emails into records of consultation and keep any attachments intact

 

Access the software while you're on-the-go

 

Input data quickly and efficiently with voice

to text

 

functionality
Summary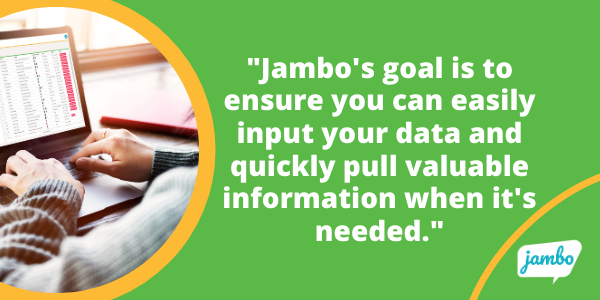 We've designed Jambo so that all your stakeholder information connects and works together for fluidity and ease. 
Our goal is to ensure you can easily input your data and quickly pull valuable information when it's needed. Jambo helps you to free up time, allowing you to focus on the variety of other tasks at hand, while also improving your stakeholder engagement management efforts.
Are you ready to save time and become a stakeholder engagement champion? Book a 15-minute call with a Jambo expert to get started!