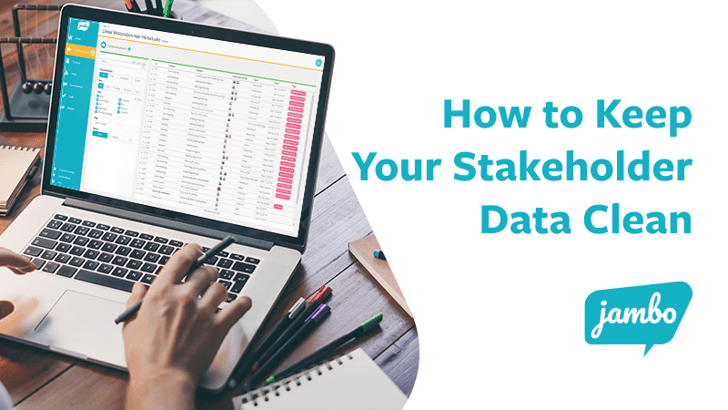 Easy data cleansing tips to use along with your Stakeholder Relationship Management (SRM) software
We've all heard about the importance of clean data, but what does it mean for your stakeholder data to be clean?
When data is clean, it's complete, accurate, consistent, and understandable. Clean data is reliable as it helps you:
Learn about your project and stakeholders

Build stakeholder trust and relationships

Confidently provide answers to stakeholders, leadership, team members, or regulatory bodies

Stay on track with your team, project, and organizational goals

Lower your project risks

Create positive project outcomes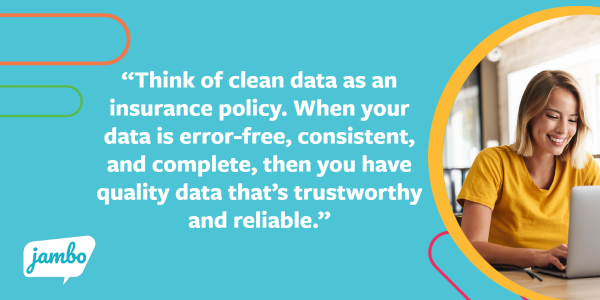 Think of clean data as an insurance policy. When your data is error-free, consistent, and complete, then you have quality data that's trustworthy and reliable. You can be confident in knowing your data is accurate and will provide you with everything you need to know about your stakeholders and your project.
But how do you keep your data clean throughout your engagement journey?
Today, we've compiled our top tips on how to keep your stakeholder data clean and broken them up into these three engagement stages:
The planning stages

The engagement stages

The post-engagement stages
A Stakeholder Relationship Management (SRM) software is one of the most essential tools you'll use in stakeholder engagement, we'll also talk about how your SRM can help keep your data clean!
Clean Data Tips for the Planning Stages
In the planning stages, you want to look at the state of your current stakeholder data, prepare your SRM, and think about the future processes you'll adopt to help keep your data clean throughout your project (and even afterward!).
Review Your Current Data –

To understand the state of your data, carefully go through all your current data and look for gaps, inconsistencies, or missing information. When you know how the data is set up in the system, you'll be able to easily find it when you need it.
Spelling errors and duplicate entries

– Look for inconsistencies in your data, like spelling errors or duplicate entries. It's a good practice to correct spelling errors and duplicate entries

before

your data is entered into your SRM, but they can also be monitored and corrected regularly once in the system too.

Formatting and grammar inconsistencies –

Go through your data and watch for inconsistencies in your data formatting and grammar (e.g., punctuation, use of abbreviations, etc.).
Whether you have the information you'll need

– See if you have the same details for the same kinds of information (e.g., are you including addresses for everybody? Is there a specific category you're assigning people or organizations?). Make sure it's consistent throughout your data and fill in any missing information.
Ensure Your SRM Is Set Up To Meet Your Data Goals –

Define your data goals and make sure your system is set up for success in formatting and the spaces available for your data. Will you need custom fields to reflect your project? Will you be using tags to organize your data? You can work with your SRM vendor to help ensure your system is set up to match your goals.

Start Thinking About Processes To Keep Your Data Clean Moving Forward –

Think about the processes

you'll use to keep your data clean (we'll dive into some specifics in the next engagement stage). To help you understand what this means, think of clean data like a freshly organized pantry. Once it's clean, you'll want to create a system to ensure it stays organized. Are you just going to leave it alone until it's messy again, or will you set a maintenance schedule?
Clean data benefit #1 —Staying on track with project goals: With clean data, you'll have an accurate record of what's happening with your stakeholders and in your project. You can run detailed reports to see what you've done and compare your progress against your goals to decide if you're on track or need to adjust your plans.
Clean Data Tips for the Engagement Stages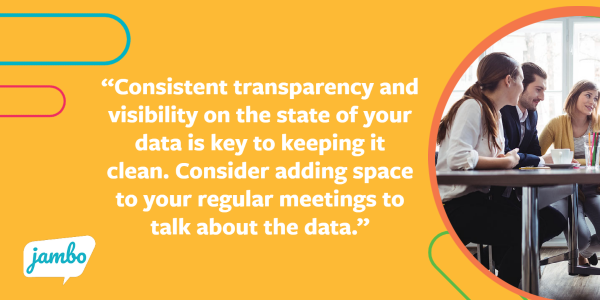 You want to implement processes to keep your stakeholder data clean at this stage, so you've got everything you need when you're reporting and engaging.
Set Regular Inputting Expectations –

Make expectations clear for when everyone needs to input their data into the SRM (e.g., every day? At the end of the day each Friday?). If you have a regular reporting deadline, this can be a suitable time as everyone knows the data will be reported out on that day, and their name or work will be tied to it, so they'll want to have it clean before it's shared and reviewed!

Discuss The Data Routinely –

Consistent transparency and visibility on the state of your data is key to keeping it clean. Consider adding space to your regular meetings to talk about the data, ask questions and make plans for cleaning it if there are any inconsistencies. This allows everybody who has a role in the project to be updated and ask clarifying questions like,

"This is the data currently in our SRM. Is anything missing? The subject on this record is inconsistent with the format we've set. What should it be instead? Who will be responsible for correcting this?"

Choose Regular Maintenance Dates –

Set clear timelines and expectations for your data maintenance. Will you do a thorough clean each quarter? Continual cleaning every Monday? Choose a timeline, clarify who's responsible for what on your team, and stick to the process.
Make data corrections as you find them –

If you find more duplicates or learn more about your stakeholders, ensure the information is corrected and added as you find it. While setting regular maintenance schedules is essential, establishing an additional "clean as you go" standard will help catch anything leftover or missed.
Find The Gaps –

Use your SRM reports to find gaps in your data. These reports can give you another way to look at your data and identify areas that need to be completed or cleaned up (e.g., finding a section in a record that you may not have realized was missing and needs to be finished).
Clean data benefit #2 – Building stakeholder trust: Clean data can help you earn stakeholder trust. Whether you need to follow up on a stakeholder commitment or resolve a stakeholder issue, with all your data complete and accurate in your SRM, you can stay updated on everything important to your stakeholders, so you never miss deadlines or engagement opportunities. This is a big part of maintaining and building stakeholder trust!
Clean Data Tips for the Post-Engagement Stages
At this stage, you want to consider, "Is everything that needs to be in the system inputted? Will the data provide value for someone who wants to learn from it later? Do we need to clarify anything?"
Do A Final Data Sweep –

Go through notebooks, phone notes, and emails to see if any data still needs to be entered into your SRM. If you've set up general project email inboxes, is there anything to add from there? Take some time to do a final sweep to ensure everything's added.
Add any last uploads –

Do you need to upload any other documents to the project or a specific record that might provide more information or context (e.g., final reports, images, PDFs, etc.).

Incorporate data from other sources –

If you worked with contractors, or added information to other systems, don't forget to incorporate it into your SRM. If a contractor wasn't involved in your tracking processes, is there anything that you need to add or collect from them?
Look At Your Data From The Perspective Of Someone Outside The Project –

Take a final look at all your data. Are you confident that it's something that would help people coming into a project? Would this data benefit people? Would any of it seem confusing or incomplete? Take the time to clarify, add and organize anything that might need final attention.

Document Any Final Learnings –

Take some time to brainstorm any final learnings that might be useful for people to use in the future.
Is there anything you learned about working with stakeholders that isn't already logged? Are there any reflective notes or extra context that you want to add?

Do you now know more about a previous stakeholder issue? Was the outcome of the issue positive? (e.g

., "Looking at this data six months afterward, this issue was resolved, and we heard the following positive feedback from them."

).
Run a Comprehensive Report

– Run a final comprehensive report with all your project data and look for any remaining gaps you might have missed.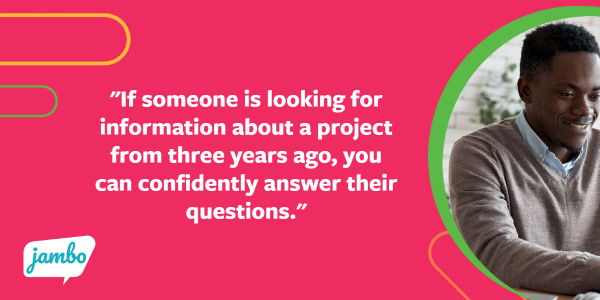 Clean data benefit #3 —Preparing for future questions: If someone is looking for information about a project from three years ago, you can confidently answer their questions. For example, if you're asked whether a stakeholder was involved in a particular project or if a person attended a focus group, you could easily find these answers in your SRM when your data is clean. This is especially useful when somebody is asked about a project they weren't involved in!
Next Steps: Are You Still Using Spreadsheets for Your Stakeholder Data Management?
If you're still trying to make spreadsheets work for your stakeholder data management, read our three tips on how an SRM can help you manage your stakeholder data.
If you're ready to make the switch from spreadsheets to stakeholder relationship management software, check out our eBook, 'The Step-by-Step Guide to Say Goodbye to Spreadsheets.'