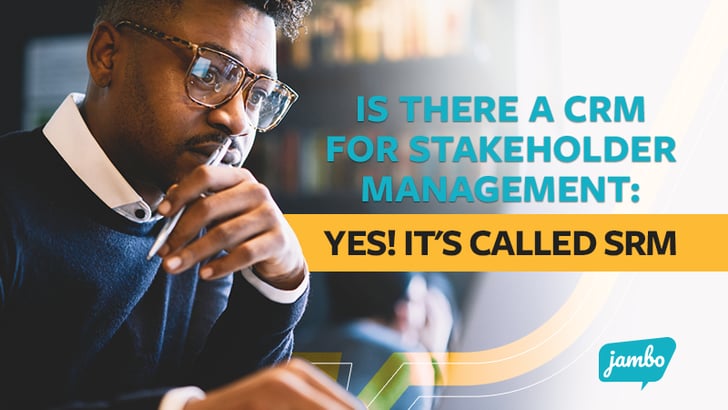 4 Reasons you Should Choose an SRM over a CRM for your Stakeholder Management
While you might have heard of people trying to use a CRM for their stakeholder management, did you know there's software made specifically for stakeholder management? It's called Stakeholder Relationship Management (SRM) software!
What's the Difference Between a CRM and an SRM?
While both systems can help you store and organize basic data like contact information, overall, the systems help users accomplish very different goals.
CRM stands for Customer Relationship Management and is designed to help users manage their customers and sales.
SRM stands for Stakeholder Relationship Management, and an SRM is designed to help users manage their stakeholder information and relationships with those stakeholders.
What is Stakeholder Relationship Management Software (SRM)?
Stakeholder Relationship Management software (SRM) is designed to specifically help you manage all your stakeholder relationships and communications with stakeholders.
SRM software is a centralized place to store all stakeholder-related information. This information can include stakeholder contact information, engagement records, stakeholder issues, commitments, reports and other stakeholder-related notes.
With a quality SRM, you can ensure your stakeholder information is organized, accessible, searchable and easy to understand, so you can focus on building meaningful and trusting stakeholder relationships for better project outcomes.
For more information, check out our comprehensive guide on "What is Stakeholder Relationship Management (SRM) Software?"
4 Reasons to Choose an SRM over a CRM for Stakeholder Management
1. No Costly Customizations or Hidden Fees
Trying to make a CRM work for your stakeholder management might seem like a cost-effective option if you're already using a CRM for another purpose; however, CRMs are made for managing customers and sales, not stakeholders. You're not selling to your stakeholders; you're engaging with them, so it doesn't make sense to use a sales software for stakeholder management.
As a CRM isn't designed for stakeholder management, you'll likely have to spend more money to try to customize the software to meet your needs, which can become expensive quickly.
Alternatively, choosing an SRM will help ensure you have the right software designed to meet your needs and adapt with your organization. Especially if you select an SRM committed to regularly updating the software with new features focused on improving stakeholder management. Plus, utilizing an SRM with a customer success team that is knowledgeable about stakeholder management will help ensure the software is set up to meet your needs without the hidden fees or clunky customizations often seen in CRMs.
2. Higher User Adoption Rates for Better Data
By utilizing a CRM for your stakeholder management, you'll likely see lower user adoption rates due to the feature bloat focused on customers and sales instead of stakeholder management. Complicated user interfaces will also unnecessarily complicate your processes and your team's understanding of how the software works. Ultimately, when software is complicated to use or confusing to understand, teams will avoid using it, which results in those lower user adoption rates. When your team avoids software, you're likely to have gaps in your data because your stakeholder information is not being consistently inputted into a centralized and accessible software, leaving your project open to even more risks.
Choosing an SRM with streamlined workflows made to meet your organization's stakeholder management needs, you'll ensure a better and more enjoyable user experience for your team, which will increase the likelihood that they'll use the software consistently. With your team all inputting data into an organized SRM, you can be sure that you'll have access to all your crucial data so you and your team can gather quick and valuable updates on your stakeholder relationships and projects.
Want to learn more about the user experience in an SRM? Check out our blog!
3. Understand your Stakeholder for Better Project Outcomes
To build those crucial stakeholder relationships, you need to understand your stakeholders and learn about their perspectives on your projects and organization.
As a CRM doesn't have stakeholder-focused modules that organize all your stakeholder data (like communications, issues, or commitments), it's hard to make sense of your stakeholder information to learn about what your stakeholders care about, which is counterproductive as understanding your stakeholders is vital in stakeholder management. Unlike CRM, some SRMs also have options to view stakeholder data with a project-focus, which aligns far better to many stakeholder engagement projects and programs and makes tracking and reporting much easier for your teams.
An SRM is designed to organize all your stakeholder information easily. Whether you dive into a stakeholder profile before your next meeting to learn essential information about the stakeholder you're meeting with or run a comprehensive report on all logged data on one (or several) stakeholders, you're quickly updated and can pull insights on what they care about based on what they've previously shared with you or your team. Having access to this information can help you fill in gaps in knowledge and focus your messaging, so you're engaging in a respectful and relevant way, allowing you to show you're listening to their perspectives to build more vital stakeholder trust and better relationships.
For more on how an SRM can help you to understand your stakeholders, visit our blog!
4. Stay on Top of Issues and Lower Your Project's Risks
With stakeholder issues, it's not uncommon for an issue to remain open for months, or even years, as some may take considerable time to resolve. Without an easy-to-use software that organizes all your stakeholder information, an issue can easily be forgotten, destroying that stakeholder's trust and increasing your project's risks.
By choosing an SRM with a materiality matrix and an issues timeline, which shows specific interactions around how you're working towards a resolution (both available in our SRM, Jambo), you can keep all your issues organized and accessible, regardless of how long they've been open while prioritizing the highest risk issues to protect your projects better and work more effectively with your stakeholders.
For more on how SRM and CRM are different, visit out blog!
Why Choosing the Right Stakeholder Relationship Management Software is Important
While an SRM is the right tool for stakeholder management, different SRM options on the market will have various features, support options and offer a unique user experience. To make the most out of SRM software for your stakeholder management efforts, you want to choose the option that works best with your goals and your teams to help ensure success.
How to Choose the Best SRM
To choose the best SRM, you'll want to start by making a list with your team. Jot down everything you'd want your SRM experience to offer, and then use this list as you begin researching options on the market. Once you have a few potential options, we recommend seeing a software demo to evaluate how well it fits your team's needs or project(s).
If you're looking to get started on your SRM journey, download our free checklist on tips for what to look for in an SRM. This list will give you various features and options to consider and help your team understand what an SRM could offer your organization.
Next Steps
If you want to simplify and organize your stakeholder management efforts in the fastest and easiest way, choosing an SRM instead of a CRM makes sense. To learn how to say goodbye to spreadsheets, check out our free eBook!