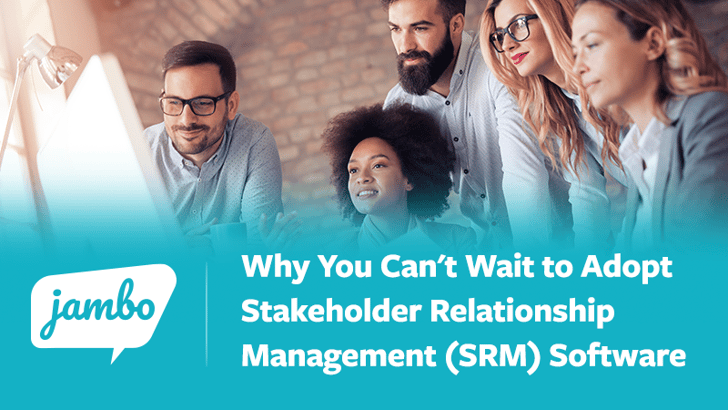 Why waiting to adopt an SRM means you're losing valuable time and opportunities to lower your risks
If you've been researching how to streamline and simplify your stakeholder management efforts, you've likely already learned all about Stakeholder Relationship Management (SRM) software.
With your research, you've learned all the great benefits of using an SRM and how it can improve your team's efficiency and even contribute to the success of your projects, but have you considered SRM's benefits in reducing risk?
An SRM is an investment that will start reducing your risks as soon as you're up and running
Teams may not realize they need an SRM until something goes wrong (i.e., once they realize data is missing or once a government agency/internal executive asks for a report on all their engagements or they're in a legal dispute).
For teams who have already adopted an SRM, they have all their stakeholder data logged and organized, which helps to protect them when things go wrong. This protection is why you can't wait to adopt your SRM.
However, if you're still not sure why adopting an SRM as early as possible is important, keep reading because we're sharing three key reasons below.
Reason 1: An SRM helps to protect your organization's important stakeholder data
An SRM gives you and your teams one organized place to log all your stakeholder data.
This keeps everything centralized and accessible and offers extra protection for your organization as you don't have to worry about your data going missing or getting lost in spreadsheets.
An SRM protects you from some of the data risks that come from team turnover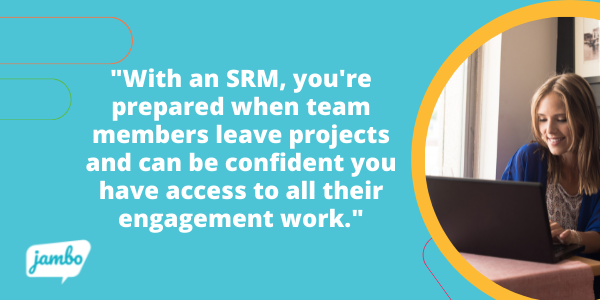 It's common for team members to switch projects or even leave the organization. But, if they leave and you haven't implemented an SRM, how do you know you have access to all the stakeholder data they've already collected?
If a team member decided to leave your organization in the middle of the project and has been simply "remembering" the updates without logging them anywhere or has their updates scattered in different places, you can lose that data the day they leave your organization.
However, with an SRM, you're prepared when team members leave projects and can be confident that you have access to all their engagement work and can use it when you need it.
Reason 2: An SRM can help your teams to collaborate, empowering members to step in during an emergency
Even if you have low staff turnover, your team members can get sick and suddenly need time off, and when this happens, you need someone to step in and fill their role as soon as possible.
What happens if someone on your team is suddenly unavailable, and they were the main contact for a key stakeholder?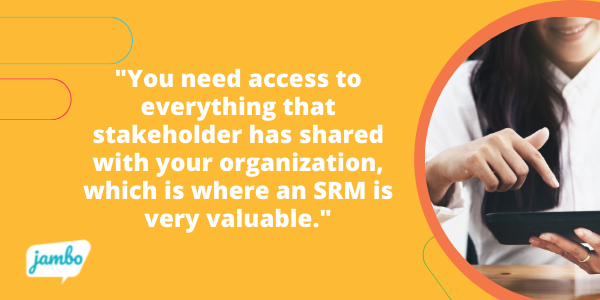 If a team member is unavailable and they were the main contact for an important key stakeholder, you need someone to be able to step in and continue building that relationship immediately. To do this, you need access to everything that stakeholder has shared with your organization, which is where an SRM is very valuable.
An SRM helps your team move forward during team absences
With everything accurately logged and well organized in an SRM, your teams are always prepared to step in during an absence.
Consider the example above about the unavailable team member who was the main contact for a key stakeholder. If there's an important meeting with that key stakeholder coming up, you'll need to move quickly as a misstep during that meeting can negatively impact the relationship.
Remember the quote that says, "Trust takes years to build, seconds to break, and forever to repair." You don't want mishandled information or data gaps to be the reason you lose the trust of a high influence stakeholder.
An SRM can help you prepare for an important stakeholder meeting when the main contact is away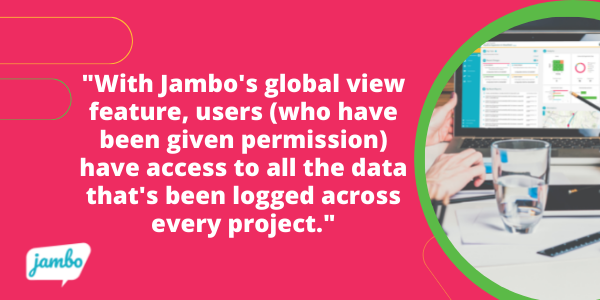 By investing in an SRM early on, you'll have all your stakeholder data well organized and accessible. So, when your team member tells you they can't make that stakeholder meeting that's right around the corner, you can easily fill the role and be prepared.
With an SRM like Jambo, anyone on your team (who has been given access to the SRM) can quickly click into that key stakeholder's profile to access everything that's been logged about them. Every communication, issue, commitment etc., is all there and available, so you can pick up right where things left off.
What if you built the stakeholder relationship over many years and across several projects, and now it's at risk because your team member is away?
If this key stakeholder has been engaged with your organization over multiple projects, you'll still need to be updated on everything they've shared with your team, even if this is the first time you're talking to them.
With Jambo's global view feature, users (who have been given permission) have access to all the data that's been logged across every project. You can find every communication that key stakeholder has had with your organization over the years, even if it's from before your time with the organization.
This is a huge benefit to using an SRM as early as possible, as the more data you log into your SRM, the more data you have to help your projects and protect your organization.
Reason 3: An SRM will help to protect you in the event of any legal or nonlegal disputes
While it's never something you want to happen, legal (and nonlegal) disputes are a reality many organizations face during their stakeholder engagement and consultation projects.
If you don't have your data accurately logged, it can't help to protect you during disputes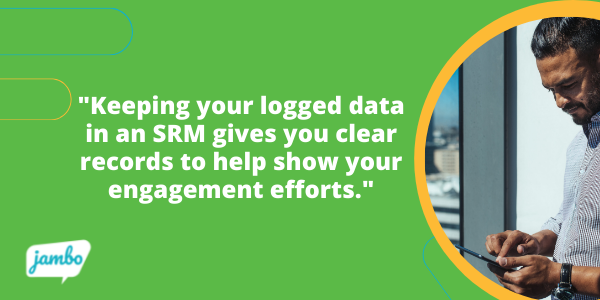 In order to keep everything accurate and organized, you need to track and log every engagement and interaction you and your teams have right from the start of your project. This is vital as this logged data can help you if you find yourself dealing with disputes with the government, communities, stakeholders or anyone else.
Keeping your logged data in an SRM gives you clear records to help show your engagement efforts. Without them, you can find yourself in a risky situation, unable to prove the work you and your teams have done.
During a dispute, you'll need to show clear records of all your engagement efforts
Suddenly, you may need to show "who said what to whom and when" along with everything communicated back and forth.
If you don't have this logged from the start, you'll have to try to add in all these engagements after you're already in a legal dispute, which can be time-consuming and even impossible in some situations.
Remember, these situations are often fueled by high emotions and can escalate very quickly. You may not have time to find and input your data once you're in the middle of a dispute, which is why we encourage you to utilize an SRM today.
An SRM will provide valuable risk protection for your organization before, during and after disputes
With a quality SRM like Jambo, you'll be better prepared to manage the inevitable risks that come with engaging stakeholders and communities because you'll have everything tracked, organized and accessible, so you're always prepared for whatever comes your way. (You'll also be able to protect those vital stakeholder relationships you've worked so hard to build).
An SRM can help you show that you've acted with transparency and according to expectations and law
An important part of building positive stakeholder and community relationships and being good stewards of the land in which you operate is showing that you're engaging with transparency and respect. You cannot just say you've done it, you need to prove it, and an SRM can help you create complete and accurate engagement reports to show your work.
Protect your organization by choosing the right SRM
By waiting to adopt an SRM, you're losing valuable time and opportunities to collect and organize the vital data you'll need to build relationships, gain approvals, and lower your risks.
But that's not to say every SRM will help you in the same ways. So, you'll want to ensure you're choosing the SRM that offers you the best risk-reduction value.
To help your decision-making process, we've made this free SRM buyer's guide checklist to help you understand the full value an SRM can add to your organization, along with many feature considerations for you to discuss with your teams. If you have any questions or concerns, the Jambo team is available to help.
To get your free copy, click the image below!