How Jambo SRM will help you organize your contacts so that you can engage and consult more effectively
Contact management is about more than just managing contact details as it can help you understand who you're engaging and consulting with, what information they've shared with you and your teams, how best to communicate with them, and essential insights for your overall engagement.
As this information is vital in helping you engage and consult accurately, respectfully and effectively, and can impact the success of your projects, your contact management must be well organized.
What happens when your contact management is a mess?
It's challenging to know how all your information connects if it's not organized in quality software. This disconnect makes pulling vital insights about your contacts and your project overly difficult or even impossible.
It's difficult to appropriately identify and learn about your contacts, which can negatively impact your engagements (e.g., What is their chosen name? Is this contact connected to multiple roles? How do they like to communicate? What do they care about? What have they already communicated to your organization?)
It's hard to know if the information you're looking at is accurate and updated (e.g., Are there duplicate entries you don't know about? Are there more recent updates you can't find?)
To help ensure your contact management is clean, organized, and accessible so that you and your teams can use it for your stakeholder engagement and consultation efforts, you'll want to ensure you're using the right tool.
Today, we're talking about how Jambo, our Stakeholder Relationship Management (SRM) software, is a great tool to improve your contact management.
What is Jambo?
Jambo is a Stakeholder Relationship Management (SRM) software that simplifies how your organization will manage your stakeholder engagement and consultation projects. Jambo helps you and your teams collaborate in real-time to track, report, and stay on top of all your stakeholder information for better project outcomes.
Want to learn more about Stakeholder Relationship Management software? Check out our blog!
3 ways Jambo improves your contact management
1. With Jambo, all your data is organized and connected, so you can quickly learn everything you need to know about each contact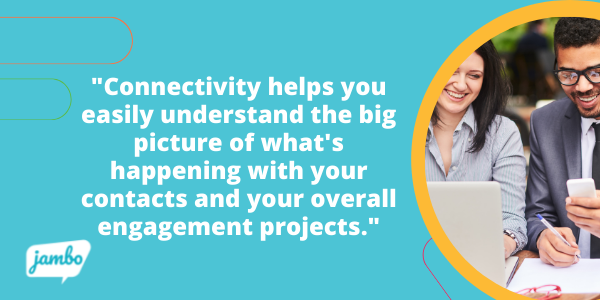 Traceability in Jambo ensures your logged information connects together—This connectivity helps you easily understand the big picture of what's happening with your contacts and your overall engagement projects.
Within Jambo, you can click on a contact to easily access all previously logged information, such as contact details, communications they've had with your organization, details of issues they were involved in, any commitments made to them, etc.
Being able to gain this easy overview helps to equip you and your team with the context you need to provide personalized and relevant information at every touchpoint.
Jambo is searchable
If you're looking for specific information in Jambo, like a particular contact, you can search their name (or any other information) and find everything you need in just a few clicks.
Jambo's tagging system
To simplify your searching efforts, even more, Jambo utilizes tags that work similarly to hashtags on social media, allowing you to add important keywords (as tags) to your information. These tags are also searchable, which helps you customize your data management to meet your teams' unique needs and challenges.
Want to learn how Jambo's tags can improve your stakeholder management? Check out our blog!
Jambo's custom fields
Those looking for more help to organize their data will benefit from Jambo's custom fields, which allow users to further organize their data in a way that makes sense to them.
2. Jambo helps ensure you communicate using updated information that's meaningful to your contacts
In Jambo, you can be confident that your logged information is all accessible and updated. So, when you click into a contact card, you're quickly informed about the important data you'll need to engage effectively with that contact.
Logging stakeholder roles in Jambo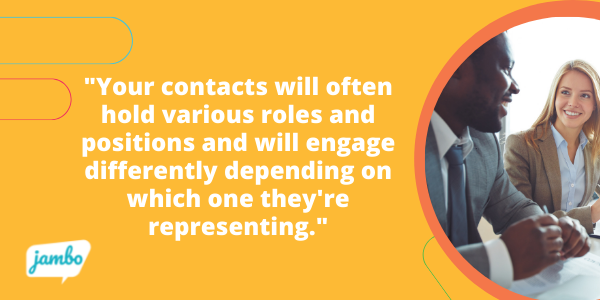 Your contacts will often hold various roles and positions and will engage differently depending on which one they're representing at the time of engagement. So, it's important to have access to the different information and titles for each contact to help you engage more meaningfully.
For example, one of your contacts may be connected to multiple organizations, be a business owner and be a member of council. In Jambo, you can log all these roles within their profile along with various details, so all these crucial pieces of information are available for you to help you feel confident that you're engaging accurately and respectfully every time.
Jambo's dedicated notes section
As you learn more about your contacts, they'll likely share information about how they'd like to be communicated with and the types of information they're interested in hearing from your organization, which you'll want to track.
Jambo's notes section gives you and your team a dedicated space to track your contact's preferences (e.g., preferred name, meeting locations, meeting platform, topics of interest, etc.).
With this information logged and readily available, you and your teams can be confident that you're engaging effectively while showing your contacts that you take what they share with you seriously to help build trust.
Want to learn 5 ways an SRM helps you to communicate with your stakeholders effectively? Check out our blog!
3. Jambo's friendly user experience and simplified input process, you can be sure you have access to consistent and accurate information about each contact
Jambo is one of the easiest SRMs on the market today and has been designed to offer a great user experience. For users logging data, Jambo guides you through the inputting process, so you know exactly how to add your data easily and consistently.
With everyone on your team inputting their data consistently into Jambo, you can be sure that your contact data is always updated, accurate, and well organized, which will improve your engagements and your overall project.
Jambo show you preferred contact info and who's the primary contact at an organization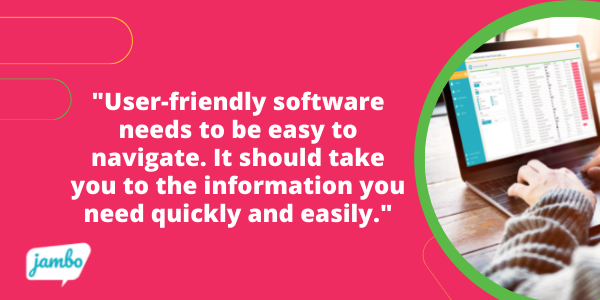 User-friendly software needs to be easy to navigate. It should take you to the information you need quickly and easily and help you understand your data better.
To help with your navigation and understand your data more clearly, Jambo allows users to identify the primary contact for an organization (i.e., the main point of contact for that stakeholder, group, or individual) and their preferred contact information. This makes it easy to know who you should be reaching and how to best reach them, and their profile will also show your history of engagement with them, including any issues or commitments, which can be invaluable when working on a team.
Jambo's audit trail
Team accountability is vital to help keep your data accurate and consistent. So, along with streamlined inputting processes and easy navigation, you also need to understand any changes made to your data, which is where Jambo's audit trail is so effective.
Changes to the core record are tracked automatically in Jambo, such as an updated phone number, address, or role, so you can review who on your team made changes and when. This way, you're always updated on what's happening in your data and know who to ask with questions or concerns. With this added level of data accountability, you can be sure your contact management is well-organized, accurate, and updated, whether it's you inputting data or someone on your team.
But aren't spreadsheets effective for contact management?
We hear from teams in government, energy, forestry, non-profit, healthcare, and just about every sector across the board that spreadsheets continue to be a common tool of choice (at least when starting out).
However, as teams use spreadsheets, a few common problems quickly become apparent:
Managing multiple spreadsheets can be confusing and result in missed information
Spreadsheet inputting practices are often inconsistent, so data is disorganized, inaccurate, or missed altogether
Trying to find data in spreadsheets or having to check for mistakes wastes valuable time
It's difficult to work together, in real-time, with your teams which can make your efforts feel disjointed and solitary instead of collaborative and fruitful
For 10 reasons it's time to break up with spreadsheets; check out our blog!
Are you ready to switch to stakeholder relationship management software but worried about the transition? Check out our eBook, 'The Step-by-Step Guide to Say Goodbye to Spreadsheets.'
Beyond improved contact management, what else can Jambo do for your stakeholder management practices?
Jambo will offer your team incredible value beyond organized and effective contact management. Book a 15-minute discovery call with a Jambo expert to learn more about how Jambo will level up your stakeholder management practices and contribute to your engagement and consultation project's success.