And Why Utilizing a Quality SRM is the Best Way to Manage Your Stakeholder Engagement Efforts
Once you're ready to adopt Stakeholder Relationship Management (SRM) software, picking the right option for your organization can make a big difference in how easy it is for you and your team to manage your stakeholder engagement efforts.
In this blog, we're going to share four reasons our SRM, Jambo is one of the best Stakeholder Relationship Management software options available today to help you decide if it's the right SRM for your organization.
What is Stakeholder Relationship Management (SRM) Software?
While you might be familiar with software to help organize contacts, many don't realize there is software specifically designed to help users organize and simplify their stakeholder management efforts, and it's called Stakeholder Relationship Management (SRM) software.
Stakeholder Relationship Management (SRM) software is a tool designed to help you manage all your stakeholder relationships and communications with stakeholders. Many people try utilizing a CRM in the place of an SRM, but it's important to note that the two are very different. A CRM is designed to help you with your customers and sales goals. In contrast, an SRM is designed to help you understand your relationships with stakeholders and will help you pull insights to understand your stakeholders better, run reports on stakeholders and your project status, and keep track of all your contacts, communications, issues, commitments and tasks to improve project outcomes.
To set your stakeholder engagement projects up for success, choose a quality SRM.
To understand more about the differences between a CRM and an SRM, check out our blog!
4 Reasons Jambo is One of the Best Stakeholder Relationship Management Software Tools
Reader Tip:
Before we dive into a few of our features, it's important to note that choosing an SRM can be overwhelming as many of the top SRM options on the market today have similar features. As you're learning about SRM options, consider which features will create the best experience for you and your team.
While we're only sharing a few of Jambo's features in this blog, we're highlighting the following four elements as they're essential to what makes Jambo such a powerful and robust SRM and are vital to helping our users organize and simplify their stakeholder management efforts quickly and easily.
To learn more about these features and whether they can help you and your team, keep reading.
1. Jambo's Traceability Helps You Understand the Big Picture
Traceability in Stakeholder Relationship Management (SRM) software is the ability for your stakeholder information to link together. This connectivity helps you build a full understanding of your stakeholders and your engagement projects quickly, allowing you to easily see the big picture.
For an example of how traceability works in Jambo, you can click on a stakeholder profile and access all previous engagement information, such as communications with the stakeholder, details of issues they were involved in, or any commitments made to them. This easy overview helps to equip your team with the context they need to provide personalized and relevant information at every touch point.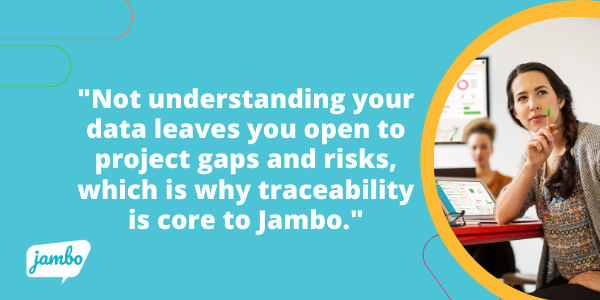 Traceability is vital in an SRM because it helps you understand your stakeholders and projects, ensuring you and your team have the information you need to engage as effectively as possible. SRM software without traceability makes it difficult, if not impossible, to understand how all your data connects – especially across projects – so you're never quite sure if you understand the full story. Not understanding your data leaves you open to project gaps and risks, which is why traceability is core to Jambo. Our users can count on Jambo as their one source of truth and to help them seamlessly organize and simplify their data for better project outcomes.
To learn more about traceability in Stakeholder Relationship Management (SRM) software, check out our blog!
2. Jambo has Unique Workflows and Automation Designed for Stakeholder Management
We know different users will use software in different ways, so to work with our diverse user's, Jambo has multiple workflows to match various user's needs. These multiple workflows ensure you're able to do whatever you need to do in the fastest and easiest way possible.
Email Automation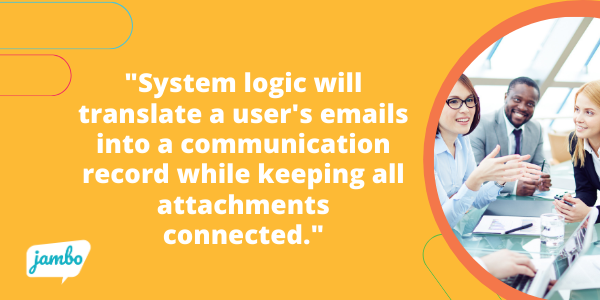 Our workflow and automation capabilities go beyond stakeholder profiles, as we understand users need the ability to streamline many processes to meet their goals and regulatory requirements. For example, many of our government clients must have a copy of all stakeholder and community emails on file. To meet this need and help centralize users' email engagements, Jambo has email integration. System logic will translate a user's emails into a communication record while keeping all attachments connected. This capability helps users archive and preserve all their email engagements, which is incredibly valuable for meeting regulatory requirements.
Project View
Additionally, many of our users run multiple projects, so having the ability to organize data within projects and with the ability to view everything together (i.e., across projects) is important for understanding the current state of the projects and stakeholder relationships.
For example, if you have a stakeholder or contact who has been involved in several of your projects, using our global view, you can understand the full history of engagement with them across every project where they've been involved. This can be beneficial to help you understand your relationship with previous stakeholders, especially if you'll be engaging with them again on a new project. Understanding where you left off with stakeholders on previous projects allows you to communicate more effectively and address essential topics you know are important to them, helping you and your team build stronger, long-term relationships.
User Permissions
Understanding that not everyone on your team will require access to all your inputted stakeholder information, Jambo's user permissions can help you control access and limit risks. You can set individual user permissions for people who only require limited access with the ability to grant full permissions for members who need to see everything.
Not only do these user permissions lower risks (e.g., restricting access to financial information or confidential notes), but they also help make the software more collaborative. With user permissions, you can provide access to interns, contractors and stakeholders who may need to input data or gain project updates without worrying they'll access restricted data.
To learn more about Jambo's features, check out our "Why Jambo" feature page!
3. A Great User-Experience (UX) Your Teams Will Want
Building quality software is vital to us, and we know that the user experience is a crucial part. To ensure our system offers a great user experience, we consulted with stakeholder engagement professionals from varying industries to find out exactly what they wanted to see in an SRM and what features would help them do their work easier and faster. We used this feedback to build Jambo to meet various needs and continue to listen to our users' input for future developments and updates.
Using this feedback, our talented team of UX designers carefully designed Jambo considering every element in the user experience design, such as where information or buttons should be placed, how users will interact with the system (e.g., workflows) and even the colour scheme - e.g., bright colours for a fresh, energetic experience.
While some of these considerations might seem trivial, every single decision in software design works together towards building the user experience, and many of these considerations are often overlooked in a lot of the SRM options available today.
We take the user experience very seriously because we understand that for an SRM to offer its full value, your team must use it and software with a great user experience has higher user-adoption rates!
To learn more about Jambo's user experience, check out our blog!
4. Dedicated Customer Support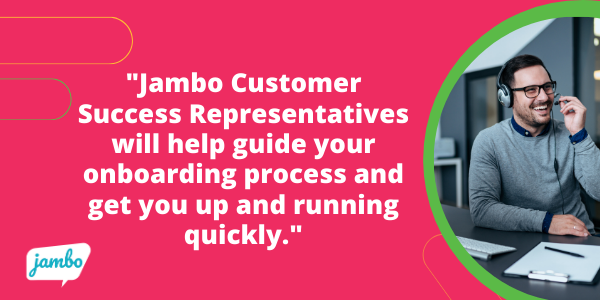 When you first become a Jambo user, you're teamed up with one of our dedicated customer success representatives who will help train you and your team on the software and help you set up your initial project(s) in a way that makes sense for your organization. Jambo Customer Success Representatives will help guide your onboarding process and get you up and running quickly. This is important because if the SRM vendor you've selected is difficult to contact or unresponsive, you're left with no support on questions or queries that might be time-sensitive and vital for your stakeholder engagement project.
To ensure our customer support is easy to reach and available, we offer a variety of support options for users, including:
A streamlined implementation process to set you up for success from the start
How-to articles and videos
Check-ins from your customer success representative
Customer training webinars
A help desk for users to log any support tickets
For more on Jambo's implementation process, check out our blog!
How to Select the Best Stakeholder Relationship Management (SRM) Software
Selecting the right SRM option for your organization can make a big difference in how easy it is for you and your team to manage your stakeholder engagement efforts and impacts your project and organization's success. We understand that each organization is unique, as are your projects and your engagement and consultation requirements, so we always recommend doing your research before selecting an SRM to find the right software for your team.
To help you with your research, we created a free, comprehensive checklist with features and options to consider to find the best SRM for your goals.
Next Steps: See How Jambo Can Organize and Simplify Your Stakeholder Management Fast and Easily
To see if Jambo is the right tool for your organization, sign up for a free, live demo where we'll show you around the software and answer all your questions!